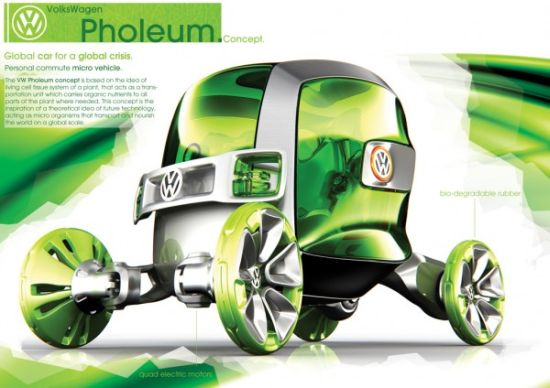 Inspired by the living cell tissue system of a plant, which carries nutrients to all parts, designer Alexei Mikhailov has come up with a vehicle concept dubbed "VW Pholeum" that seems to explore the form of travel in the lifestyle of metropolitan cities. Designed to provide on-demand transportation access to a single passenger, the futuristic vehicle gives the feel of riding a bike or a chariot. Separating the wheelbase from the body, supporting diversified design experimentation and a new bold look, the VW Pholeum runs on fully immersed wheels, made from bio-degradable rubber, with in-depended spoke arrangements that absorb road bumps without the need of suspension and allows a comfortable ride. While on the other hand, the compact interior comprises the control steering pod with gas and brake paddles, allowing game-like controls to attract young and trendy passengers.

Featuring a flexible body finished with recyclable memory plastic panels, the concept vehicle, in case of an accident, dent or scratch, takes its original shape. In addition, it also integrates a chassis made of aluminum alloy, making the personal mobility vehicle entirely sustainable. The vehicle also touts a honeycomb shape core that not only makes it lightweight but allows greater strength as well. Moreover, the Pholeum integrates an external airbag system as an added safety measure, to drive you safely to your destination, and the polycarbonate plastic windshield and door reduce the blind spot wings and gives a wide view to the rider.
Generating power from in-wheel quad electric motors supported by hydrogen fuel cell technology, the personal mobility unit can pivot in a 360-degree range, thanks to the external wheelbase, for easy maneuvering as well as parking in cramped city environments. Furthermore, the vehicle doesn't require a separate breaking system, for the in-wheel motors double as brakes with a regenerate power application. In short, the VW Pholeum is a safe and sustainable vehicle from the core.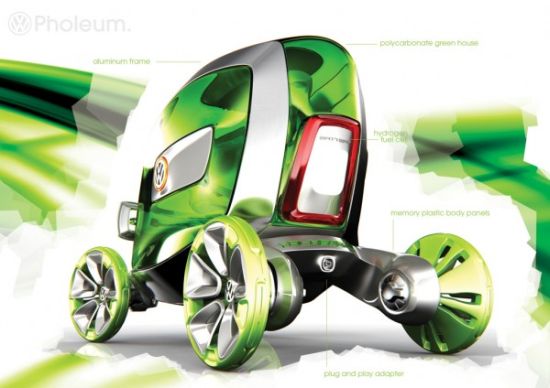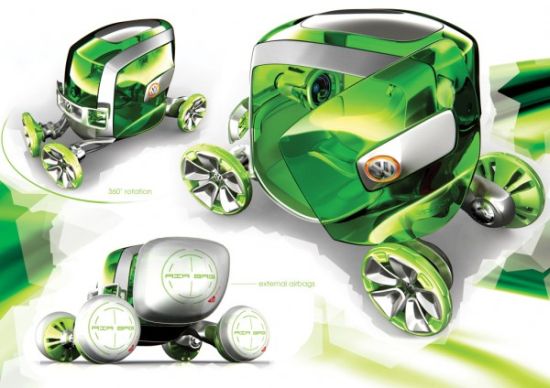 Via: AMV-design/ Flylyf