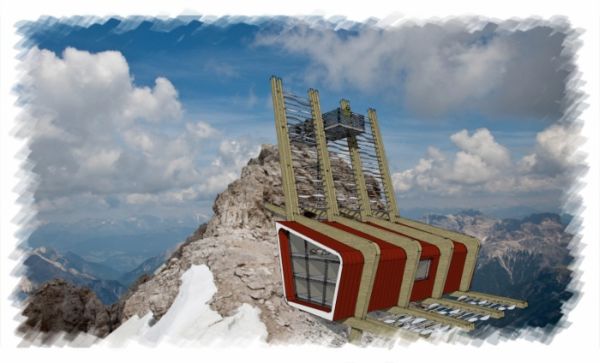 "Save energy" is the new age mantra. People have started exploiting sustainable sources of energy to minimize wastage. Taking it to a new level, here is Piero Ceratti with the wind-powered Eagle Nest Hut.
The eco friendly house can be erected in extreme terrains like rocky areas or high mountains. Just like a nest, it will rest on surfaces with a minimum point of contact with the ground. The core structure of this dwelling comprises of four wooden arcs that will be fixed to the rock with the help of eight steel base plates. Whereas, four L shaped wooden beams, anchored to the four arcs, will form the secondary structure of this construction. Preformed wooden insulated panels with a thickness of 20cm are used to assemble the inside shell. The facade of Eagle Nest Hut will be enveloped with a red metal seam standing.
The most striking part of the whole construction is its ability to use wind energy. It comes fitted with 80 micro turbines that provide energy. The generators, with the help of these turbines, transfer electric energy to the lithium battery packs. All the energy is accumulated in these 18 packs, which is used when need arises. The environmentally friendly house has been fitted with energy saving equipment like LED lights, to ensure no wastage takes place.
The spacious wind powered hut will have 10 bunk beds, 1 changing room, 1 kitchen, 1 shower and 10 seating areas. Water will be stored in 2 tanks connected to the water source. All these facilities will make the area comfortable which can be used for various activities. Eagle Nest Hut will be nothing less than a heavenly abode away from the hustle-bustle of cities. It will help you explore areas, which otherwise are never exploited because of extreme terrain conditions.
[Cheers Piero]