About ZyXel Communications
ZyXel is a 21 year old company that offers high-performance, carrier-grade suite of access and security solutions. ZyXel has expertise in various technologies like wireless, security, cloud-managed solutions, Ethernet Switching, xDSL, and Powerline.
Internet connectivity has become like a lifeline for the modern world. Everyone's tech-savvy and almost living in a virtual social world, both personally and professionally. What everyone needs is not just an internet access, but an access that's mobile. Keeping in mind the need of the hour, ZyXel has recently launched NWA1121-N1, an 802.11n access point. This device meets the current need of a superior Wi-Fi technology, by increasing the Wi-Fi coverage by almost 50% in comparison to any other traditional device in this category.
Design & Technology of the NWA1121-N1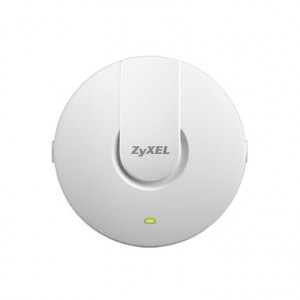 It has a very unique and appealing design quite similar to a smoke detector; ZyXel calls it their 'Smoke Detector Design'. Because of its unique design it can be easily installed on ceilings and hence provide better wireless coverage. The device is Plenum rated and made future-proof with dual-stack IPv6 support. The device uses enhancements like TX Beam forming, LDPC (Low-Density Parity-Check) and MLD (Multicast Listener Discovery) to improve the performance, reliability, and stability. Priced at $169.99, this is indeed quite an economical option for small business set ups, cafes, movie halls and internet cafes that always have an increased demand of better and sophisticated Wi-Fi coverage at pocket friendly prices. ZyXel has always been consistently committed in providing secure broadband networking, internet access and home solutions connectivity. The company has designed the NWA1121-N1 keeping in minds small business set-ups. The device is both economical, easy to install and uninstall and because of its unique smoke detector design visually appealing and unobtrusive.
Steven Joe, the company's executive vice –president (President of Channel business of America) said, "The NWA1121-N1, with its unique design and powerful features, is a crucial addition to our product line. The enhanced access point complements our existing product portfolio and provides our customers and channel partners with superior wireless coverage, enabling them to meet the demands of today's connected business". The device is also compatible with Power over Ethernet Support. The PoE connectivity allows for exceptional deployment flexibility. The NWA1121-N1 offers eight 'Server Set Identifiers', and Virtual Local Area Network so that the business can configure the device for a customised usage for different classes. By customize we mean, different configuration for employees and different usage for customers. This customized configuration provides better security system.