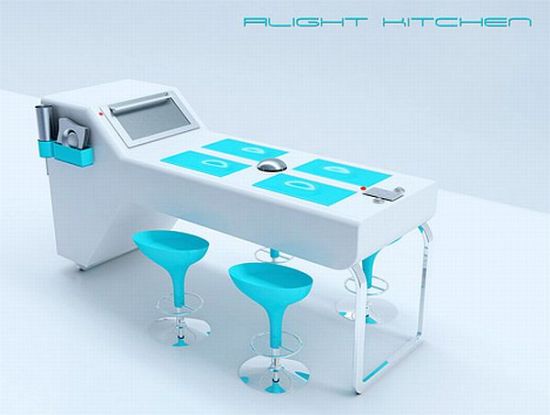 Altera Design Studio's innovative kitchen Concept 'Alight Kitchen' recently awarded at the Incheon International Design Competition 2007, ready to be exhibited at Incheon International Design Fair this December concerns itself with the global shortages of clean water, food and resources. The system not only helps minimize waste materials but also make people aware of how much they're consuming. It flaunts the following features:
Only ready-made food and beverages are consumed in sheet-metal packaging so people will be conscious about what and how much they eat.
Food and beverages packs will be kept inside the cooling unit of the system. It only allows storage of 3 days' worth of food.
A Smart oven warms up the food in groups to minimize how often it's used. It arranges the ideal time and temperature for the packs by reading their barcodes.
There are 4 hollow plates located on the main dining table. Each of them can rotate on its center-axis so you can eat on the either side of the plate. The center of the table houses a small flatware station.
The integrated dishwasher conserves water by filtering and reusing previous wash water.
All plates are stored underneath in their own compartments.
Via: Yankodesign