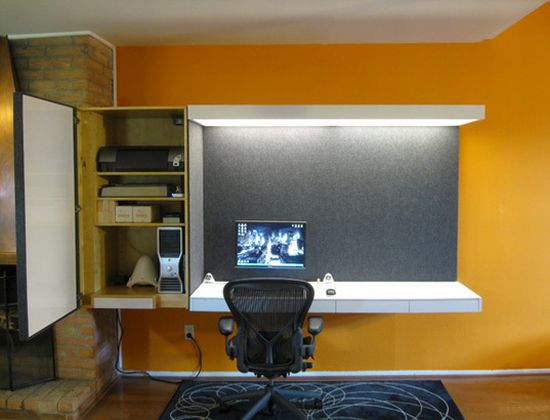 David Tsai's '"Work Unit" appears perfect for working from home professionals. The neat and well organized design efficiently manages and maximizes space in tiny apartments. The work unit provides you with all the bare working necessities like a desk, light, storage and a place to pin up.
David's work unit increases desk space with a wall-mounted monitor screen which also helps get rid of unwanted wiring clutter or other peripheral devices thereby giving the place a crisp and neat look. He has optimally utilized vertical space to pin up his important works. While the light remains above the desk, David has fabricated a very useful storage cabinet that also facilitates cooling.
The cabinet is fitted with an exhaust fan along with an air chimney on the top. An opening at the front and the back of the shelves allows warm air to travel up hence making possible necessary cooling. The Work Unit is also very easy to disassemble since it uses minimal screws to keep itself up.
Via: David Tsai