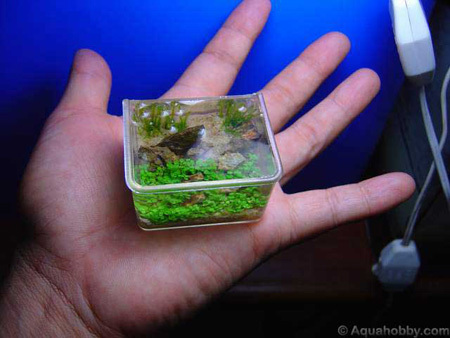 It seems that world is preparing itself to fit into a nutshell, literally. Everyday we come across such designs which proudly promote the concept of miniature size. The latest example of this bizarre trend is the world's smallest aquarium.
Designer Rony Suzuki has built this tiny aquarium using a plastic bird-feeder pot. Featuring a nominal volume of around 100 ml, the aquarium comes fully equipped with sand substrate, mini-boulders and a flora system composed of Hemianthus callitrichoides and Java Moss.
Well, I'm really impressed by this great show of imagination and craftsmanship.
I wish they could invent a trick to shrink those beautiful fishes. After all, an empty aquarium is as good as an empty match box.