The expanded universe of the original Star Wars trilogy has given us many fictional marvels to tickle our imagination though the fictional X-wings starfighters have got to be the most realistic of them all. The primary dogfighter and interceptor craft for the New Republic and the Rebel Alliance has had a super successful history in Star Wars merchandizing as well making many appearances in comics, novels, games, models and toys. The one place where the X-Wing hasn't really been employed so far has been household furniture. But amateur designer and Star Wars Fanboy extraordinaire Barry Shields is all set to change that with the X-Wing Starfighter Coffee Table.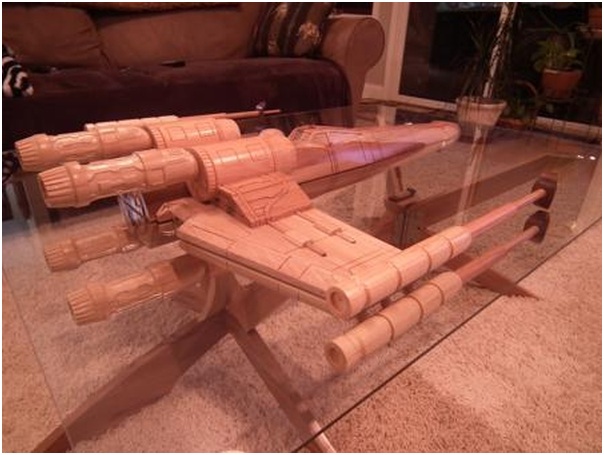 ---
Like its name suggests, the X-Wing Starfighter Coffee Table is a coffee table that is designed to look like the fictional X-Wing Starfighter from the legendary film. Beautiful, timeless and functional, the coffee table was carved by Shields entirely by hand over the span of more than a year and a half. The table is sturdy enough to withstand the household rigors that most coffee tables get to face during their functional life as a part of a living room set though its creator claims that the table will be very hard to break with accidental bumps.
Mind you the glass that sits on top of the table is totally breakable but the designer has secured it by sandwiching it between two halves of the fictional craft. Detailing wise, the X-Wing Starfighter Coffee Table is faithfully detailed at the top as well as the bottom so you can admire it as large scale model fashioned in black walnut, pine and polar wood. The one of a kind, custom made is priced at $5,500 which is steep but totally worth the elegance of the work of functional art.