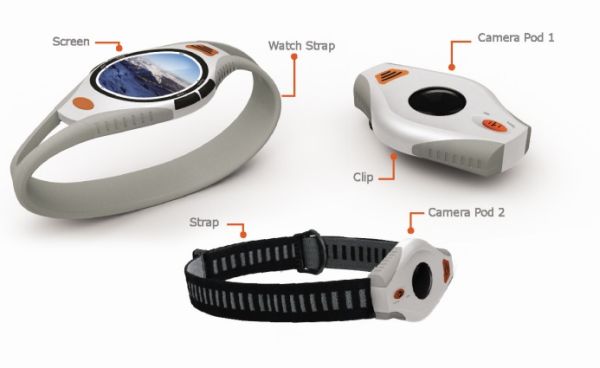 Capturing moments in extreme sports is one of the hardest jobs in photography. Be it mountain climbing, bungee jumping, white water rafting or sky diving, these athletes are often surrounded with the most amazing and toughest landscapes known to man. Unfortunately, there is a dire lack of specialized photography equipment for such situations which can be used without compromising personal safety.
The Xperience Camera Concept created by Emma Harris allows users to safely click photographs in these extreme situations without any risk. The concept features two camera pods that can be mounted on the helmet or any part of the sports equipment (e.g., a ruck sack) and set to take photographs automatically. A watch-like strap-on device allows users to view the images taken without worrying about additional displays. Interchangeable pods can be attached anywhere with a clip or strap and set to still or video function.
Users can use the slider switch on the watch to preview images or take individual images with the help of an oval button on the watch's interface. The cameras can be programmed to take multiple shots per minute and since each camera pod comes with built-in memory, images can be beamed to users' PCs via long distance Bluetooth connection.
The watch also has a built-in GPS and an altimeter that provides exact location and time markups on each image. This feature works as a handy safety feature that allows users to be tracked down in case they go missing or are in an emergency.
[Cheers Emma]