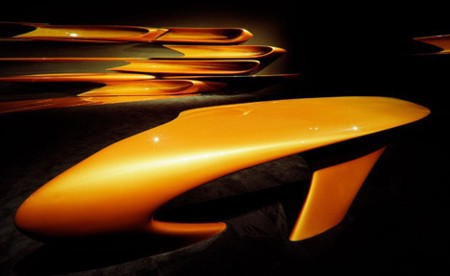 Sand dunes are the inspiration behind Zaha Hadid's latest creation. The Dune Formations is a collection of mesmerizing furniture that breaks away from the traditional boundaries of form and shape.
Zaha joined hands with Patrick Schumacher to create a range that is as fluid and versatile as the sand dunes. Using advanced 3-D renderings and innovative materials, Zaha has tried to tame the beauty of the sands and has emerged quite successful. Zaha has used the beauty of the golden orange color with utmost perfection. The highly polished dichromatic finish exudes a unique lustre that has a long lasting impression.
The collection, which includes benches, chairs as well as some display pieces, takes us on a visit to the island of imagination where every object is a combination of undefined contours and mystical shapes.
The collection is currently on display at London's David Gill Galleries.