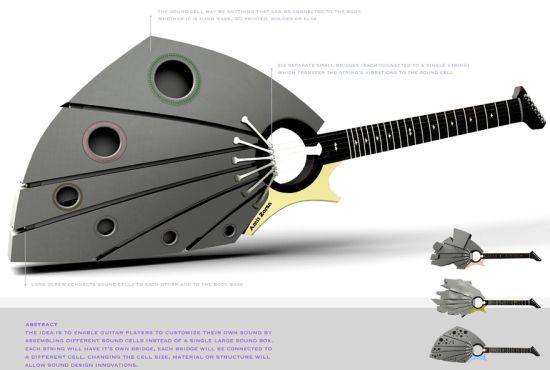 Designer Amit Zoran working on his objective to examine a space for structural innovation for acoustic instruments, has designed this precise concept of an acoustic guitar sound box that exudes a unique sound through a CAD/CAM process. This has enabled players to tailor their own sound by putting together different sound cells, like the physical parts of the instruments designed in CAD/CAM rather than considering the
instrument as one big sound box. It helps achieving the desired sound by allowing each string to have its own bridge so that later each bridge can be linked to different cells. By altering the cell size, material or structure, one can create customizable sounds.
Zoran brings into action the art of printing and using a 3D printer where cells are drawn into a vectorial software. The cells (having 30cm radius) comprises of matter strong enough to sustain the pressure of strings and handle resonance as well. One can also download the recommended sound cells from the internet in order to customize their guitar sounds.
Via: Architectradure