Summer and men's fashion don't seem to go well together. It's a mystery as to what happens to most men's fashion sense in summer. A reasonably well-dressed man in winter is a total fashion wreck in summer. Flowery shorts and bare chests are not what people like to look at, guys! Sticking to a few well-established fashion tips for summer will help men to be fashionable and trendy in the summer of 2018. And more important, knowing what to avoid will save them (and you too) from committing fashion blunders which can make them look like eyesores. Here are some summer fashion mistakes, which you should definitely know about. They'll not help you look good, but also save you from getting burnt badly both bodily and in the fashion sense:
11 summer fashion mistakes men should avoid
It's easier to be well-dressed in winter than in summer, with smart jackets and scarves. There are some summer fashion blunders, which most men seem to commit.
Going bare
Some men take the excuse of the temperature going up to shed their inhibitions and clothes. Unless you're on the beach, there's just no excuse to walk around bare-chested. It's just vulgar and inappropriate, unless you're alone at home or hanging out on the beach with your closest friends. Going bare-chested is one of those style blunders, people can't forget easily! You might be teased about it for years. We know it's tempting to show off your firm abs, but please resist the temptation!
So how to avoid this summer fashion mistakes? Just put on a light t-shirt on and beat the heat.
Teeny tiny shorts
Men's fashion has evolved to a great extent leading some men to think its ok to flaunt their well-toned legs. They seem to think that wearing smart shorts is the done thing in summer to stand out among the crowd. We agree, but guys, please think twice about the length. It's just pure embarrassing to even look at guys wearing teeny tiny shorts. It's a summer fashion mistakes that can be easily avoided. How to avoid this major fashion blunder? – just buy shorts that are around knee length or just an inch shorter but no more than that. Tiny shorts are not attractive, never in fashion and you shouldn't wear them ever.
Tailored or chino shorts are your best option if you want to wear shorts, as it looks masculine without looking funny.
Vests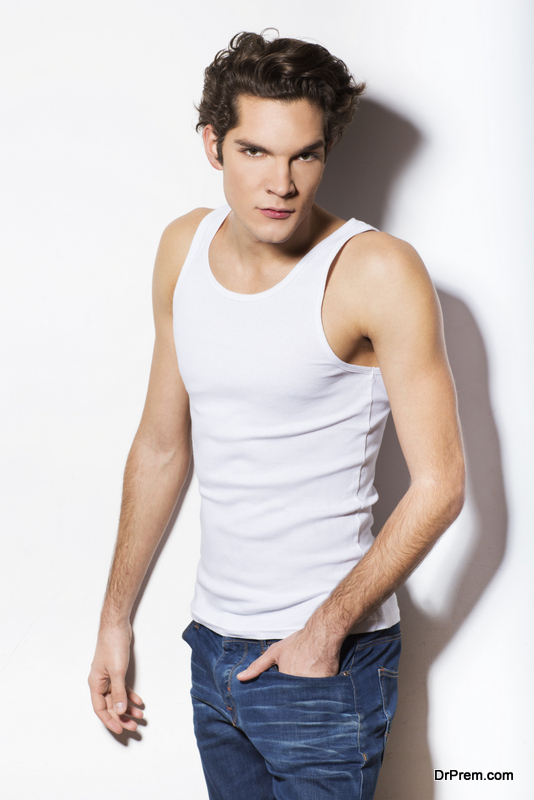 Unless you're out on a beach, you shouldn't wear a vest in public places. This is as bad as going bare-chested. Vests are meant to be worn only under shirts or tees, and please let's keep it that way.
Tight chinos
Did you know that your legs (or any other man's) would look horrible, like huge uncooked if frankfurters if you wore extremely slim fit chinos? The same fit in a darker color would be fine in winter, but it looks quite an eyesore in summer. It's one of the style blunders you must stay away from.
Wearing shades in the wrong places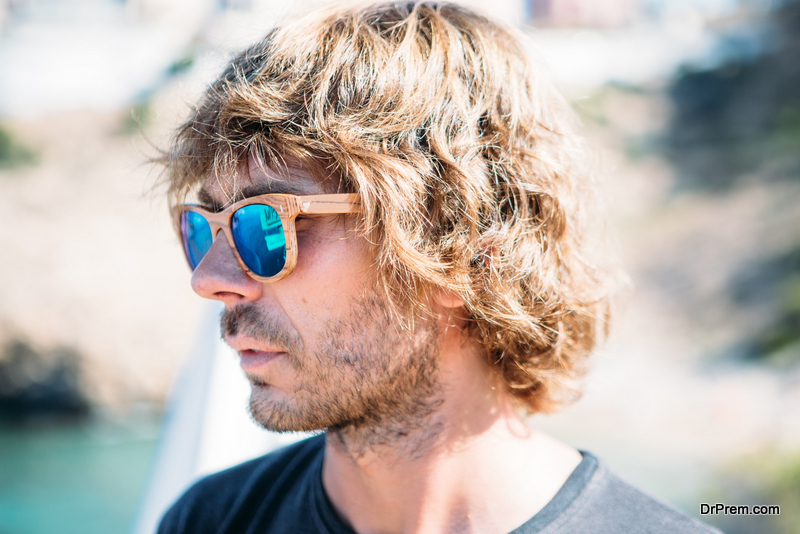 A pair of sunglasses saves your eyes and increases your style quotient. But please don't wear them everywhere, especially indoors. Donning shades in dark places is a big no-no, even if you pretend that you forgot to open them.
A riot of colors
Summer and spring is a riot of colors, but they should not be on the body. Some men love to wear bright colors, and think summer gives them the excuse to do so. A little dash of color like azure or mauve under your summer jacket is fine, but the secret to wearing colors in summer is not to overdo it.
Socks with sandals
Another heinous fashion crime is to wear socks with open sandals. We can only cringe at guys who do this. Summer is the time when men can flash their tanned ankles, without anybody minding. You can forgo socks with sneakers too, if you want.
Hats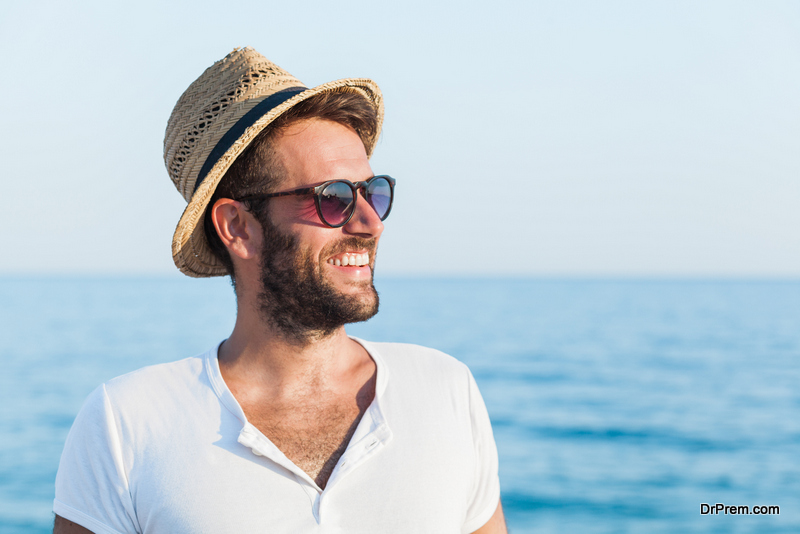 Hats may seem like a stylish fashion accessory, but not always. If they're keeping the sun away from the face, then hats and cats are justified. But don't get out those cowboy hats, if you don't want to look daft. Hats are summer fashion mistakes, which can be easily avoided- resist the temptation to look like Clint Eastwood, and you'll be fine!
Ties with short-sleeved shirts
One of the style blunders you can make is wearing ties and short sleeves together.  They just do not go together, if you must wear a tie to that all-important meeting in summer, then you have to ditch the short or half sleeves. But one of the major summer fashion mistakes you can make is to pair ties with short sleeves. They are great for a casual party (not at the office), or when you're going out for a movie.
There is a great way to wear short sleeves to the office – wear a linen jacket on top, and don't take it off. You'd look sophisticated and feel as cool as you look.
Flowery shorts
Flowery shorts are out, out and out! If you're in Hawaii, you can wear them otherwise anywhere in the world, they're absolutely passé! Ditch the flower printed swimming shorts too! Pronto!
Going overboard with your festival look
With summer come summer festivals. People throng the festivals in big numbers, looking pretty unique. This is where many men go wrong – they change their look so drastically, that it's difficult to fit in with normal life later. You don't have to don straw hats and strings of beads to look festival worthy. Don't be a bore, but dress right. You can stick to denim shirts and jackets, waterproof jackets and dress them down or up as you need to. Shorts, jumper or sweater, hoodie, jeans, tees and vests will be enough to enjoy your days in the festival.
Summertime makes most men experiment with their wardrobe. Some are lucky choices and some are just eyesores. Sticking to a few do's and don'ts, and choosing the right colors (avoid black), will make you look like the dapper, fashionable man you are.