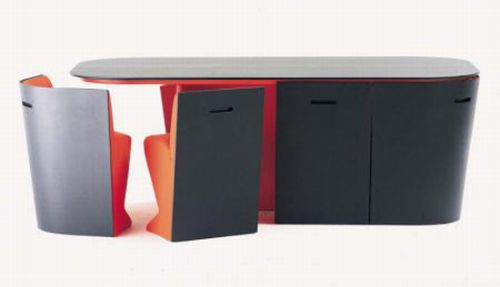 Designers have come up with some unique tables lately. Recently, I was reading about David Adjaye tables that were based on an African design. The latest addition to the tables is the 12 seater compact table. First thing that I notice about this table is the unique color combination which is very pleasant to the eye. This table is the solution to your space problem.
This table is mostly geared towards the homeowner who has elaborate dining arrangements. So, it's quite ideal for a family and even large corporate dining rooms. The sitting options in this table can be varied. Although it uses chair that can fit under the table, the table also accommodates benches and even stools.

The table is very aesthetic and the design looks fabulous. The contemporary design of the table is what makes it more appealing to the customers. You can get this 12 seater at Bernini site. I haven't found a pricing information yet.