Transparency lends a cool futuristic vibe to normal gadgets. It's fascinating to see the inner workings of things, which is why many designers and companies have come up with the most exciting products which are totally transparent. Some of these devices are quite impractical, but fun and interesting. Check out these cool transparent gadgets some of which are in the concept stages and some are out in the market, or soon will be.
16 insanely cool transparent gadgets ideas
 LG GD900
Image Source : assets.newatlas.com
This mobile from LG has been one of the most anticipated phones since the iPhone first came out. The design features a fantastic transparent slide down keypad which looks amazingly futuristic. The hollow construction of the keypad should not however tempt you to put things inside it!
Glassy Glass Smartphone Concept – Mac Funamizu
This smartphone is in the concept stage still, and is the brainchild of the Mac Funamizu. The concept is really beautiful, with the transparent screen and keypad. The clamshell smartphone would have two transparent plates with beautiful metal edging.
The phone is not for those who tend to drop their phones frequently unless the glass is replaced by some unbreakable glass or acrylic sheet. It promises to be quite popular as the pictures on the screen would create a 3D illusion. It's not the invisible smartphone which will take even more time to develop, if ever.
Futuristic Mobile Music Concept – Mac Funamizu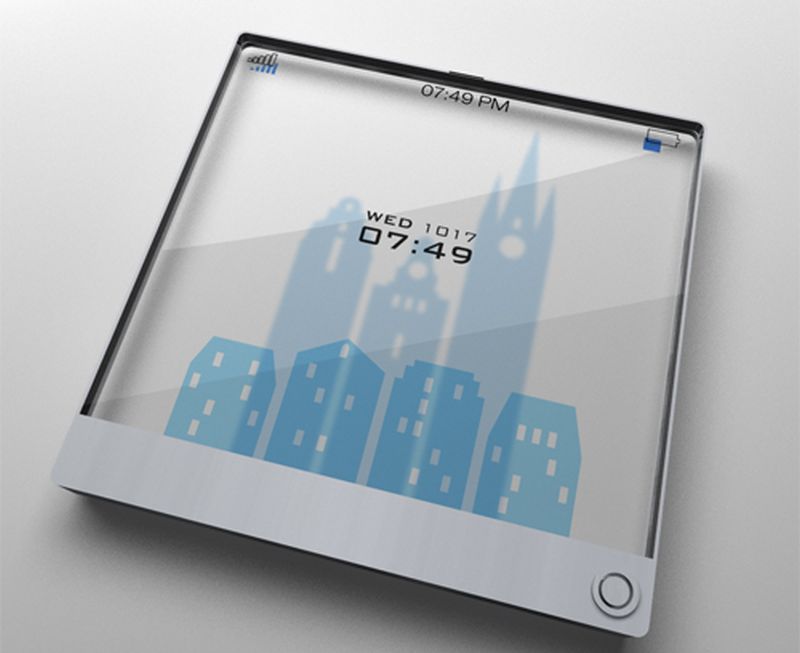 Image Source : petitinvention.files.wordpress.com
Mac Funamizu designed this portable/mobile music player device which has transparent electronics. The device allows you to wear the music on the wrist, just as you would wear a bracelet. It tells the time too, making it doubly useful. Though the gadget is transparent, you can set your favorite photo in the background, or set your favorite favorite color or pattern. What we like about this seriously cool gadget is that the transparent screen is flexible enough to be folded into a smaller gadget and stored in the pocket.
TKD Transparent OLED Display
TKD has revealed their ultra innovative OLED display which is one of the most striking  transparent gadget designs we have come across. It is flexible as well, and different manufacturers can make use of it in their gadgets. It is 2 inches thick and 200 ppi pixel density and is quite safe. As the light shines in only one direction, though you can see through it, you won't be able to see any data from the back.
Transparent watch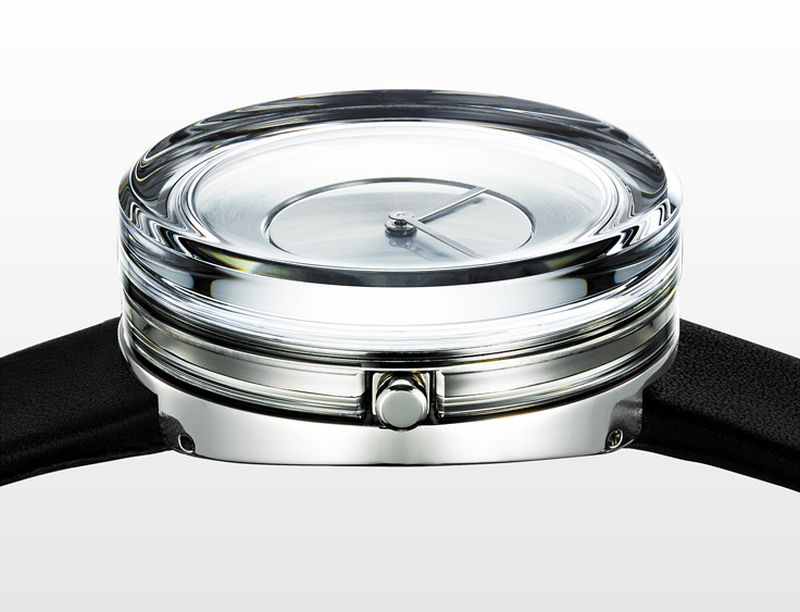 Transparent gadget design such as this watch is a work of art. It was designed by the Tokujin Yoshioka, a Japanese designer as a tribute to the 10th anniversary of Issey Miyake Watch Project. The incredible see-through watch is supposed to look as though it has been sculpted from ice or water. The fluid design will take your breath away if you ever get a chance to lay your hands on it.
Transparent refrigerator
A transparent fridge would be quite useful as you would be able to tell immediately what things you're running out of, without even opening it. You'd also use up all your food, as there is less chance of forgetting about things if you see them constantly.
One disadvantage is that not only you, but visitors to your home would also see the inside of your refrigerator, so you have to keep it nice and clean and tidy at all times. This could also be an advantage, as you'd be forced to keep the fridge clean, thus reducing chances of bacteria developing in it.
CPT002 Aston Martin Smartphone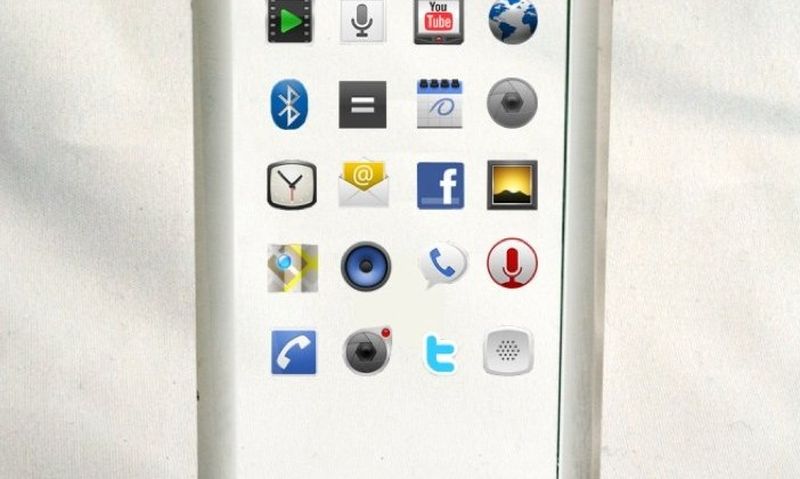 Image Source : slashgear.com
The CPT002 Aston Martin Smartphone has a transparent glass and looks pretty stunning. One of the features of the phone is that it can control several car functions. The cameras integrated in the car can be controlled by the phone and the photos, road trip information and videos, can be used to update Twitter and Facebook.
If you're traveling to a new destination, your friends and families can be updated about your whereabouts and share your excitement about the trip with you. This is not an invisible smartphone, but still an incredible phone nonetheless!
Nokia Twist
The Nokia Twist, as the name suggests, is capable of being twisted in many different ways. Not only that, the smartphone is transparent to boot, attracting a large user base who like unique gadgets. The smartphone explores the emotional interactions and nanotechnology, in a dynamic flexible device which allows it to transcend the boundaries of mere touch screens.
HP LiM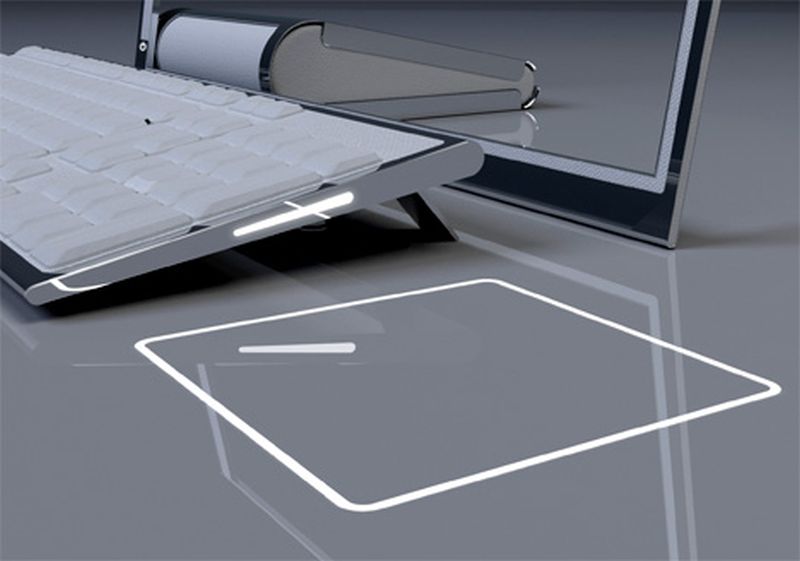 Image Source : yankodesign.com
Talk about futuristic computers and this is the one for you, if you want a desktop which looks as modern as its features. It has transparent surfaces and sleek curved corners making the design more appealing. The 19 inch OLED touchcreen which slides down makes navigation easier and the design ergonomic.
The desktop can convert into a tablet as well. With bamboo fabric stretched across the desktop's aluminum frame, it's safer to use. Wireless keyboard in desktop mode virtual trackpad eliminates the mouse. All in all, this is one of the transparent gadgets that we really dig!
Transparent Universal Remote
Zeynep Almitsoglu is the designer of this unique remote called the Universal Remote Control. It controls gadgets within your home, just like any other universal remote. What sets it apart is that it has a transparent LCD display and recognizes the user (you) as a machine and changes the display according to the emotions and demands of the user.
The gadget has a blood pressure measuring device inbuilt which is how the it 'modifies' the user environment of user, evaluating the emotions and then transmitting data to the remote. This is all technical jargon, but it would be fantastic to see this transparent remote in action.
Funkiest memory stick
Image Source : cdn.yankodesign.com
Another design by Mac Funamizu is this example of transparent electronics. Made out of transparent glass, it allows the light within the glass to glow as you save various bits of data. No light indicates there is no data on the stick. Lights on means there is data on the stick. What's more, you can tell at a glance the kind of data on the stick you have saved, such as pink light is for images, blue light for documents, green for movies and so on. You'd know which type of data is most in your memory stick. This is one of the most functional futuristic designs for sure!
FH001 Ferguson Hill Speakers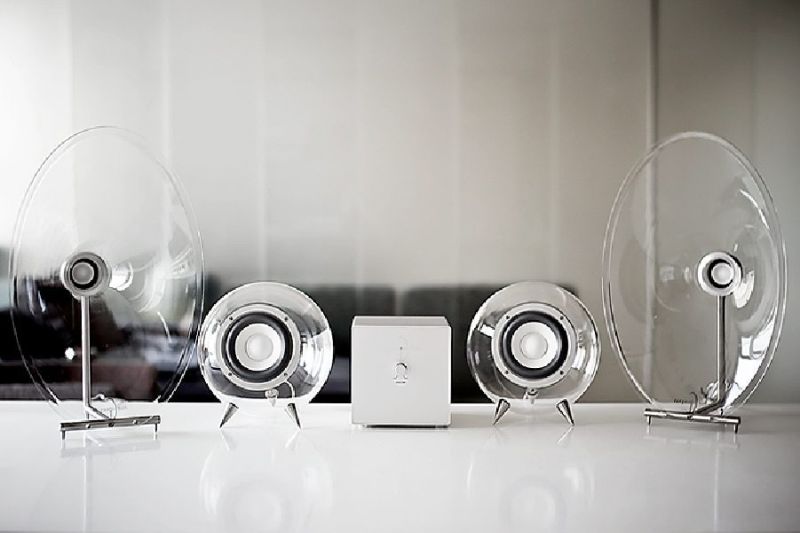 These are transparent speakers, giant in size, from the company Ferguson Hill. They look like huge glass aquariums, but instead of fish, there is highly efficient tech inside. The sound they deliver is only 3 to 50 watts, which is quite less. The price point at 26,000 dollars is not to be sneezed at either. The price puts the speakers out of range of most people with only those with crazy disposable money who can afford them.
Window Phone Concept
The Window Phone is a concept phone right now. It would have a clear, transparent plastic sheet which would transform its look according to the weather. If it is sunny, then the screen would be sunny or clear as in clear weather, if it is raining, then you would see a humid screen, and becomes damp during snow days. And if you want to send a text, you just have to blow on it! We are eagerly waiting to see this great concept available soon.
Lexus transparent car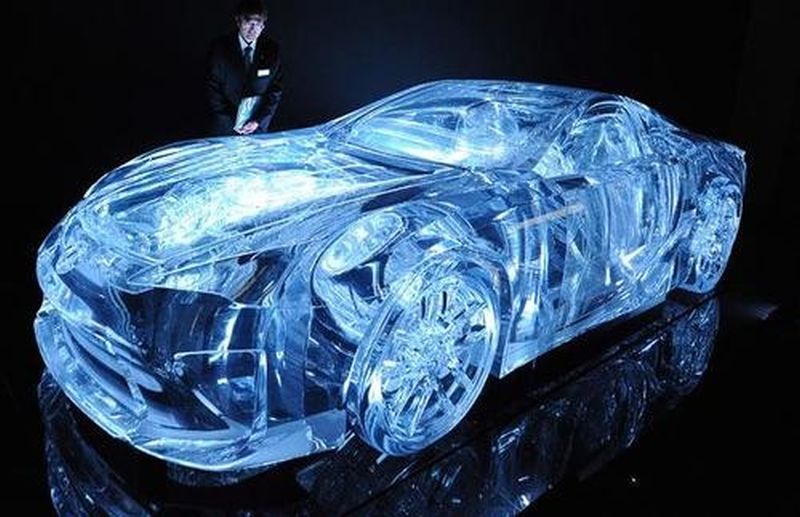 Image Source : slipperybrick.com
The transparent car from Lexus cannot be called a gadget, but it has to go on this list due to the 'insanely cool' factor.  It's a concept car as of now, but still it's quite exciting. The entire car is transparent due to the acrylic glass covering it. You can see the seats, transaxle, engine suspension, instrument panel etc. Everything within this awesome car is visible. It's doubtful whether people will buy it if it ever comes on the market, due to privacy issues, but as a concept, it is fantastic.
Looking Glass Concept
This concept can definitely be classified as being insanely cool. It's a transparent glass interactive tool for the internet, camera, GPS and scanner. It would be your interactive guide for anything that you look through it. You can get any information about any place you want, for example, and find the information you need through Wikipedia and Google.
Nokia's Clear Ghetto Blaster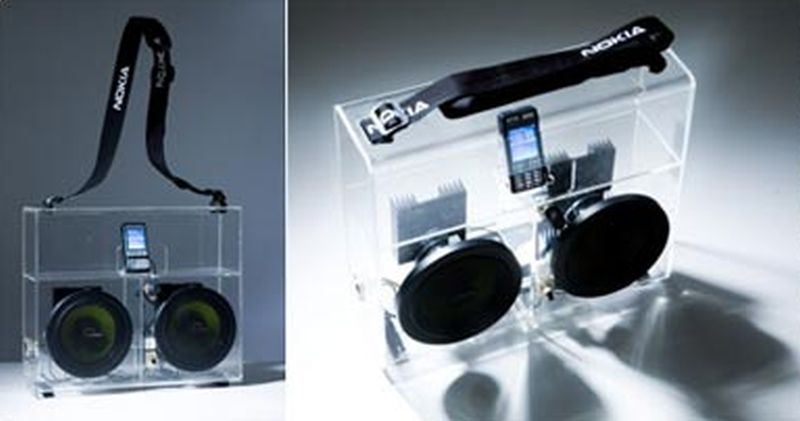 It was designed as a gadget to entice people into listening to music outdoors. It's a nice thought as people these days spend all their time indoors and do not get any sun at all. So if you want to take your music outdoors, you can take these briefcase type transparent speakers outdoors.
It can connect to your phone with a shelf on top to keep the phone safe. There's a handy nylon strip attached to carry it around easily. Take it to the park, or for picnics, or listen to your favorite tracks in the backyard with some wine and friends.
There are other one of a kind, transparent gadgets coming your way in the future, such as the Airbus Plane with a transparent canopy, transparent toasters and the Cobalto phone which would not be just transparent, it would project 3D objects in the air. Welcome to the future of ubercool transparent gadgets!