In the modern day of flatpack furniture and mass-produced goods, it can be difficult to find that unique bit of flair that can help separate your living space from everybody else. Antiques though, those old relics of the past, are one surefire way to breathe new life into a place. Thanks to the craftsmanship that helped create them, and the years that have passed since they were produced, it's very unlikely you'll find the same antique piece you adopt in your home in that of anywhere else.
When it comes to choosing which pieces to collect and help furnish your home however, it can be a little tricky. Here are four suggestions then that can help accentuate your living space and bring it some much needed style.
Antique Clocks
Timepieces are a great accompaniment to any living space, from hallways, to lounges, kitchens and beyond.Take a look at some of the antique clocks you can find online; they can easily form an impressive centrepiece of any room in your house. Classic antique clocks are often one of the most popular antique items thanks to its prolonged popularity throughout many different periods. Victorian grandfather clocks often go well in hallways or other entrance areas of a home, whereas Georgian mantelpiece clocks go well with other antique furnishings, such as tables, desks or drawers.
Antique Chairs
A house always needs furniture that helps people to relax and sit-down and antique chairs, thanks to their durability and style, are a great way to facilitate that. Perhaps not the most practical of day-to-day furnishings, the antique chair is best reserved for dining areas that require a more formal setting or snugs or sitting rooms that want a more classical edge as opposed to a modern TV-watching space.
Antique Tables
Just like chairs, antique tables are another essential furniture piece that can really help distinguish a room or social space by its sheer presence alone. Whether used practically for dining situations or workspaces, antique tables have a lot of versatility, and, depending on craftsmanship, can be used day-to-day with little worry of damage. Get inspired with some antique tables' decor examples here.
Oak tables are great considerations for a kitchen or dining room and offer durability, style and class suitable for a range of occasions.
Antique Silverware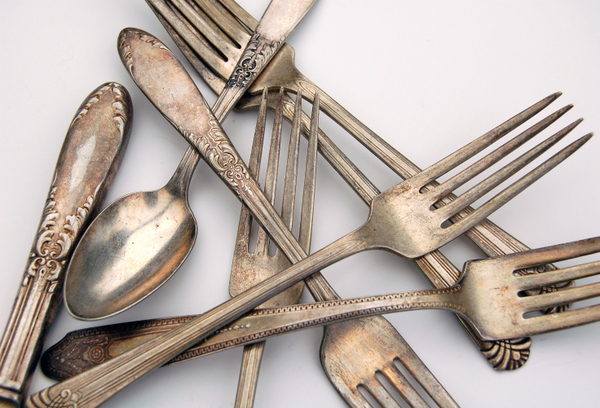 Silverwareis a slightly less flashy antique item as it's not usually on display as much as a table, chair or clock is. That's not to say however, that silverware doesn't inject the same level of intrigue to a space as the other aforementioned items. In fact, silverware can really help raise a room and its furnishing to a whole new level thanks to its contrast with smooth wooden surfaces.
Silverware also, has a very interesting antique history that differs between periods. Georgian silverware for example, is generally more elegant and ornate than early-Victorian pieces. What this means for the collector however is that silverware is very often a subtle but unique item that can help differentiate a space. If you are still not sure about your selection, check some tips to identify antique silverware correctly.
Antiques are a great way to help make your living spaces stand out and differentiate themselves. Although they're often more expensive than modern counterparts the cost of investment, coupled with the charm they bring, is usually worth it.