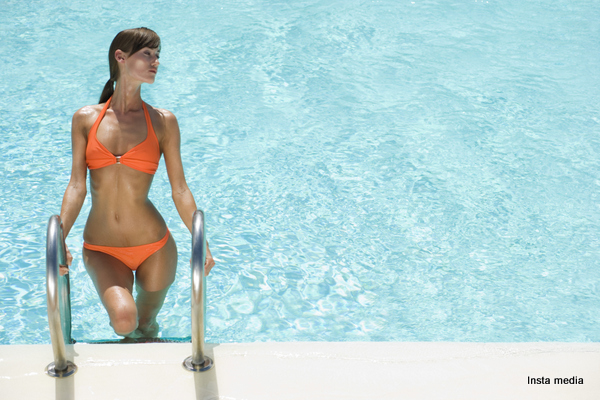 Beach is the sole destination during summer season. They are ultimate places to chill and have fun. However, at such time women cannot roam around beaches looking unfashionable in anyway. They do have to look gorgeous like always. Each summer new swim wears crowd the market. Ladies do search store racks of every corner to get their hands on perfect bikinis or beach attire. Best way for them to get hold of perfect bikini is to buy one that looks perfect on their body type. Bikini types for voluptuous figures are different then meant for skinny ones. Right color selection also matters a lot. For getting right color of bikini it is necessary to find one that complements the skin tone of one. A strict no color for any kind of bikini is pastel dull tone. They tend to mix in easily with skin tone. Bright solid colors are always right for any bikini. Some of evergreen colors in bikini are blue, yellow, orange, green and bright red. Pleats as well as ruffles are also most sought after in bikini. To skinny girls it provides extra volume and to voluptuous ones, it provides extra feminism. Graphic prints are also getting a lot of attention from folks around.
Top design ideas
Even after these simple basic ideas, women keep looking for great bikini design ideas that would complement them completely and make them an object of envy among others. To try something new everyone keeps trying on new combinations as well as colors. Some new ideas for the latest bikinis are as such.
Prints of bikini snakeskin, when adorned by a woman, gives them sexy, mysterious as well as sleek look. These bikinis are so much in demand that they are even the toppers among most designer's swimwear creations. This bikini gives a woman irresistible look. Summers especially get hotter with them.
Another fantastic idea for looking superb in the bikini is adorning bikinis of wild prints. Sex appeal gets especially more enhanced via these prints of swimsuits. These prints come in all sizes. Some famous ones among them are leopard spots and tiger prints. This classic trend can be further be twisted by making innovative colour combinations in them.
For ultimate sexy as well as cute look most desirable swimsuit is none other than romantic ruffles bikinis. One has to just take care of buying ones that suit their body type only. These can be either extravagant cascades or subtle frills. On basis of location of these ruffles, they can make a woman look slimmer, bustier or even curvier.
If want to display right curves but also cover concerned areas at same time then best way to do so is via donning Cut-out linked tops as well as bottoms monokinis. From front they look like swimsuit of one-piece. However, from back they give appearance of being two-piece swimsuit.
Throughout entire bikini age, this combination is known to be timeless combination. Until this date, their pairing is known to be highly trendy. This combination is perfect for wear in both poolside or beachside. If one dons it then there is now way that they can go wrong.
These five designs are most innovative ones in the market right now. However, there are also some other designs that are being donned by almost everyone. Like bikinis of juicy colors like orange, lemon, citrus etc are mostly in fashion. They give a women refreshed look. In addition, majority of beautiful women can also be seen sporting bling color swimsuits like glitter, jewels, sequins etc.