Many designers are coming forward with innovative ideas to infuse natural terrain designs in their furniture pieces. Crafting each piece painstakingly by hand, these designers include everything from icebergs, rivers and abysses to stones and fossils in their designs, ensuring that no stone is unturned to make these pieces artistic wonders. Take a look to find out yourself.
Greg Klassen's River Collection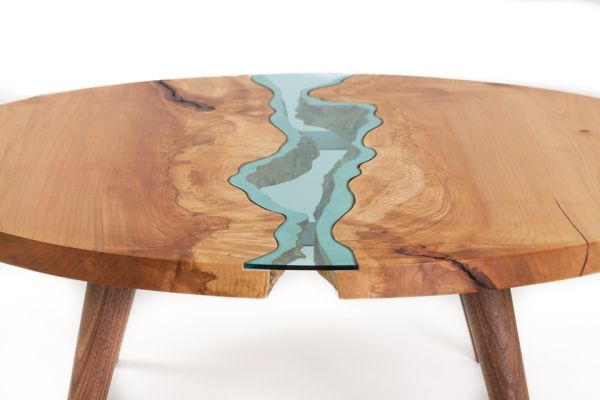 Designer Greg Klassen has come up with an innovative way to reuse discarded lumber that is considered imperfect for standard use. He aligns these planks properly and then joins them with strips of blue green glass in between. The result is a stunning table that looks exactly like a watery landscape, with a gorgeous river meandering lazily through a canyon.
Ben Young's Broken Liquid Glass Sculptures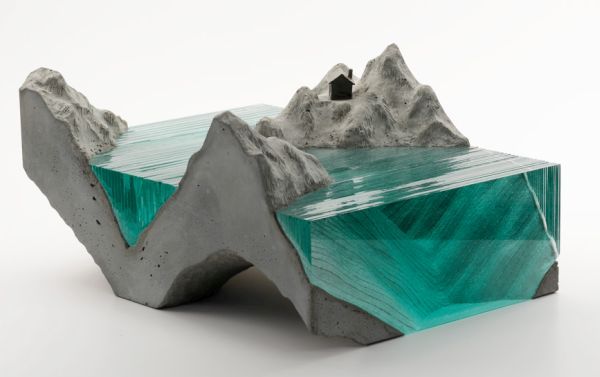 Ben Young takes the inspiration for his most recent design from the perfect wave and the power of the sea. The self-taught artist has come up with a way to recreate the waves of the sea on a glass surface by placing multiple sheets of blue tinted glass over one another in succession. Avoiding the use of high tech equipment for the same purpose, Young handcrafts each furniture piece by hand, including drawing the sculpture and cutting the glass to fit into the same. While some pieces contain only glass, others are infused with an appropriate mixture of cast concrete and glass to create complex landscapes.
Duffy London's Abyss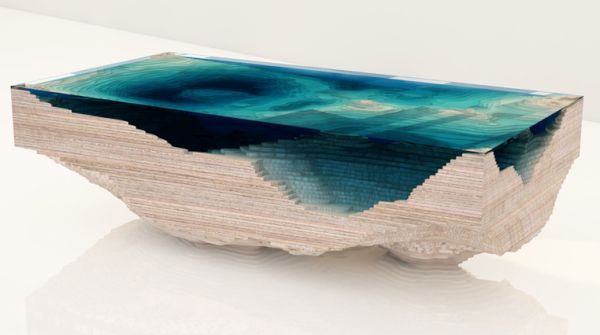 Ever wondered what it be to look down an abyss in the middle of the ocean? One look at The Abyss and you will have your answer. Inspired by the never ending depths of the ocean, Duffy London has designed a table that uses multiple layers of glass sheets placed one over the other to create the effect of the ocean depths.
Using wood, Perspex and sculpted glass, this 3D arrangement would surely leave you speechless. Representing a geological map of sorts, the design shows the gradual transition from sandy shores to the deep blue abyss in a striking manner.
Stephanie Marin's Living Stones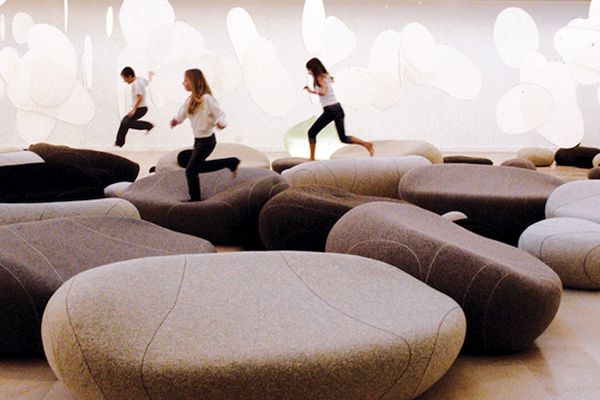 Walk into a room filled with Stephanie Marin's Living Stones and you will feel as if you walked right into the path of several gigantic boulders. However, don't be confused for these are not actually boulders but large poufs of wool that have been given the shape and color of these massive stones. Available in several sizes and shapes, these comfy boulders aka pebbles can be used as footstools, loungers and pillows, etc.
Richard Hutten's Layers Cloud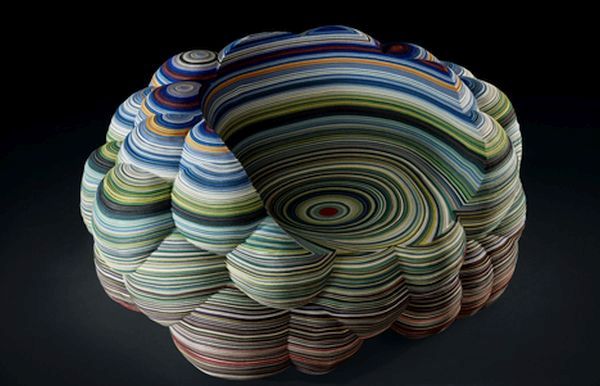 This incredibly creative and colorful chair is made of comfortable fabric that is cut from a CNC machine. But what attracts us is the myriad colors infused into the design and the intriguing pattern which the designer says, takes its inspiration from the fossils colored desert in Arizona.

Furniture designs have progressed a lot over the years and have started incorporating several attractive features that make them centerpieces in any space. These terrain inspired furniture pieces are testaments to that.