With the world facing brand new environmental issues every day, it is time that we switch to a sustainable lifestyle. We need to map down our carbon footprint and curb it down. After our diet preferences, the thing that counts the most in our carbon footprint is out vehicle preference. For example, if you travel a lot through the air then you have a high carbon footprint. Furthermore, if you never choose public transportation over private transportation then also you have a high carbon footprint. Nevertheless, there's one way to commute in an eco-friendly way using a private vehicle, it is by opting for an eco-friendly vehicle.
Cool electric dirt bikes for Eco-friendly riders
In the Eco-friendly vehicle market, electric cars take all the attention. With 4×4 SUVs and stylish hybrids from Tesla and Nissan, electric car sales are rising after every passing year. Just like cars, the motorcycle world is also changing. Famous two-wheeler brands like KTM and Alta are releasing all clean combustion rides to establish themselves in this emerging segment. We did some research and came up with a list of best electric dirt bikes that offers thrilling jumps and are able to clear formidable trails without making much impact on the environment. Ride on and discover some of the coolest environmentally friendly electric dirt bikes that are an ideal choice for any nature conscious consumer.
1. KTM FREE RIDE E-XC 2018 NG


With an advanced electric motor of FREE RIDE E-XC, you can explore the trail for up to one and a half hours. The complete dirt bike is all legal, so it can be used on the city roads as well.  KTM's PowerPack and state of the art control unit gives it an effective response rate. With a peak power output of 18 kW and 42 Mn torque, it offers three riding modes – economy (limited to 30 miles/48 km per hour), endure (restricted output of 16 kW) and cross (to enjoy the full throttle).
Price: €7500

2.  Sur-Ron Electric Dirt Bike

One of the innovating and exciting electric dirt bikes is produced by Luna and Sur-Ron. Whether you are a naive rider or a trail leader, this easy to use electric bike can be your foremost choice. It offers two ride modes – standard and sport. Its detachable 60v battery can be easily mounted on any wall socket and takes up to three hours for a full charge. Rated at 6 kW, the dirt bike has an insane top speed of 50 miles per hour (80 km/h) and a 50 miles range. Such optimum performance comes because of the bike's aluminum built, which also gives it a weight of only 110lbs. Upgrade options include a pedal system and front LED light of 2500 lumen.
Price: $3,890.00
3. Kuberg Freerider
The electric machine is made to give you the best time while you ride through brute terrains and complicated desserts. Incomparable power to weight ratio, 48V motor delivering 8 kW power and Maxxis Creepy Crawler tires gives you everything that you can ask from an electric dirt bike. Manitou front forks, Tektro Auriga brakes, and DNM Burner-RCP shock absorbents are the other considerable features. It has a top speed of 34 mph (54 km/h) and it can be fully charged within two and a half hours.
Price: $4, 799
4. Cake Kalk Electric Bike

This European machine uses an industrial IPM motor and that is why it is referred as a futuristic electric dirt bike. It has a simple yet stylish design that feels easy on the eyes. Its 50Ah battery offers 42 nm torque and a range up to 49 miles (80 km). Using a single pivot direct drive to reduce heavy components, it weighs 154 lbs (70 kg). To cruise around all kind of terrains, Cake Kalk comes with three different riding modes as well as adjustable motor braking system.
Price: €13 000

5. Vector Vortex Off-Road Electric Dirt Bike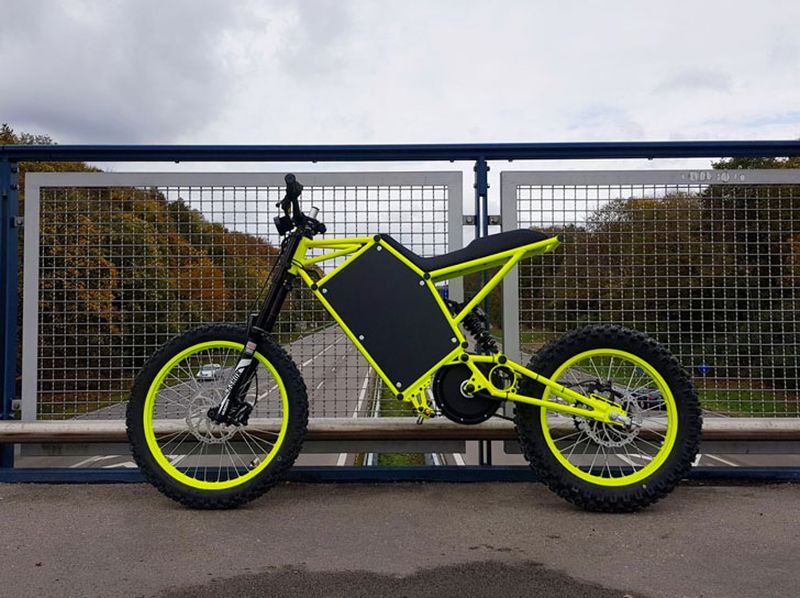 Image Source : awesomestuff365.com

The innovative gear system of Vector Vortex makes it ideal for toughest off-road conditions by giving it the required torque to climb and accelerate on hilly territories. A direct connection between the motor and rear wheel makes it responsive to sudden braking, which is again an advantage. Moreover, it has an advanced braking system with dual calipers and another four-piston hydraulic braking system that comes into action in case of lack of traction between tires and ground. It's battery charges within 120 minutes from regular power outlets. With 10 kW power and 130 lbs (59 kg) of weight, the green motorcycle runs from zero to 31 mph (50 km/h) within 3 seconds.
Price: $4, 499
6. Zero FX – ZF7.2

Versatility and style, that is how we can define the FX. The environmentally friendly dirt bike has ability to run on asphalt ground as well as mud filled terrains, all thanks to the Z-Force battery. FX delivers a maximum speed of 85 mph (136 km/h) and a range of 91 (146 km) miles in city conditions. With peak power of 34 kW (46 hp), it produces maximum torque of 106 Nm (78 ft-lb). Standard charging time for the dirt bike is 9.7 hours, but with charging accessories the charging time goes down to 1.8 hours. The weight of the stylish machine is 289 lb (131 kg).
Price: $10,495.00

7. Alta Motors Redshift MX Electric Dirt Bike

Build for optimum performance and a sustainable ride, Redshift MX produces 5.8kW (50 hp) power with a maximum torque of 147 FT –LBS. The 259 lbs dirt bike charges within 1.5 hours are efficient on any terrain that you can think of. Its extra dense R5.8 battery pack contributes to its power and speed. The dirt bike has four driving modes – eco, sport, performance and overclocked that you can choose to depend upon the riding needs. 
Price: $14,995
8. Razor Dirt Rocket MX650 Electric Dirt Bike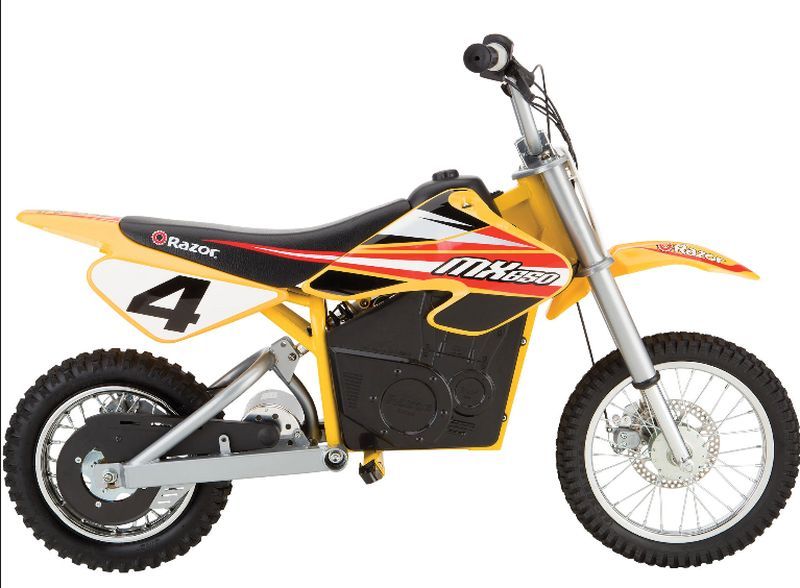 One of the best electric dirt bikes comes with a scaled-down model that suits both young riders and big guys. MX650 has a top speed of 17 mph (27 km/h) and runs up to 40 minutes on battery. Made with steel, it can withstand all the rough conditions. For extra comfort and convenience on tough grounds, the dirt bike features a dual crown fork and suspension mechanism. Double disc brakes make it easy to stop and twist grip gives complete control for the acceleration. For customized riding, it has adjustable handlebars. A complete beauty on the wheel that offers a satisfying ride.
Price: $399
9. Electric Motion EM 5.7 Escape Dirt Bike

The pollution free green motorcycle powered by 40 AH battery produces maximum power up to 12kW and a torque of 27Nm. Designed ergonomically for all the comfort you need, it has a top speed of 37 mph (60 km/h). EM 5.7 comes with a recharge button that charges its battery while you are going down from a slope or hill. The normal charging time is one hour and thirty minutes. 
Price: $12,700
We hope after enjoying the listing you feel much closer to making a decision. Have fun while you look for the dirt bike suitable for your needs.