About Domino's
Domino's has over the years has established itself as one of the best home delivery pizza experts. Not are they best at only delivering pizzas, there are pizzas are truly mouth-watering. Well, I am already feeling hungry and craving for a Domino's pizza. As a pizza brand, Domino's has also been quite experimental and innovative with its menu. Spread far and wide, across various countries and continents, they have menus keeping in mind the tastes and sentiments of the locals in each location. This innovative menu and constantly adding something new has made Domino's quite popular and has bought it a long way. As mentioned, they are also the pioneers and experts in pizza delivery, seems the pizza giant has now brought the innovation factor in their delivery vehicles as well. Puzzled what is being discussed about here. Have a look at these pictures.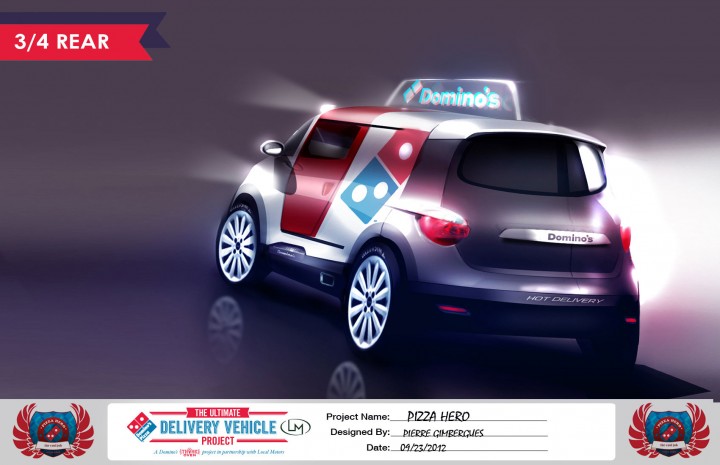 Crowd sourcing has always been a basic and key element in increasing business horizons. Domino's and similar companies have always used it to create new products. However, with the tradition of being innovative, Domino's is this time using crowd sourcing to create a new signature delivery vehicle.
The 'Signature Delivery Vehicle' Story
Domino's recently tied up with "Local Motors" to organize a contest. The contest gave the opportunity to people from around the world to give designs for the "Ultimate Delivery Vehicle". In the process the participants had the opportunity to win cash prizes. The competition closed just a few days back and Local Motors in collaboration with Domino's announced the winner. The winning design has been named as 'Domino's Pack' and the designer is Anej Kostrevc of Slovenia. The delivery vehicle designed is almost nine feet long, slightly less than five feet wide and approximately six feet tall. The wonder delivery vehicle 'Domino's Pack' is designed to maximize interior space for pizzas and beverages.
The vehicle also has a cool rear drawer and some regular drawers and trays. The cool drawer has the capacity to store and chill about nine, 2 liter bottles. The other drawers and trays are for storing the pizzas, garlic breads and other edible stuff like pasta, wraps etc. The 'Domino's Pack' has automatic sliding doors similar to 2013 Ford Escape foot activated lift-gate system. The concept has won the designer $10,000.
The second and the third winners won $5,000 and $1,500. The next ten top entries won five hundred dollars each. The pizza giant has planned in total five phases of the competition. There are four more phases yet to happen. Domino's plans to distribute approximately $50,000 as prize money across all the five phases. The vehicle details like packaging, interior, surfacing and rendering will be finalized basis voting and validation on similar lines. The design submission contest will be completed in phases by February 2013.
It is indeed a commendable strategy. People involvement in launching and designing of new products is always a smart move. Since, the product has been designed by the consumers themselves, the occurrence of the product failing is quite rare. Most importantly, such level of customer involvement also brings about a sense of customer loyalty. Domino's has always been a pioneer in pizza delivery.  They are truly the pizza delivery experts and also have always made innovative menus. Seems this customized Domino's delivery vehicle will be a success too. Many competitors may follow in line soon to the trend of having a customized delivery vehicle. Like pioneers in pizza delivery, it seems domino's will very soon become pioneers of a customized delivery vehicle as well.