What's the definition of modern furniture? First, it should be smart, that is it should be able to connect, share information and work efficiently with other smart devices. Second, it should be sleek and minimalist. Third, it should be aesthetically pleasing. Herman Miller's IoT furniture combines all these aspects into his modern masterpiece called Live OS. Just like the name might suggest, it is nothing less than a smartphone. In fact, to operate it fully, you actually need a smartphone app. Here is everything you might want to know about it along with classic gadget designs that would provide a good counterpart to it.
Herman Miller's IoT Furniture
Herman Miller has always been at the forefront when it comes to producing furniture that is not only well made but ergonomically efficient. The company rose to fame when they delivered the Aeron chair. It showed the world that Herman Miller focuses on human-centered design combining it with the latest technology and materials available to deliver a premium experience to anyone who uses the furniture.
Following the chair, Herman Miller released even awesome furniture viz. the Noguchi Table, the Eames Lounge Chair and a host of other products. And with time, Herman Miller has now come out with its latest creation known as the Live OS.
Live OS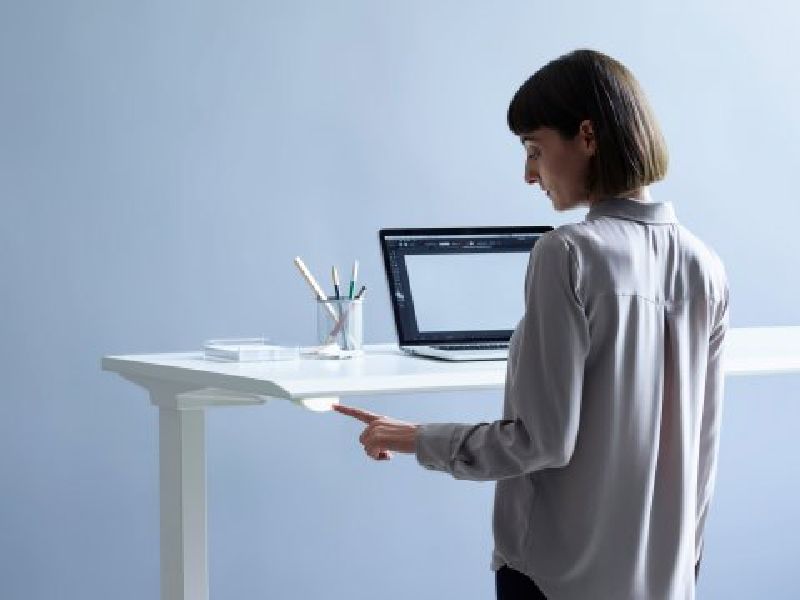 Based on the concept of Internet of Things (IoT), the Live OS is a system consisting of furnishings, an app and dashboard to connect your furniture to the cloud. This helps you to analyze your work desk like never before.
The information procurement is done with the help of sensors. These sensors may be connected to fixed-height desks or sit-to-stand desks as well as chairs. Additionally, the sensors may be connected to a desk when you buy it or may be fitted to an already existing desk. Not all existing products will support Live OS. This flexibility helps make the entire office that has compatible furniture a part of the Live OS system. The sensors are connected to the cloud on a secure cellular network.
The information for the desk is then anonymously sent to the cloud and relayed to a dashboard that helps the administration monitor the real estate in use and how much area of each desk is being used.
Capabilities
Live OS desk users may choose to input the amount of time they would like to stand and sit over the course of the day. This interaction is carried out using a smartphone app that must be paired to your connected desk. The desk will then use this information as a guide to remind you to change your position if you have been in it for too long. For example, it may nudge you to stand and stretch your legs if you have been sitting for a while.
Live OS may also send you suggestions via email, the module or the app to improve your posture or your chair may recline and adjust to your preferences. The app memorizes a user's preferred sit-to-stand desk position and one only needs to tap the module to switch it to the alternate position. Hence, the internet-connected furnishings can also change positions to make sure the employees are more productive, engaged and efficient.
LEDs in the module can light up in a variety of colors and added functionality in the future will be able to show whether a desk is available or reserved in a hot-desking scenario.
For the administrators, the Live OS system provides information on how much of a desk is being used and how the staff use their desks orientation-wise, ultimately helping them to utilize the office space efficiently.
It will also help the administrators to discover peak work periods or where an unused desk is available to be allocated when needed. Herman Miller plans to add more features and compatible furniture very soon, with the connected Aeron chair releasing in the beginning of the year 2018.
Control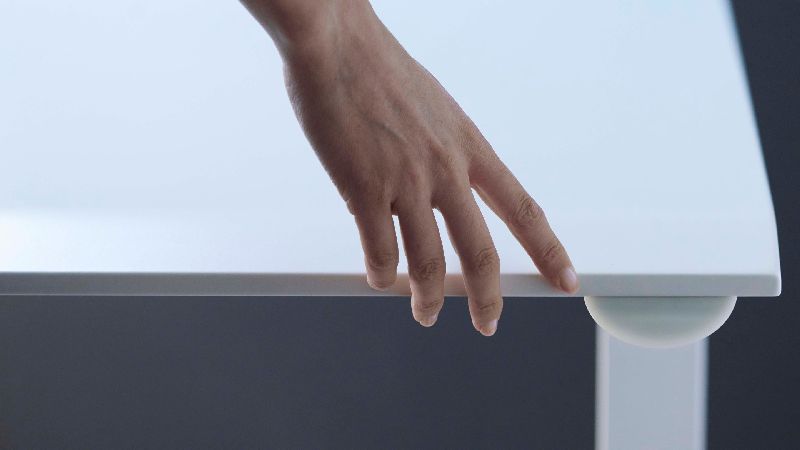 The user interaction with the furnishings is via a smartphone app. The app recognizes the user and their previously stored settings if used before, immediately modifying itself for the user. As mentioned before, it is also used to input preferences and receive updates and messages on current postures and better alternatives. The employees can choose to ignore the notifications but if they decide to change their posture, a light touch on the module automatically lifts or lowers the desk in line with the user's presets.
Conclusion
Research has shown that activity levels increase with the Live OS system. The individuals can keep a track of their work habits and change postures throughout the day to achieve personal goals. This increased activity helps the users to be more involved, attentive and productive at work and also gives them a personalized experience in a shared workspace.
This new product from Herman Miller is a testament to how they plan to evolve to serve their customers better and expect the workplaces to help them drive their own business transformation. For its introductory release, Live OS will be available to the North American market only. Availability is limited.
Some Wooden Gadgets that would look perfectly fine with IoT furniture
1. Wooden Mp3 Player
Love listening to music? Then why not listen to your favorite tracks from the cool camera inspired Mp3 player gadget. Fully handcrafted from wood, the unique gadget gives you the perfect sound quality. Therefore, it is aesthetically pleasing as well as functional.
2. Wooden NES Portable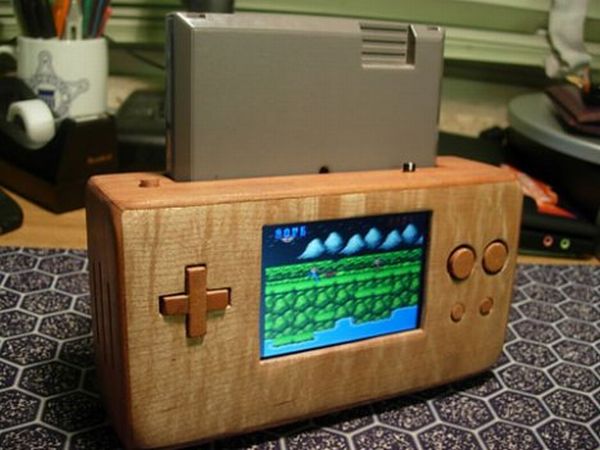 Playing classic games can never get old, but now you can play them on beautifully carved wooden NES portable. The flawlessly designed game console features a 3.5-inch LCD display integrated with original NES motherboard. The classy product is designed by Ben Heck forum and draws power from four AA NiMH Batteries at 2500mAh. It offers you a continuous four-hour gameplay without any glitch.
3. Nokia Wooden Phone
Nokia has launched such a brilliantly designed Nokia wooden phone that you just can't take your eyes off from it. That not only looks great but works smooth as well. The phone is an eco-friendly project from Nokia, which flaunts an 8.0 megapixel camera. The phone also has an amazing display with long lasting battery life.
4. Wooden XBOX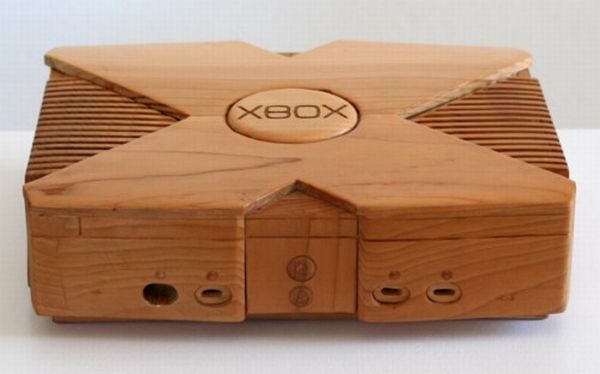 X-Box is considered as one perfect platform for gaming, but have you ever imagined being wooden? Yeah! Now get to witness the brilliantly carved gaming console and it works quite well as it looks. Designed by sculptor Ben Winfield, the wooden console is certainly a masterpiece with a detailed controller.
5. Wooden Super Nintendo
Engineers couldn't stop them from making the outstanding Super Nintendo with a completely carved wooden case. The classic gaming console has never been so exciting with the newly designed custom-built wooden case. Everything is wooden from buttons and controller apart from the display screen. The wooden gaming console flaunts speakers, modified PS one display fitted with LED backlight and headphone jack.
6. Wooden Computer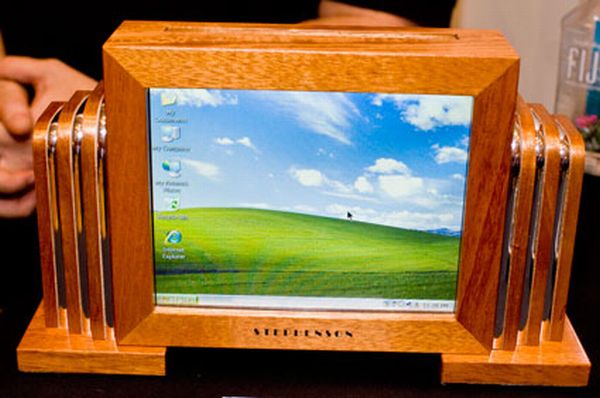 After uniquely designed gaming consoles and Mp3 player, it's amazing to witness a completely custom-built wooden computer. Jeffery Stephenson from Slippery.com has designed this artistic wooden gadget. The computer is fully functional and complete with slot loading disc drive.