The world population is growing. Nowhere is this effect more significant than in the major cities of the world. In addition, to make them more crowded, even people from the countryside are moving to the cities. This is creating many problems. Not only this has led to housing problems, but there's also very less space for other activities. No one suffers from this as much as our children do. Therefore, to solve this problem, designers are coming up with innovative ideas. First of all, they are coming up with affordable housing that gives a place to the children to live. Furthermore, their aim isn't just to provide a place for children to play, moreover, they also make sure that they utilize waste materials during construction. One example of the same is this amazing pavilion for children consisting only of waste PVC pipes.
PVC pipes form an interactive pavilion for children to play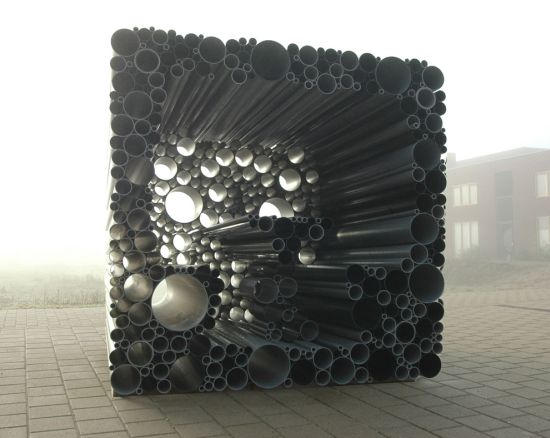 B(h)uis project seems to have derived inspiration from the manner in which the poor interact with the building construction material in the Third World. Presumptions apart the project planned by Netherlands-based Hoogte Twee Architecten explores the idea of using PVC pipes as a hollow building stone to construct an interactive pavilion of children or an interesting temporary residence.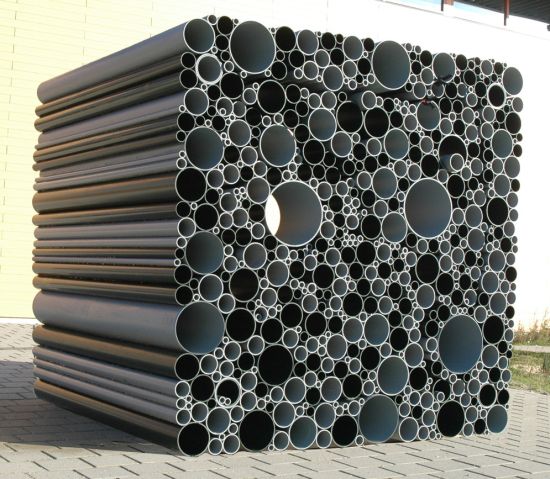 The erected structure uses PVC pipes that have been stacked parallel to create various interactive forms with great functional use. The design uses the transparent aspect of the pipe for light filtration, especially the open heads that allow a flood of light to penetrate through. The brilliant idea makes up for an excellent pavilion in the courtyard or a public park for children to play.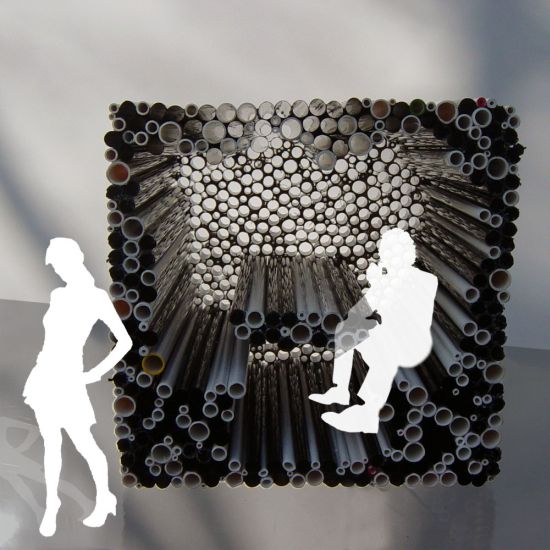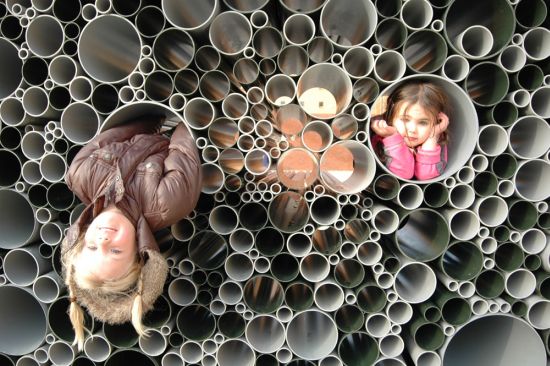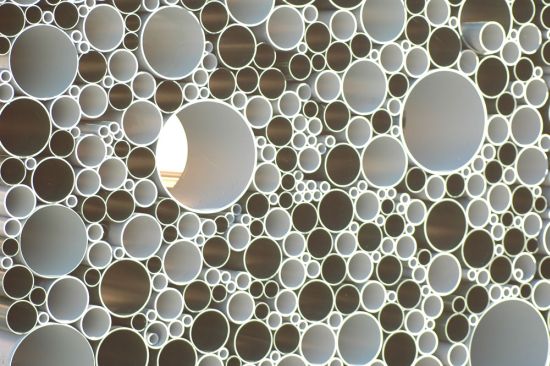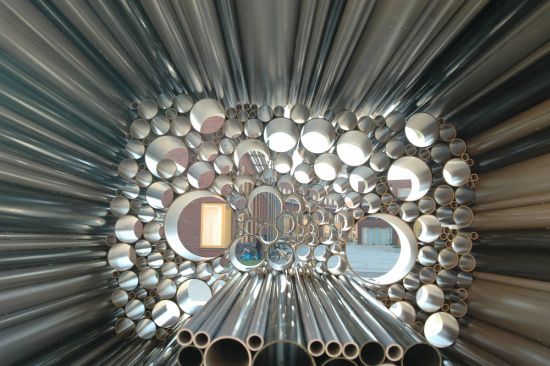 Via: ArchDaily
Some more innovative product design ideas like PVC pipes Pavillion for children
1. Objectify Hugga chair-cum-table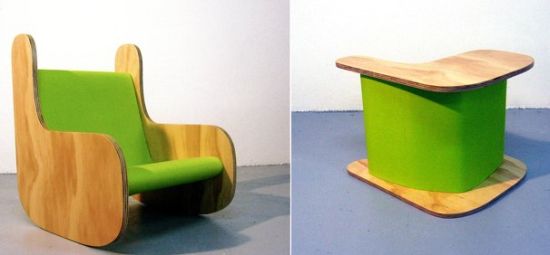 This chair-cum-table is made of sustainably produced New Zealand Pine plywood and New Zealand Pine rods; while the fabric 'Charade' covered closed cell foam wrap offers comfortable cushioning. The fabric Charade has been chosen since it's mothproof, non-allergenic and resistant to ultraviolet rays. Kids can even get a gentle rocking while using the Hugga as a chair. Place it on its side and you have a table to paint or draw. Its "L" shape fits the end of any sofa stylishly to work as a table for limited spaces. Bring two of them together and you have a funky set of furniture for your kids' room.
2. sChOOlpack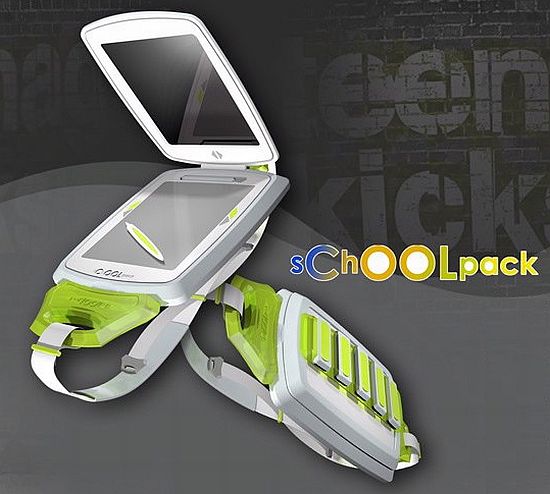 The plight of school goers is pathetic without a doubt. Having been victims of the system, we can vouchsafe for the kind of drudgery that children undertake in the name of backpacks. Laden with books, notebooks and all the paraphernalia that proper education necessitates, schoolbags are pain, quite literally.
That's why an IIT educated designer has designed sChOOlpack. It is a modern replacement for this ancient way of hauling stuff. sChOOl pack is designed by Prashant Chandra. In fact, it is actually a PC masquerading as a backpack. This light replacement for books and notebooks is targeted at teenagers and young college goers, in particular. A regular touchpad takes care of noting down stuff. In addition, an LCD display is equally adept at presenting the bookish facts.
sChOOlpack is actually quite good at replacing all the different books. It basically has five separate hard drives (each one for a different subject) and one of these would dock as soon as the period for that subject begins. When not in use, these would form a part of the overall package and slot into accompanying holders.
Also additional features like MP3 support, recorder and like could be integrated into this PC. The advantages of this concept are quite apparent; freedom from purchasing stationary and books time and again for one, and ease in the back pain of students for another. Produce this on a mass scale and parents will definitely get on board.
3. Train toilet for children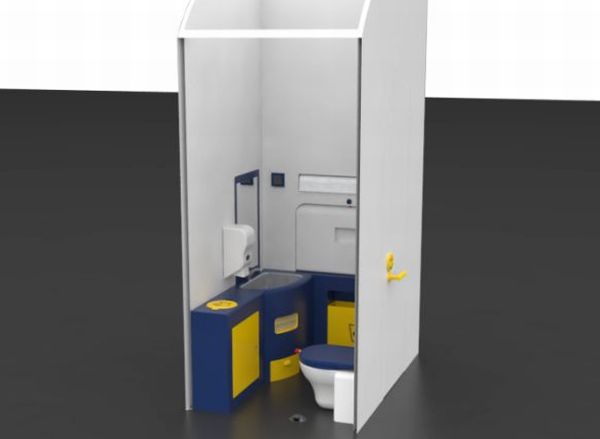 The biggest hitch when traveling by train is the toilet area. It poses a lot of trouble if you have small kids, as washrooms are never designed keeping this age group in mind. To help you breathe a sigh of relief is the "Train Toilet for Children" by Niccolo Raimondi.
It rests neatly in a blue colored cabinet, giving it an aesthetic appeal. Paper towels are placed below the washbasin for added convenience. The trash can, made from aluminum, is placed on the right side. Moving further, the toilet bowl has been placed at a height of 36cm. It comes built-in with a red colored knob, which keeps the user away from touching the water closet.
A white button has been placed above the wall onto which the magnetic knob can be attached. But, what happens if you need to change your child's diaper? Well, the smart toilet has a solution for this as well. A changing table, 70-72cm high, has been dug inside the wall above the paper bin, which moves down at the push of a button. The Train Toilet for Children seems to be very useful for the parents traveling with kids.
4. Children Ergonomic Desk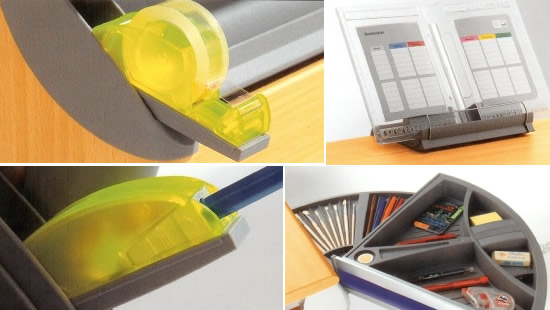 For healthy development of your children, it is important that the desk and chair can keep pace with their growth. And here's one such child-friendly option from Stretch Now. Designed to keep pace with the growth of your child and his needs, this Children Ergonomic Desk comes across with a new, easy height adjustment feature. Thanks to the lift technology, all elements "grow" with the desk as the height adjusted, and do not need to be adjusted separately.
The desk sports a user-friendly titling function – telescopic arms on the desktop – to guarantee the ergonomically correct posture when drawing, writing or reading. Moreover an integrated brake prevents the desktop from falling straight down when it is released. My daughter will love the Compartment drawer and Secret box feature where she can keep her secrets safe from her kid bro's nasty prying hands. Don't miss out the other significant features like the swing-up keyboard shelf, lowerable monitor shelf, book holder, pencil sharpener and a tape dispenser.
Rounded corners and edges, adaptations in soft plastic and soft edges on the table tops ensure that the furniture is safe for children. The melamine-resin coated chipboard is tough to sustain all the brutality- wet or dry.
5. Oceanic themed SuperKraken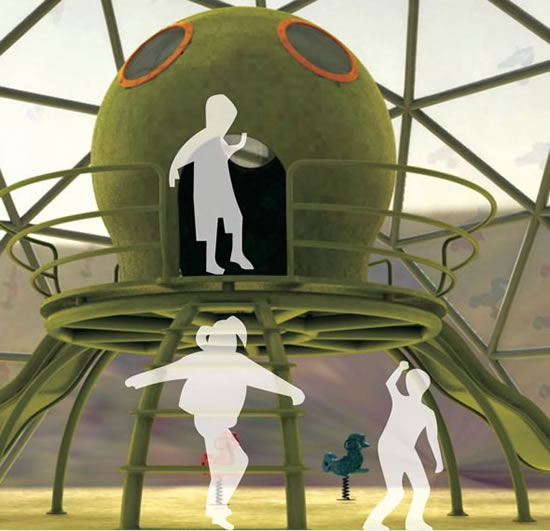 Nothing restricts a child's fertile imagination; childhood games can take a very creative tour into the Neverland. Role-playing and conjuring imaginative characters and friends is a very important part of these carefree years. A concept developed for The Brazilian Alcoa Innovation Competition sees NotuDesigns use sea creatures and ocean life as the theme for a play area for children. Understanding the need to let their imaginations soar, the SuperKraken pits octopus and seahorses in the same arena as slides and swings. The installation also features a geodesic dome that is fabricated from anti-UV film-coated polycarbonate plates. The purpose of this dome is to protect the children from harmful UV rays, making it ideal for both day and night time play area.
With the assurance that their children are playing in a secure area, parents will approve the SuperKraken and children will adore the creative expression.