Most of us are trapped inside a busy city life. It drags us into its rhythm. When we are on the street walking towards our house or just going around the corner to buy some groceries, sometimes we just want to sit somewhere and observe things around us. However, let's face it nobody wants to sit on the pavement. Well, there's a respite. The modern-day artists don't just paint graffiti on the walls, in addition, they also want to sit back and observe the city as they do. With the design ideas like Urban Seat in the market, sitting outside in the open city is cooler than ever before.
Urban Seat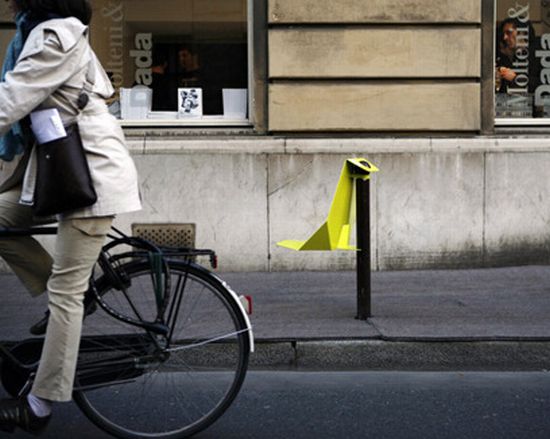 Displayed at Designer's Days 2009 in leplanb Off, the Urban Seat by designer Damien Gires is unique urban outdoor furniture. It provides innovative sitting space for passersby, other than slipping smartly and beautifully in the urban environment. It comprises of a chair and a table. Furthermore, the new furniture line is ideal for a short rest as well as different community gatherings on the street. Moreover, you can position this chair on a permanent basis alongside the street market; while on the other hand, the tablet makes functional furniture outside the shops or offices. The Urban Seat is simply a street-smart outdoor seating.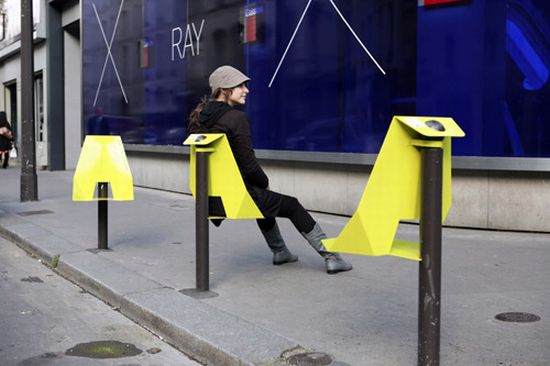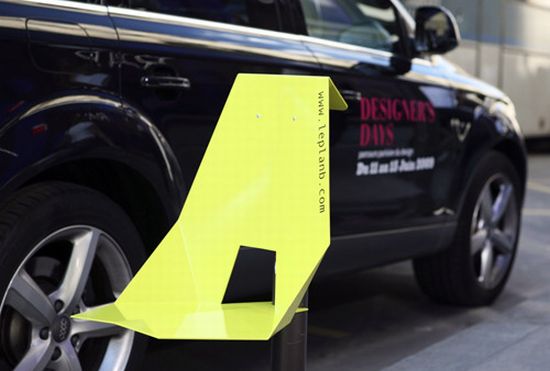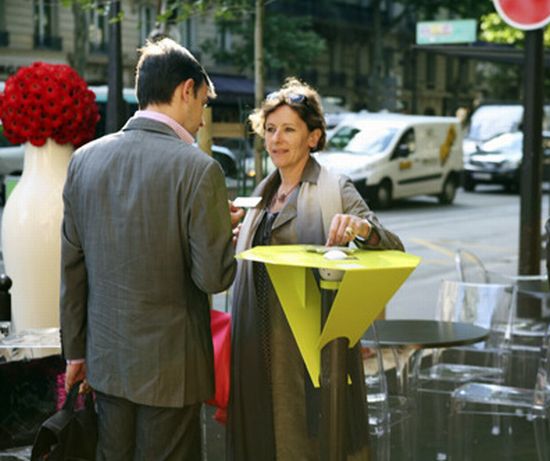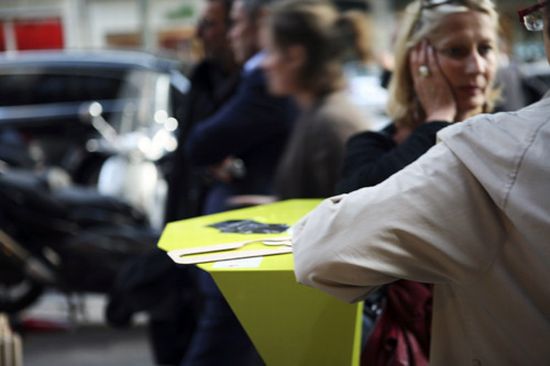 Via: Deco-design
Some more outdoor furniture ideas like Urban Seat
1. MOD modular furniture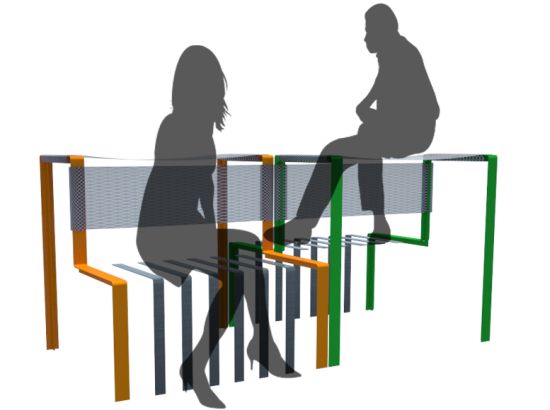 Designed by Daniela Chuecos, the MOD is a modular furniture unit born with the idea of having a new urban life leading to a better lifestyle. The MOD creates a good environment. It works perfectly, not just for adults but for children as well. Furthermore, it helps in promoting the development of outdoor activities.
This chair features a simple yet functional design. In addition, the modular outdoor furniture also has blended plates, painted with electrostatic paint. This gives a brand new life to any park or square. The MOD can accommodate two to eight people comfortably and creates a community environment in public places.
2. 'Simple' outdoor furniture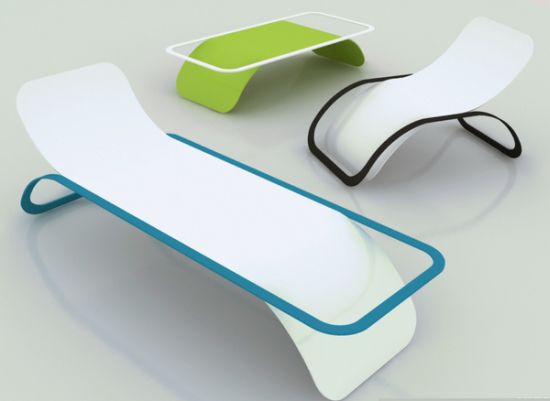 Putting together a special relationship between furniture design and paper cut art, Italian designer Yoann Henry Yvon has designed a functional outdoor furniture unit that the users may place in an attic, poolside or even a garden. Hailed as the "SIMPLE outdoor collection," the furniture unit consists of a coffee table, chaise lounge and deckchair. The out-of-doors furniture collection, drawing inspired from the versatility of the Chinese paper cut art, features a simple design that lets users play their illusion, while being practical. In addition, it is very light in weight, and may be piled one top of the other for easy storage.
3. Attica outdoor furniture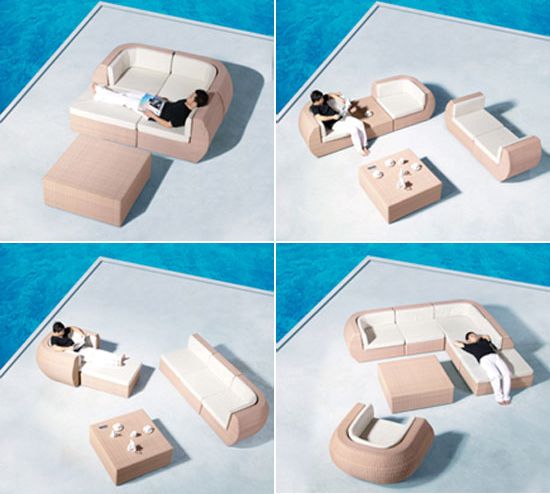 If you're anywhere even close to being a restless decorator, then the all-new European-styled outdoor furniture by Attica has got to be on your must-have list for this summer. The Riviera line features a whole host of sectional pieces. You can keep them together or use them as stand-alone pieces on the deck, porch or garden.The contemporary design consists of an exquisite European styling with a waterproof and UV-protected wicker resin. These weave with an aluminum powder-coated sub-frame that is dual welded for extra strength.
The cushions and pillows in the range consist of quick-dry foam and UV protected and water-resistant upholstery. With a choice of an arm chair, corner chair, armless chair, ottoman and coffee table, you have the option of choosing the kind of setup best suited to your outdoor space.
4. Outdoor furniture for greenways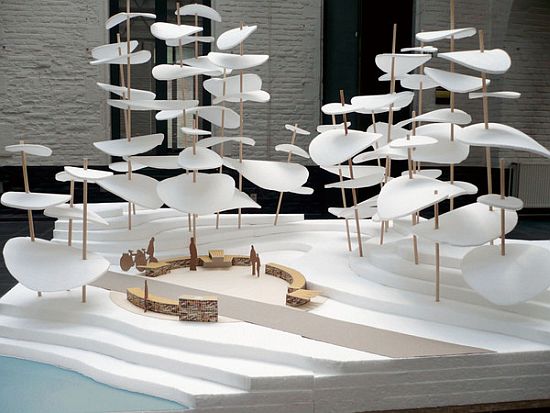 Constructing more greenways, standalone routes restricted only for non-motorized traffic are possibly the best way to improve the urban environment, which is deteriorating due to increasing population and traffic day by day. Increasing environmental value and quality of life, Belgian designer Aurelie Derenne has developed outdoor furniture to create basic facilities for the walkers and bikers. Designed especially for European greenways, the furniture employs gabions, made using local stones, to resist harsh weather conditions and integrate natural environments perfectly. The outdoor furniture not only enhances the natural landscape but also helps in sustaining the environment.
5. LAOAI furniture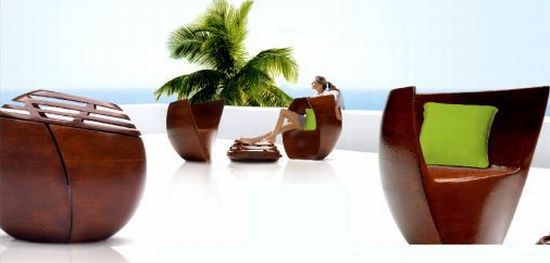 Analogous to indoor furniture, outdoor furniture too plays an equally important role in enhancing the overall décor of your living space. Complimenting indoors with the outdoor, designer Adrien Cussonneau has come up with stylish outdoor furniture dubbed "LAOAI" that combining two different elements reflects the harmony in alternate concave and convex surfaces. Comprising two lounge chairs and a coffee table, the LAOAI is made from bamboo, which not only gives outdoor space a feel of your living room but also helps in enhancing the environment. When not in use, the three modules of the furniture comes together to form a cocoon, conferring a smart and trendy look to outdoor space.
6. Charles Seuleusian's garden furniture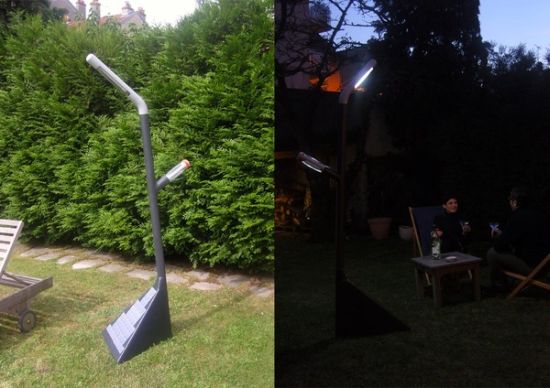 Outdoor furniture, unlike indoor furniture, might not attract many buyers, but French designer Charles Seuleusian has popped up a range of garden furniture that invites users to have some leisurely time and relax with friends and neighbors. Comprising a lamp that can be used as both lamppost and lantern, and a bench with two integrated stools that separates to allow an intimate environment, the garden furniture allows a flexible space for better interaction. Moreover, the lamp comes integrated with a solar panel to harness the heat of the sun during the day and illuminate your garden with sustainable energy at night.
7. Appoggi Chair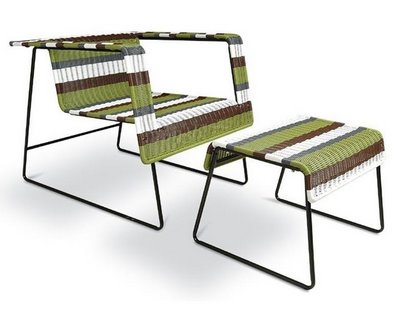 Are you looking for an outdoor chair that is elegant, stylish and comfortable and can be used outdoors as well as inside your home? If yes, your search ends right here! There are many stylish patio furniture that you can choose from. However, it would be best if you go for the one trending right now. Presenting the Appoggi chair ( created by David Rockwell), a great piece of furniture for indoor as well as outdoor usage. Its unique design ensures that you can derive the maximum comfort from this chair all the time. On a sunny day, this chair provides you with an ideal opportunity for sun-bathing too. Just keep your skin safe while doing so.
The Appoggi chair is created of woven nylon fiber. Guaranteed to provide super-comfort, this stylish chair is sure to satisfy even the most demanding of users. The chair helps you to be comfortable and lets you enjoy complete peace of mind too.
The Appoggi chair is available at Unica Home. Attractive offers are also present on every purchase of two or more Appoggi chairs. Get hold of an Appoggi chair and watch your dream of a peaceful, comfortable and relaxing sunny day turn into reality!