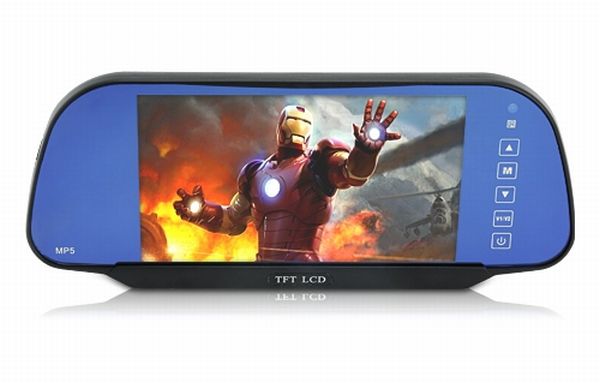 The Concept:
If someone asks what functions does a car rearview mirror serve, what will you say? One, it helps see traffic at the back and second, while reversing ensures you don't bang into anything. Absolutely right but wrong! This is what conventional rearview mirrors had to offer but not anymore. The CVTM-C94 not only helps you drive safe but also provides wholesome entertainment. Equipped with incredible media player functionality, this outstanding broad angle car rearview mirror entertains you while keeping all the safety norms in mind. It comes packed with a top of the line media player that directly plays files from your USB flash drive and SD card. This is not it, it also plays audio and video files like MP3, MP4, XVID, DIVX, MPEG 1, MPEG 2, MPEG 4, MOV and RM, and also supports JPEG, JPG, GIF, BMP picture files.
The Design:
With a trouble-free setup, an advanced media player and a remote control, it provides you the best entertainment and that too sans any heavy price tag. Equipped with a 7-inch screen to fulfill your entertainment needs, this rearview mirror monitor is an apt choice for car worshipers who love to team up their ride with good audio-video entertainment. It comes with a power line, which can be directly connected with your car's battery and doesn't look messy because it can be placed behind your dashboard. It's easy to clip-mount quality over your present rearview makes it cut down on installation hassles. For better pairing with your FM radio, it has an additional further elongated FM transmission antenna.
The Fabulous:
With an improved wide angled rearview and its ability to clip-mount over you existing rearview, it definitely has an edge over other products in the similar league. A power line that can be effortlessly positioned at the back of your dashboard and further can be directly coupled with your car battery makes the whole setting up process effortless. A highly developed media player that plays today's favorite audio and video files directly from your USB flash player and SD card along with a separate additional supple transmission FM antenna for superior FM audio makes the whole listening experience a treat. With a price tag of $62.26 it comes with a remote control and accepts two video inputs (one for each side), to help you monitor two rearview cameras.
The Inspiration:
Over the years consumers have been on a hunt to find one such rearview mirror monitor that would not have a nuisance to attach a supplementary media player to get entertained. Keeping all this in mind came in being an innovative breathtaking design which serves both as a rearview and an MP3/MP4 player.