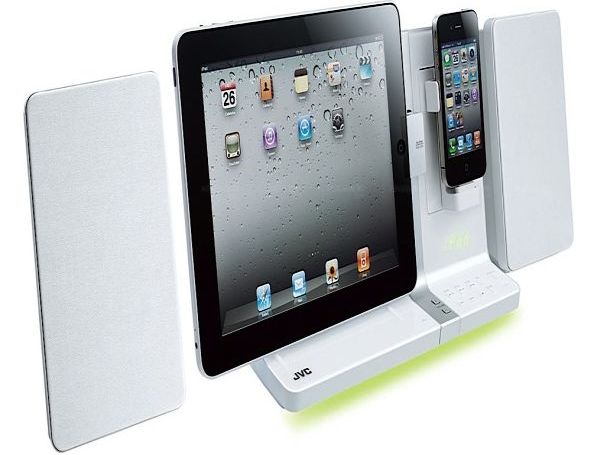 There is good news for the people who are Apple gadget lovers and have an iPad or an iPod or even an iPhone with them. JVC Victor has planned to introduce two new universal audio systems called UX-VJ5 and UX-VJ3. The specialty of these systems is that they can be paired with iPad, iPod and iPhone simultaneously.
These two audio systems work synchronously with these Apple products. They have the capacity to accommodate an iPad and iPod/iPhone at the same time so that you do not need to keep these Apple products elsewhere and can use whenever you want, at the same time and at the same place.
These two audio systems are iOS device friendly and come with a handful of features. While UX-VJ3 has limited features, UX-VJ5 has a long list of features to be explored. Features that are common to both the audio systems are terminals like Video Out and PC In. There is an in-built FM/AM Radio Tuner and a screen of 2×15 W output is attached.
While these features are supported by both UX-VJ3 and UX-VJ5 models, some additional features like a CD player and a USB port are included in UX-VJ5. UX-VJ5 has the capability to rip all the CDs into MP3 files which can be done on any external USB devices. With all these features available in both these audio systems, what else can you ask for?
The price of UX-VJ3 and UX-VJ5 are still not known as the company, JVC Victor, has not revealed the prices in the market yet. But speculations are that these audio systems will be priced quite high because of the loads of new and innovative features. It is confirmed that the company JVC Victor has plans to launch these two audio systems in the market of Japan by the end of July 2011 or the beginning of August 2011.
Via Akihabaranews