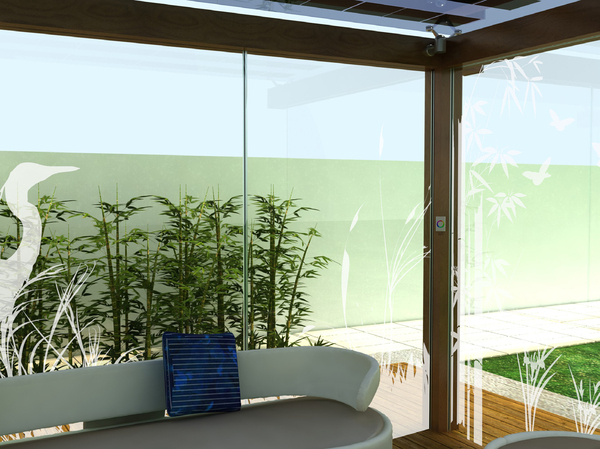 With an express purpose to beautify the garden area, gazebos have the power to connect us with our beautiful surroundings and manage to add solace. But, gone are the days when they were crafted using wood or metal alone, which used to restrict the view when sitting inside one. Designer Ceri Almrott has designed the Glass Solar Gazebo to defy this limitation and, also, to substantiate that creation knows no bounds.
Usage of decorative glass will make sure that the user experiences unrestricted view. The impressive structure will make moonlit nights all the more romantic. It will help you relax in the lap of nature and inject a sense of bliss. The structure has a lot of pizazz and the usage of solar power makes it all the more attention-grabbing. The architectural marvel will make good use of a photovoltaic module to produce power, which will save precious resources. This will give birth to an interesting outdoor space, which will be nothing less than a dream. The illuminated glass structure will stir your soul and refresh senses in not time. You will surely wish that the night never ends and the soft lights keep enchanting you forever.
Decorative glass is undergoing a lot of changes and people have started accepting products made out of it like never before. Glass Solar Gazebo will come with a heavy price tag. It may range from £9,000 to £20,000 depending on the model. But, if you are a slave of luxury and high-end products, this should not pinch you much. The eco friendly Glass Gazebo will make garden areas your favorite hangout spaces.
[Cheers Ceri]