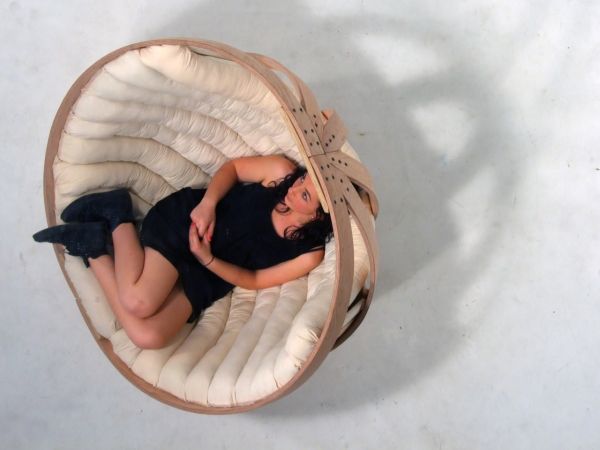 Designers Grace Emmanual, Brodie Campbell, Richard Clarkson, Jeremy Broker, Eamon Moore, Kahlivia Russell and Joya Boerrigter have collaborated to bring the same charm and soothing qualities of a cradle, and have crafted the Cradle Rocking Chair. The chair will come wrapped in a sense of joy. It will act like a cocoon and lend unending warmth.
The striking design clubs the features of a cradle and rocking chair, which vow to soothe those tensed nerves. It will provide unending comfort and create a secure space. The attention-arresting chair has been crafted from eco friendly and salvaged materials. Even the glue used to create the layers of plywood is environmentally friendly. True love for the environment made these designers craft a green creation, which looks like a beautiful piece of art.
Apart from these green qualities, the comfortable piece of furniture also servers certain medical purposes. It was crafted keeping children suffering from Rhythmic Movement Disorder (RMD) and Autism patients. The sustainable creation will give birth to a safe and highly functional space. The sumptuous chair promises to add solace with its comfort loaded designing. Cradle Rocking Chair will help you slip into a peaceful state. So, nestle in an eco friendly world and feel heavenly.
Via: Clarksrich