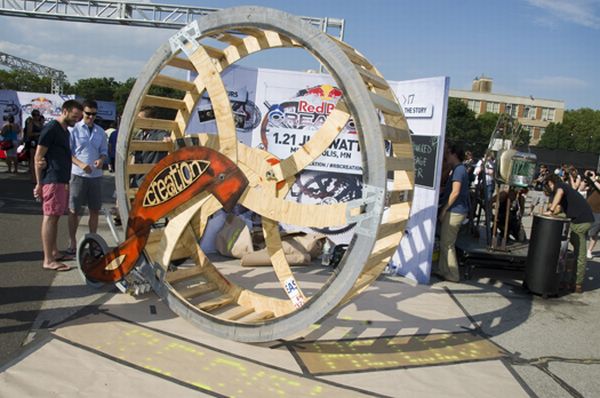 I've personally never envied the lives of hamsters, not even when the late Princess of Wales, Diana, was compared to them in the earlier days of her public life. But in an age where sustainability is the order of the day and green innovators are hard at work trying to come up with the next big idea, I guess commuting on a hamster wheel that leaves a trail of printed text messages in its wake, isn't the most "out-there" creation yet. Bizarre as the concept may sound, the creation is actually the winner of the 72-hour Red Bull Creation build-off that was recently held in McCarren Park, Brooklyn.
The challenge required teams to build a vehicle that could propel the weight of a person, roughly 100lbs, from point A to point B without using fossil fuels. This particular entry was created by the team from Minneapolis, MN, which goes by the name 1.21 Jigawatts. Team members Ben Arcand, Dillon Hodapp, Dave Heisserer, and Nathan Knutson came up with the innovative idea that basically uses a hamster wheel built to human-scale that uses the force of a spray-can printer printing out text messages sent to the wheel's phone!
The creation featured a series of spray cans driven by an actuator perched from the back of the wheel. Attendees at the event were asked to send a single word text message to the phone number attached to the wheel's phone and as the wheel's printer inked out the series of words on a roll of paper, the wheel moved forward. Now that's something a text-a-holic might totally dig, but for the rest of us it seems like an awful lot of fuss to get to work on a Monday morning!
Via: PSFK