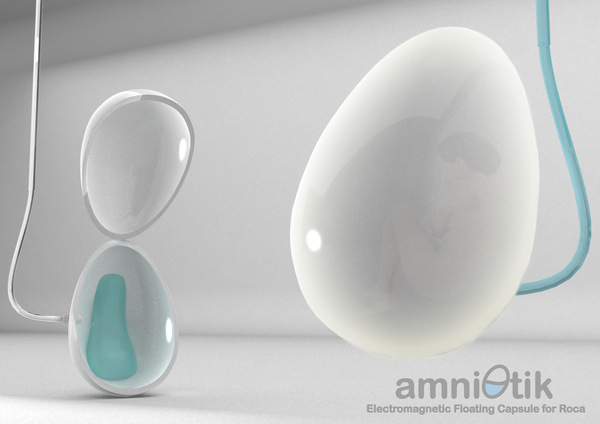 Everyone dreams of slithering into a secluded and serene environment, which is away from the daily commotion that life comes dipped in. How about a tranquil cocoon that will lend warmth and instantly relax frazzled nerves after a long day? An electromagnetic floating capsule named Amniotik is at your aid, to fulfill this fantasy of many. The egg-shaped capsule has been conceived by Noela Leis, which will transport you to a tranquil world even in the midst of the chaotic world we live in.
Floating gives birth to weightlessness and Amniotik embraces the same concept. This will let you nestle in your own little space and inject positivity. Like an embryo, it will take good care of you and make you feel blissful. The capsule will open with a single touch and unfurl a magical world. Once, you position yourself on the comfortable seat, pick the treatments you want to get pamper with through an interactive touch screen.
The capsule has been fitted with a feeding tube through which the fluid will enter the inside of this shell. This will automatically activate the electromagnetic field, which will make you float inside. The soothing unit has been crafted using mineral and acrylic composite. The façade is quite sleek and has been given a smooth finish. It also has a facility of reusing water with the help of discharge point. Amniotik comes embedded with a gel seat, oxygen mask, interactive screen display and a supple feeding tube.
The ingenious electromagnetic Floating capsule will unquestionably help you loosen up and calm down. Thus, the Amniotik will provide a tranquil environment and relax your senses, the floating way!
[Cheers Noela]