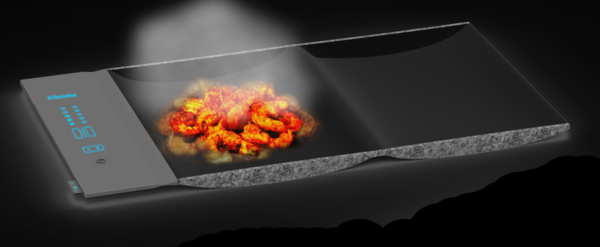 Ana Marta has designed the Angoria, a unique kitchen gadget that will change the concept of cooking. This lightweight device will make all other cooking equipments obsolete that come with hefty tags. You can carry it anywhere and everywhere. This portable product has reduced dimensions that add to its mobility.

There are many cooking products available in the market that claim to be portable, but most of them expect you to carry additional gear like gas bottles and protecting boxes. Angoria has been crafted keeping three key ingredients in terms of material selection in mind: flexible, lightweight and thin. The designer has made good use of fabric that will blend perfectly with the modern cooking needs. Materials, like graphene, felt and PTFE have been used in thin layers. Temperature will be generated with the properties of graphene. It produces temperature with the help of its micrometric dimension, thermal conductivity, resistance, liquid absorption capability and its ability to absorb power from the sun.
On the other hand, PTFE (Teflon) is high temperature tolerant, has non-stick properties and also has a high index of liquid and grass impermeability. The portable device can be used by students, campers, tourists and even at workplaces. It can be powered by a USB cable coupled with a computer or car's lighter. Apart from this, graphene can harness the energy of sun and store it in the battery. This can be further used to warm food whenever required. It can also be used to cool food stuff with the help of latent heat.
Angoria, with a fabric enveloped surface, will cut the use of extra utensils and save water as well. One can directly place food stuff on a tissue and heat it before consuming. The handy device will make lives easier and cooking time fun.
[Cheers Ana]