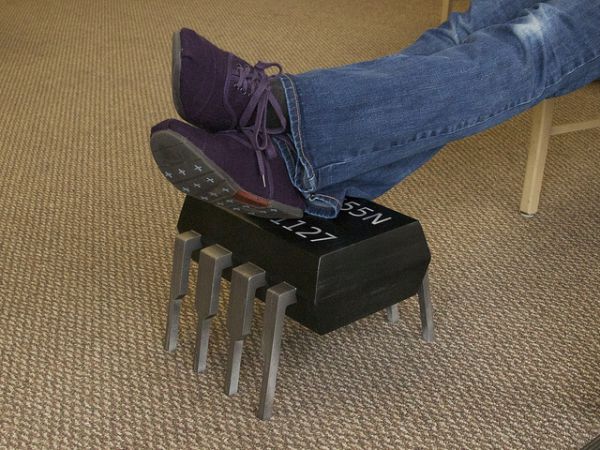 The Footstool made by Evil Mad Scientist Laboratories is a normal stool, but it looks like a 555 timer chip. The 555-timer chip launched in 1970 contains 20 transistors and around 15 resistors. However, you cannot think to make a stool with the same configuration. The model is approximately 8 inches tall and 12.5 inches long, which is a standard measurement for stools. The durable stool can take the pressure of the heaviest feet around.
The creators at Evil Mad Scientist wanted to make a stool with a new design, and somehow the idea of making it in the shape of 555-timer chip crossed their mind. The result is in front of you.
The heavy-duty design is made of plywood, glue, and paint. The first step of the construction was to cut a stack of ½" thick plywood shapes on a CNC router. Glue was there to hold all the pieces together. They used long rods to align the 25 plywood shapes in a vertical stack. After a primary layer of grey paint, the stool got several layers of black paint for the main body and silver paint for the legs. A "frosty matte clear spray" finished off the look.
The makers used a laser engraver to get the marking on the top. After all day's hard work, the product became a welcome addition in any household. The table is very heavy due to the hard and strong plywood. Right now, there is no information about its availability in the market, but it will be available soon.
Via: Technabob