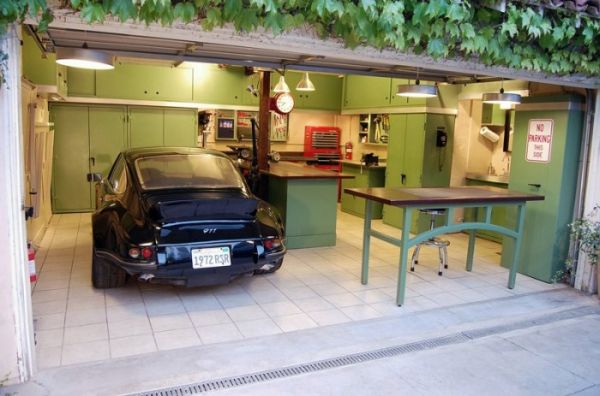 Most of the garages have a messy look. However, if you look inside the the 12 Gauge Garage of Jack Olson, you will be amazed with the cleanliness around. Based out of Los Angeles, Jack Olson loves to work on his Porsche 1972 911 and for this he has kept his garage in an organized manner. The garage is 20 x 22 in size and is made of cheap do-it-yourself material. To keep it environmentally friendly, Jack has used re-purposed, homemade and second-hand items to remodel his garage. Most of the items used in the garage are light fixtures like a $5 CFL light, a couple of Ikea Pendant lamps and some pendant lamps made of aluminized steel cake pans. Candle-style lights attached to the garage door give it a stage-like feel.
Apart from this, the garage has many small and big cabinets. Each shelf can hold up to 1,900 pounds. A few used shelves were bought at a cheaper prize. In addition, the garage features wood working, welding and fold down tables, as well as tool boxes studded to the wall. The island bench in the center is made of vidma cabinets and Ikea butcher blocks depict utility value. The room is adorned by a free standing bench welcoming the car. In order to clean the car, a $455 second hand vestil hydraulic table is used as a lift. The sink area has two cabinets, a counter top and a mail box.
Jack has kept his garage in antique style with items like a rotary phone, candle lighting fixture, etc. Jack's car, a mutt/mix 1972 911 flared like 73 RSR, is unique. Moreover, the car features 86 Turbo brakes, a magnesium transaxle from a 1977 model and engine from a 1995 993. Except the roof, all the body parts are made of fiber glass. All windows, except the windshield and roll-ups are Lexan. Jack's car has a home. It's a dream for many people to own a garage and for Jack garage, it is a reality.
Via: Hemmings