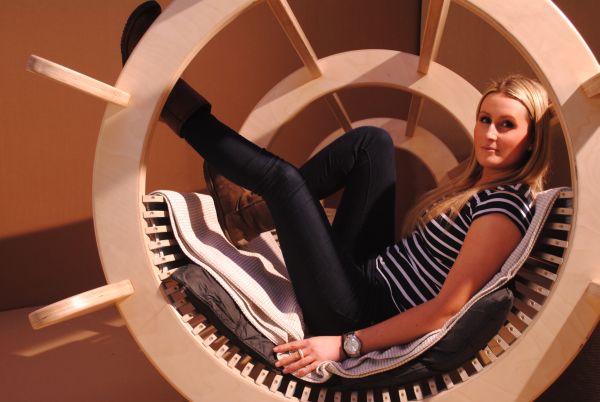 Artists have been drawing inspiration from mating rituals of creatures around the planet for ages, but no one has ever thought of using sex as the inspiration for a chair! Here, we present the stunning AquaVita Contemplation Space by Scottish designer Ali Lockhart. Inspired by the mating rituals of sea creatures, the sculptural installation strives at being something of a sanctuary for a weary traveler in a busy hotel lobby.
The bespoke sculpture resembles a water ripple and brings to mind the iconic image of the insides of a wormhole that could in theory transport to other parts in the blink of an eye. If one chooses to really delve into the artistic side of the creation, it could also be interpreted as the view a fetus is subjected to as it descends down the birth canal leaving the familiarity and the warmth of the placental fluids and the strangeness it must feel as it enter an alien environment with the first sensation of air and light and the touch of another human's hand.
In that context, the sculpture could very well be a metaphor for the awareness one feels when one contemplates the relationship between God and the self, and becomes aware of it in just the same manner as a baby possibly does as it goes through the birthing process and gradually becomes aware of the difference between being a part of a mother and being a self.
Made out of birch plywood the sculpture is finished in antique wax and farrow-and-ball-stone blue eggshell hue. The design itself is easy to transport and can be easily assembled and dissembled. The unusual design seeks to push the boundaries of what has classically been considered the norm for furniture and looks to spark the onlooker's imagination while providing anyone who sits in the solemn space a unique perspective from which to appreciate the work of art.
[Thanks Ali Lockhart]