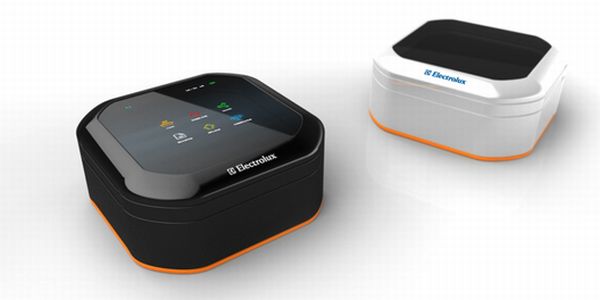 A food-loving iPad freak friend recently told me that he wished they'd invent an app where you could just touch an icon and it would get an exotic dish to materialize in front of you. At the time I laughed and called him an adorable i-diot. But I guess people around the world have had that very same wish. At least Portuguese product designer Rita Ferrão did because her smart cooker concept for the Electrolux Design Lab 2011 hits that proverbial nail right on the head.
The smart cooker concept is called COOIK and it promises to do pretty much every thing that the food preparation process requires except the washing, peeling, chopping and putting it in the pot. The 90x200x200 mm modular cooker comes with a smart, Wi-Fi enabled touch screen interface that lets you download any recipe from the net right into the cooker which can then give you step-by-step instructions on how to get it done. In case you really don't know your way around a kitchen, the cooker can also suggest recipes from the ingredients you have in your pantry or even tell you where you can buy specific ingredients.
The cooker even has a neat removable chopping board in it that is equal in size to the display screen for ensuring that you don't get the proportions wrong ever. The cooker itself has an external body made out of corn-based plastic while on the inside it comes with colored polystyrene insulation, and strategically layered aluminum trays, heat diffusers and thin foil heaters that allow smooth and effective heat distribution without making the appliance heavy or bulky. Interchangeable modules allow the user to use the cooker for grilling, roasting and boiling.
The different sets of modules provide different functions and are powered by Thin Film Lithium batteries that are held together by an electromagnetic mechanism. The touch screen user interface is placed atop the double layered Gorilla Corning Glass which has a thermochromic polymer lid underneath that hides the contents of the cooker from sight when the appliance is switched off, but gradually becomes transparent as the heat inside rises.
A clever little vent with odor filter lets out the vapor from the cooking food without letting any aroma escape while a camera inside records food preparation. The internal memory of the cooker stores the processes and the recipes for future use. Once the recipe is stored in database, the appliance automatically sets time and temperature and turns the heating plate off by itself next time.
The cooker takes away all the hassle and the heartache that comes with cooking. And if you're the kind that has a hard time boiling water, this is something that you should definitely ask Santa for this year!
[Cheers Rita]