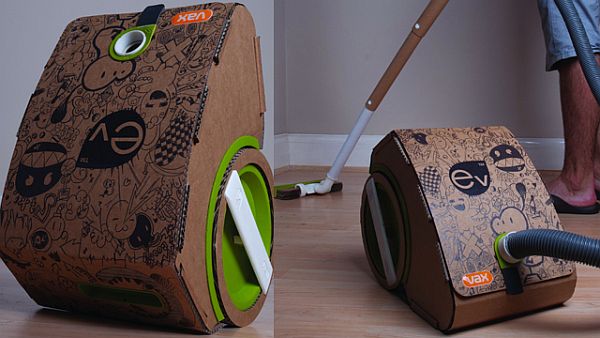 Invented by a design student at Loughborough University as a part of his final year project, the world's first fully functioning cardboard vacuum cleaner has received a huge shot in the arm by Vax. The highest selling floor care brand in UK has decided to produce and retail the eco friendly dust buster.
Dubbed the Vax ev, the invention boasts of being a high performance vacuum cleaner that promotes a greater degree of sustainability in an industry which relies heavily on plastic components. Made out of corrugated cardboard panels, the handy vac is also cost-efficient since damaged body parts cost around a tenth of the price than their plastic counterparts in replacement. The vacuum cleaner design also radically cuts down on the wastage created by packaging since the cardboard box that it comes in actually forms a part of the cleaner later on! The design of the unique creation allows users to simply separate the cardboard pieces and slap them together around the motor case without fussing with glue and staples.
Parts of the vac, which cannot be made out of cardboard for practical purposes, are made using pure nylon plastic that is recyclable and produced with RP (rapid process) manufacturing. This process allows the components to be crafted in smaller units locally, thus further cutting down on the need for the having added costs of tooling molds, assembly lines and long-distance transport being added in the price of the final product.
The idea for the Vax ev was created by Jake Tyler as his degree project and was fine tuned at Vax's headquarters in Worcestershire with the help of New Product Design team when the designer interned there as a part of a student placement program. Vax ec has already been featured as one of the country's best graduate work at the New Designers exhibition and has also received an award from the university.
Via: Gizmodo