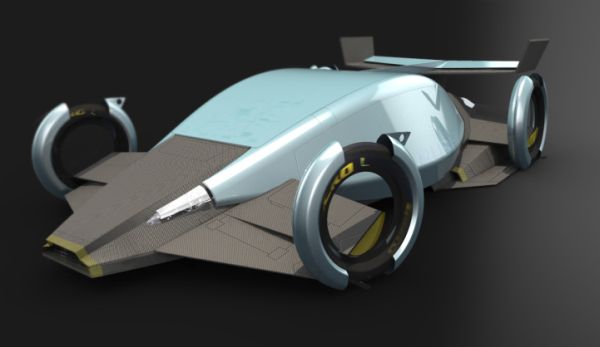 The last time an Aston martin won the 24 hours of Le Mans was way back in 1959, but that hasn't deterred fans of the iconic British luxury sports brand from marveling at the stunning creations that the firm has created for the world's oldest endurance race for sports cars. The Aston Martin E-teuer concept by designer Jack Allenet is a futuristic version of the current crop of Aston Martin racers and looks to be the ultimate track-worthy sports car with a green heart.
Embodying the company's mantra of "Power, Beauty and Soul," the concept is a state-of-the-art track car that rides high on its performance credentials. Going from 0-60 miles in 3 seconds, the EV is all muscle but looks to conserve as much energy as possible when being driven normally, thanks to automotive systems like Kinetic Energy Recovery Systems (KERS) recharging batteries when the car brakes.
The car is intended to house the latest EV engine that can deliver 400kw of power displacing 750nm torque and a peak speed of 300kph. Borrowing the rear wing style made famous by the McLaren MP4-25 (AKA the F-duct), the concept retains the aerodynamic styling of the classic Aston Martin cars. Active suspension maintains the best aerodynamic balance and allows drivers to display their full range of skills.
Other styling inspirations on the Aston Martin E-teuer range from the carefully placed shut lines of the 2004 GT-specific DB9 with varying front and rear wheel size giving it the distinguished hunch of the Vantage. The sharp nose and aerodynamic frills on the concept are taken from the 2010 Aston Martin LMP1 class of cars.
The EV drive train of the can will be fully adjustable for acceleration, down force, drag, top speed, traction control, active braking and engine mapping, allowing the car to be used in all kinds of terrain and weather conditions that would make it suitable for all kinds of motor sports. Overall a well rounded design, the E-teuer is a very promising eco friendly concept that can very well be the face of Aston Martin's future racers.
[Thanks Jack]