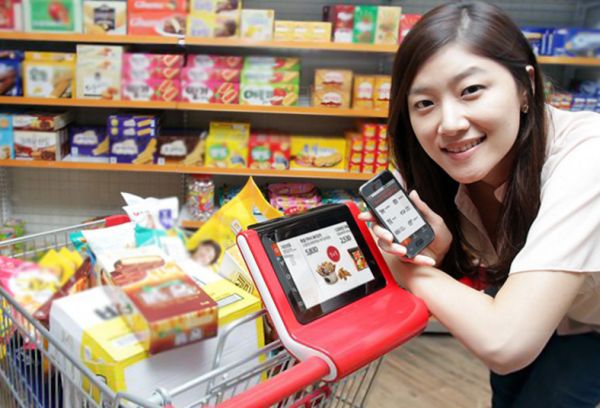 SK Telecom has yet again come up with a new idea to introduce shopping cart service that gets integrated with the smartphones to provide latest information about the store and the products customized according to the needs of the customer. The company, which is one of the pioneers in the mobile industry, is presently pilot testing this idea in Shanghai's lotus supermarket.
For availing this facility, the users will first need to download company's smart cart application to their smartphones. Once the downloading is done, they can search for various products, their availability and discounts. They can also create a shopping list for themselves and shop everything listed without forgetting things and regretting at home about it.
Once the user reaches the supermarket, the user's smart phone is synchronized with a tablet PC, which is already installed on the shopping cart. The indoor positioning technology of the supermarket determines the location of the user and permits broadcasting of all the relevant information. When the customer checks out, the tablet screen shows the list of purchased things and other details.
SK Telecom is a name synonymous with innovations in telecom industry. Headquartered in Seoul, South Korea, the company has already brought new innovations to fore like CDMA, 3G CDMA and many other mobile services. We hope that the smart shopping cart also has a brighter future.
Via: Designboom