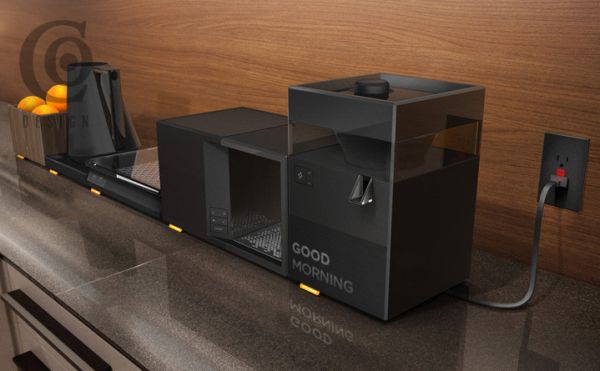 Are you tired of your ordinary kitchen where you mess up things while cooking? Are you fed up of arranging outlets for all your kitchen appliances? If you have the idea of remodeling your kitchen, I think it's time for us to get rid of the mess of mismatching appliances or having multiple cords running from single outlet. San Francisco-based Astro Studios, designers of the original Xbox 360 and the Boxee Web-TV box, now offers KitchenScape appliances that are tied up with each other and have no room for any clutters.
The main idea behind this innovation is to plug certain appliances into each other such as coffee maker, juicer, toaster, tea kettle and others. The coffee maker is plugged to the main external outlet, which provides outlet to toaster, which in turn provides outlet to juicer and so on. This also has space to put the respective appliances, required ingredients and components near it. This helps in saving space on the kitchen floor, time as well as the outlet space.
The idea of KitchenScape appliances is not yet put into practice.
Via: FastCoDesign