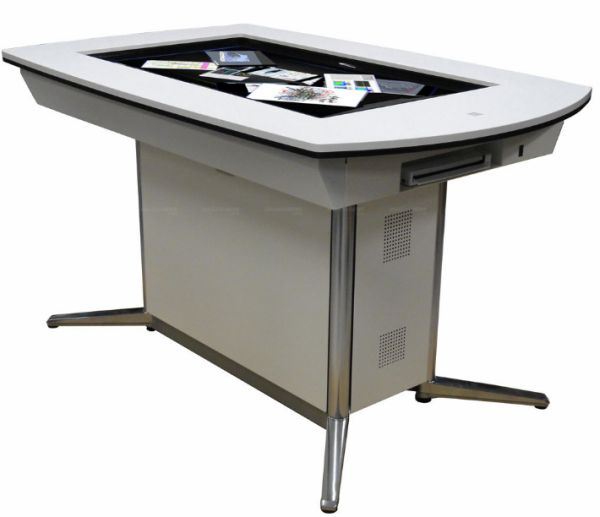 While Microsoft is taking its own sweet time to introduce its multi-touch discussion table in the market, the engineering guys at Pioneer have instead given us something to play with in the form of their ultimate 52" Multitouch interactive discussion table. Named, or coded the WWS-DT101, this unique table is based on Windows 764Bit, runs on an Intel Core i7 CPU and has a RAM of 6GB. So what can this table do? Let me answer that by asking what can this table NOT do?
Thanks to a Full HD 52" TV with multitouch technology, Pioneer's proprietary software, and its embedded TransferJet technology along with VisualSync (Free App), the WWS-DT101 allows you to play with documents on your fingertips, literally. And not just that, you can share your data with anyone, anywhere either wirelessly, or even transfer it to any other network connected devices, like PCs, iPhones, iPads, as well as any USB devices.
But there's more. This table is also fitted with a PFU Scan Snap S1100 Scanner. As a result, you can scan any document, any time and immediately or directly display it on the table's huge 52" screen. Lastly, the WWS-DT101 can also prove very useful for teleconferences, as it allows both the local and remote participants to interact directly, not just with one another, but also with any or all documents from both the locations.
As of now, this stunning piece of technology will be available only in Japan, and that too for an undisclosed price.
Source: Akihabaranews