When exquisite aesthetics conjugate with breakthrough innovation, all that one gets to latch onto is an enriched user experience that paints the town bright. After sweeping many off the feet for decades and decades, Swiss luxury watchmaker Jaeger-LeCoultre has just got something even more interesting to talk about. Pretty intriguingly, the world-renowned watchmaker recently joined forces with Hermes and Les Cristalleries de St. Louis to design the exclusive Atmos Hermes Table Clock – a 176-piece limited edition crystal clock that quite amazingly lives on air.
Featuring an appearance that looks more like a technical marvel than a clock, Atmos Hermes blends artistic craftsmanship with pure transparency for an ideal characterization. The exquisite timepiece is based on high standards and has rightly infused fragile vulnerability of crystal with the uncompromising nature of metal. In terms of its delicate yet distinguished fabrication, the luxurious clock integrates a crystal bowl that boasts of a unique movement designed by Les Cristalleries de Saint Louis.
Crafted by the virtue of a double overlay technique, the beautiful Atmos Hermes Clock features a designing performed by six creative glassmakers and encompasses a technique that includes layers of glass coated upon each other. Truly, a classic yet avant garde amalgamation, the timepiece further catches extra attention for its molten white enamel which has carefully been contoured into a ball by the glass-bowler. Although the collaboration between Jaeger LeCoultre and Hermes had revealed first Atmos timepiece decades back in the year 1928, the latest creation vows to differ in many ways – commencing with its eye for extraordinary detailing and purposive components.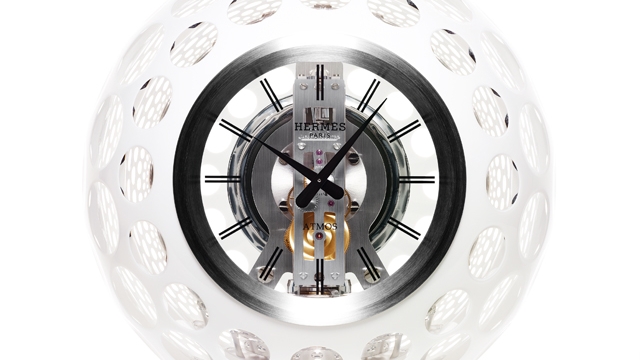 However, the light colored glass masses of the timepiece have been shaped into a spherical form by four ingenious master glassmakers – subsequent to which, the layering process of Hermes began. Although the timepiece has advanced technological integration and carries an artistic appeal as well, it gobbled down quite a lot of time and efforts for its final conceptualization.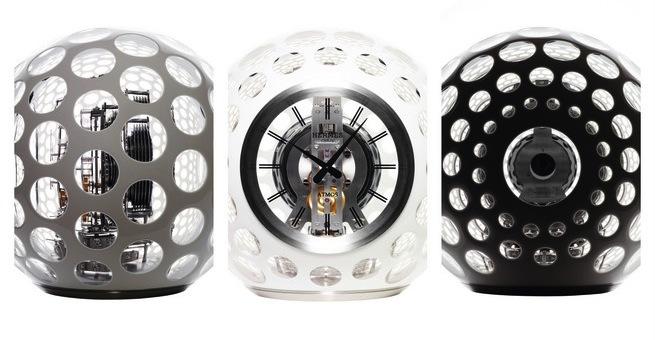 While the intriguing Atmos Hermes Clock stays highly limited to just 176 units, the quantity of the timepiece produced signifies the number of years that passed since the beginning of Hermes. The clock will be made accessible through Hermes and Jaeger LeCoultre stores around the world. However, the pricing details of Atmos are yet to be disclosed but one could certainly expect a heavy price tag stitched along the sleek chassis of this beautiful creation.