Most of us remember being chided by our mothers and fathers when we played with food at the dinner plate. But as we grew up and started eating out at gourmet restaurants, we found that being creative with food actually adds a lot of value to whatever has been put on the plate. Some of us even use these clever food presentation tactics to coax our kids into eating veggies and other foods that's good for them but doesn't look too appealing. However, artist Hong Yi has come up with a way that might help you exercise your creativity in a brilliant way but also get your kids to eat items fro, all the major fruit groups without too much effort too.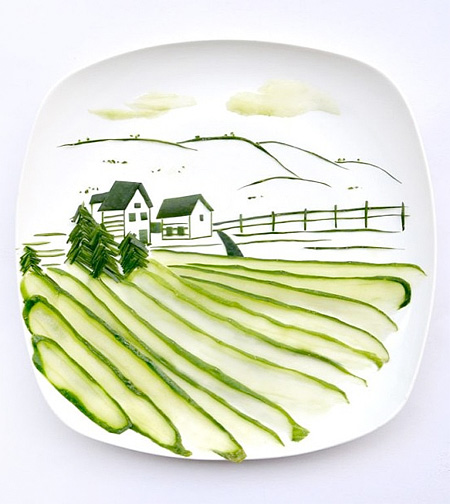 ---
Yi has created a number of different art pieces using nothing but a bare white china plate and pieces of regular food arranged in rather unusual ways. So we have items like the Cucumber Landscape, which used only cucumber shavings that depict a farm house. There are also more contemporary and easy to recognize themes like the scene from the animated movie Up that's made using grapes and fruits.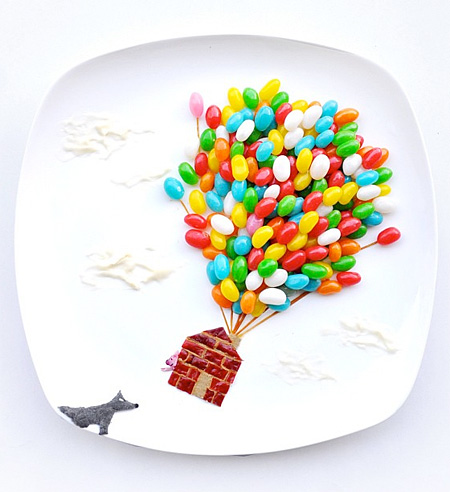 Not to be confused with popular themes alone, the artwork also delivers social messages with pieces like the one that depicts melting ice around the arctic though a majority of the pieces are centered around fun themes and easy to recognize images from famous artworks like "The Scream" by Edvard Munch. Most of these artworks are pretty easy to recreate which makes them great for kids' parties, family dinners and lunchboxes. However, for people who really want to use creative solutions like these at more grownup dos, the artist has also created a rather amazing looking piece called "The Butter Half" which may be used in weddings and anniversary meals.