Autumn / Winter Chair is for people who like to stay snuggly through the winter
Snuggling up with a blanket on a large sofa is one of the most endearing winter memories for most people. However, trying to prevent chilled winter air from sneaking inside the blanket from the edges falling over the sides of the chair ruins the experience for sure. This is where Polish interior and fashion designer Aga Brzostek's ingenious creation comes into the picture. Dubbed the Autumn/Winter Chair, the chair is essentially a large chair upholstered with a large sweater wrap though it comes with an additional layer of the wrapping that can be used by a user to cover themselves up as well. The integrated blanket is designed to prevent cold air from sneaking into the blanket from the edges that fall over the edge of the chair.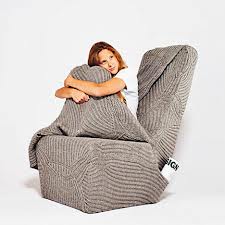 ---
The chair is designed for folks who love to sit in a large chair and enjoy reading a book or magazine on a winter day. The innovative cover that wraps the chair up is completely adjustable and removable which makes maintenance easy while allowing the chair to be customized for each user. To make sure that the chair itself fits in which the green scheme of the eco-decorator, the cover of the chair has been made using recliamed wool though not many people would be comfortable with the idea of using discarded wool. The comfortable chair comes filled with soft foam in its backrest and seat while the chair itself is created using hard foam which allows it to retain its shape and a user's body heat during usage. To keep a user's magazines or books close at hand, the cover also comes with a handy pocket though you can always sew more of them in it to make it a fashionable storage unit as well.