In order to enhance the exclusive value and dynamics of the Audi Q7, German tuner Hofele Design has introduced a versatile accessory program for all Audi Q7 versions. This multifaceted accessory is known as STRATOR GT 780. This new package aims to enhance the current looks of the SUV.
Specifications of Design Package:- Under these new up gradations, a newly designed front bumper will replace the old one, this new design addition offers bigger fender vents, four extra lamps and a quad exhaust system.
While, bigger wheel arch extensions will make the lines of the vehicle look more sharpened. A wide integrated diffuser and four oval shaped tail pipes will add more power to the rear of the vehicle. Audi Q7 has never been appreciated for the amazing looks, therefore, this design kit by Hofele is made with a perspective to enhance the looks of the car. Audi Q7 has been a preferable choice among the SUV freaks all over the world for years in row now.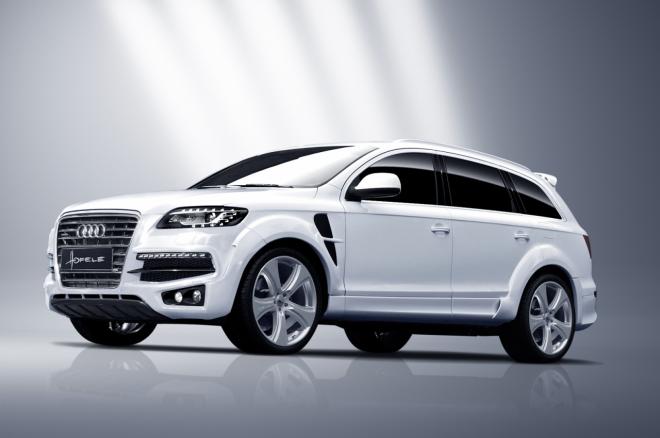 The German design company also offers Reverso II designer custom wheels in the sizes of 9.0 x 20" and 10 x 22". There are also different colours available in these sizes so you can choose the one in tune with your personality and attitude.
The speed of Q7 is controlled by an electrical lowering module, thus, when the car is driven up to the speed of 80 km/hr, it is hydraulically lowered by approximately 40 mm and on the speed above the serial height of the vehicle is restored.
In terms of engine additions Hofele Design has offered to boost the 3.0 liter TFSI  to 404 hp (297KW) and 529 Nm ( 390 lb-ft) of torque while  3.0 liter TDI to 318 hp( 234 KW) and 599 Nm(442 lb-ft) of torque.
Interiors:- If we talk about the additions for the interiors of the car, bi-colour leather gives you warm welcome, where the seams will be visibly used for giving an additional designing element to the interior. So, if you find this element interesting for your Q7, you must order these interesting elements in the Strator GT 780 kit. There are few modifications made in the doors, steering wheel and front and rear arm rests to give it a whole rejuvenated look from inside, as well.
This complete multifaceted package is priced at $ 9,295 and in terms of Euros it is to cost 6,900. This complete kits of Q7 Strator GT 780 is available for sale now and can be used on all Q7 models.