Right now, the world is buckling under the pressure of a severe lack of building materials. Furthermore, it is also suffering from an overabundance of plastic, which, although seemed like a wonder material in the beginning, is now declared as extremely toxic for the environment. When browsing through the possible materials that might solve both the problems, one of the materials that stand out from the rest is bamboo. It is strong, grows easily, flexible and eco-friendly. Moreover, it is also widely available. These and all its advantages over the rest of the building materials result in its wide usability. From bamboo homes to bamboo ceiling fans, here are all types of bamboo products that you should be aware of.
Earthquake-prone bamboo homes in Haiti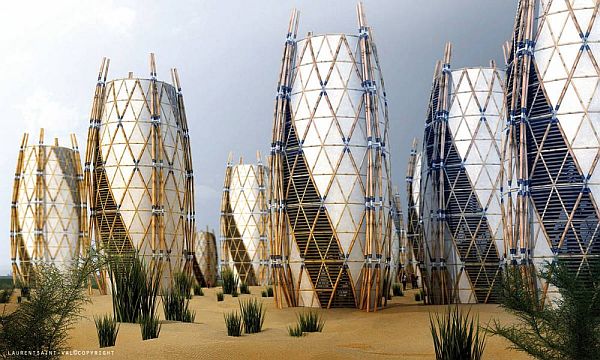 The need for housing facilities in Haiti is a serious concern. The deficit in housing facilities existed prior to the 2010 earthquake. The thousands of earthquake-devastated existing houses left many people homeless. Any housing facility in Haiti has to address the concern for the protection of homes against natural disasters, which frequently occur in the area. Design studio St Val Architect has come up with the refreshingly new concept of vertical bamboo homes.
These bamboo homes are built using traditional basket weaving techniques. This refers to interweaving natural fibers available locally and molding it into a cocoon shape. This form of architecture is based on space segmentation. According to the builders, this reflects the transient nature of the ever-changing habitat.
Bamboo is a preferred material for building houses in this region. It is a cheaper option and is flexible and strong. These properties make it earthquake-safe. The homes are also resistant to high winds and floods.
The Bamboo homes are vertical in nature. Furthermore, experts believe that they will have a negligible impact on the earthquake-ravaged territory. In fact, the all-new bamboo homes represent an effort to use locally available natural materials to build safe housing options, and this effort should be adequately appreciated as a viable alternative.
Via: WorldArchitectureNews/Archiportale
More than just bamboo homes: Some more bamboo made products
1. Bamboo speakers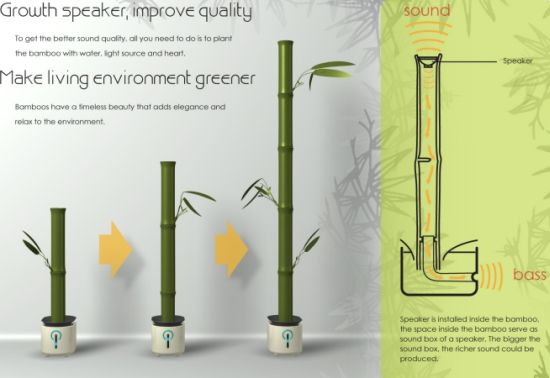 Music may sound sweet to the ear, but electronic waste courtesy the music players and speakers is becoming a curse for Mother Nature. Adding meaning to the music designer Jocko Chan has designed a sustainable speaker system dubbed "Forsta" that takes bamboo as the soundbox of the speaker. To get better sound quality, all you need to do is to plant the bamboo with water, light source and heart. Bamboos have a timeless beauty that adds elegance and relax to the environment.
The Forsta installs speaker inside the bamboo, the space inside the bamboo serves as the sound box of a speaker. With the growth of the bamboo, the sound quality can be improved. The bigger the soundbox, the richer the sound could be produced. The Forsta suggests a new green concept that we do not only make use of natural or renewable materials when designing green products but make use of natural vitality and utilize their natural feature.
2. Bamboo Clock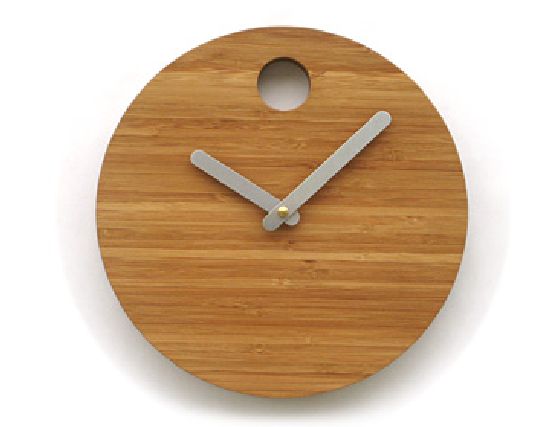 Technology may have enhanced contemporary gadgets by a huge margin, but it at the same time has made them more complex and non-eco-friendly, as they end up in huge piles of electronic waste. Have a look at "Bamboo Clock" by Gideon Dagan that apart from being simple and minimalist also makes responsible use of forest resources and sustainability. Running on a single AA battery, the minimalist wall clock presents a precision the US-made quartz movement while reflecting the natural beauty of bamboo to decor your place in a more sustainable manner. Measuring 9″ in diameter, the Bamboo Clock is available in natural and amber finishes.
3. Bamboo Coat Hanger

Bamboo is the material of choice in these days of increased environmental consciousness simply because it is ultra sustainable and very flexible. These two facets of bamboo have resulted in this smart looking piece of home decor to form the Bamboo Coat Hanger. In fact, designer Jinhong Lin has put all this together by taking a bamboo stalk and stripping it down to remove it's an outer green layer. After this, the bamboo goes under the good old sun for drying. Once dry and brown, the dried bamboo stalk is pressed to form a base and a little hook for the holding your coats, umbrellas and even your bags. Moreover, all this is achieved completely by a sustainable method which uses human efforts and nature in tandem. Going green is the best way of going anywhere.
4. Bamboo Ceiling Fan

Designed to address the environmental challenges, the Haiku Satori ceiling fan offers high energy efficiency. The baldes of this fan are made of solid Moso bamboo. The ceiling fan is styled to complement any traditional or contemporary environ using natural materials. The salient features of the Satori eco-friendly fan include an advanced aerodynamic 3D blade design, infrared remote control (seven speeds, sleep mode, off timer and the Whoosh mode that simulates natural airflow by gently modulating fan speed), digital inverter electronic controller and advanced safety features, such as entirely enclosed motor design, electronic shutdown protection and auto-reset thermal switch.
At its lowest setting, Haiku uses only half the energy of an 8W CFL bulb. The silent force behind the Satori fan is the company's proprietary Electronically Commutated motor with digital inverter drive that consumes 60-80% less electricity than a traditional AC motor ceiling fan. Satori in 'Zen Buddhism' means a sudden state of enlightenment about our true individual nature achieved after years of practice.
5. One more Bamboo Home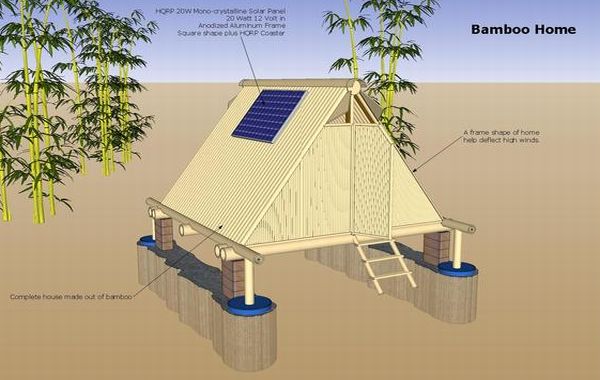 Bamboo is one of the largest growing plants in the world. It can be used for a variety of purposes and is quite durable. Daniel Roy, an architect, made outstanding use of bamboo. Furthermore, he built an A-shaped house with bamboo for the poor, costing $300 only, which he christened as "Bamboo Home." The house ranks high on quality and low on cost.
Bamboo is the fastest growing plant, and its life can be extended by chemical and non-chemical means. Daniel has aptly used its impressive properties. He gave the bamboo structure a rubble trench base, which comprises of an unbroken trench packed with crushed stone. This is further covered with a grade beam for the structure to rest properly. One of the parts is used for water drainage while it creates a truly distinctive foundation.
The structure can also be fitted with a solar panel but with an extra cost. It will take care of all the lighting needs required when dusk sets in. Its unique shape will make it resistant to strong winds as well. In addition, the bamboo has been well placed in an interlocked manner, which will cut the cost of extra screws and nails.
Bamboo Home is light in weight and will provide a safe haven. It comes wedged with all the basic facilities with no heavy burden on the pocket.