Who doesn't like to travel light? However, when going out you also do not want to miss out on anything. Therefore, many of us prefer to carry our backpacks with us. But these backpacks usually serve only one purpose that of carrying the stuff. So at times when you are going on long tours, you might have to carry a couple of suitcases too along with your backpack. If you want to have carefree travel, you certainly don't want that. If that's the case then depending upon the purpose of your journey, you can buy a customized backpack. There are many backpacks in the market like Vessel 3-in-1. You can check them out here:
Vessel 3-in-1 jacket that turns into a backpack and a tent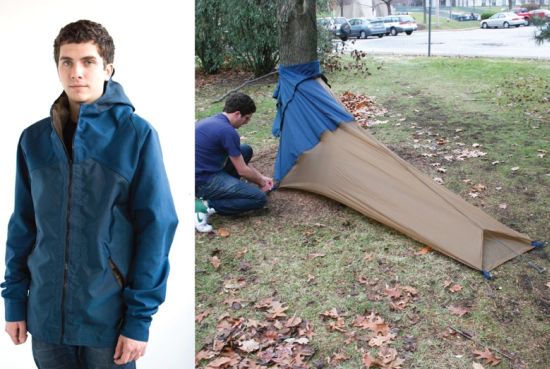 We have seen some of the most functional trekking accessories in the past, but the "Vessel" raising the bar for value-for-money goods sits atop all. Designed by Justin Gargasz, the Vessel is a 3-in-1 jacket that becomes a bag and a tent. Users may remove the jacket in hot weather and carry it as a backpack, which further converts into a private, protective cocoon while camping.
The medium-weight reversible jacket is with different weights of Cordura that makes it extremely durable as well as stable. Moreover, the Vessel offers a meditative or introspective experience to the users in their daily practices.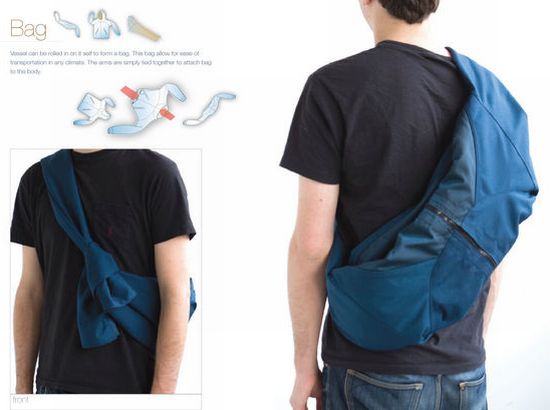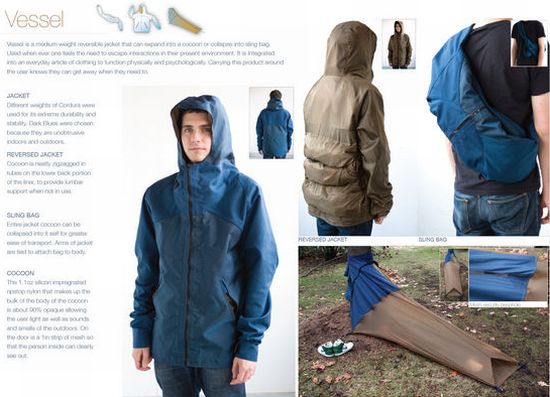 Via: Gizmodo/Likecool
Some more multifunctional backpack ideas like Vessel 3-in-1 jacket
1. Solar battery charger backpack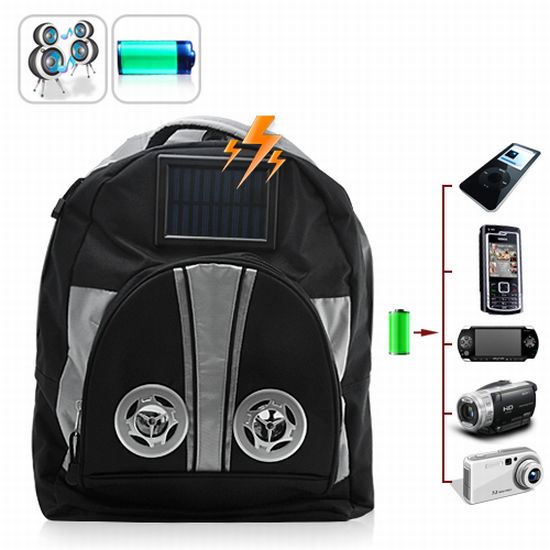 The solar charging backpack ensures that your cellphone, MP3 player and other electronic gadgets never run out of power and are readily available when one needs them the most.The backpack consists of strong and flexible material as a tarpaulin.It is has a 1600 mAh battery which charges constantly by a waterproof and scratch-resistant solar panel.
What will excite you most are the quality stereo speakers that run on four AAA batteries and can connect to any 3.5mm audio source, letting you freely listen to music in the open air without using headphones. The bag also has eight connectors for instant charging of your mobile phones, digital cameras, handheld game consoles, MP3 players and many others!
2. Multifunctional backpack from KATA
From your lappy to your digicams, your music player to your PDAs, it digests whatever you put in. Not just that it even has an opening for the headphones of your music player so that you have it stored yet functioning whenever you are on the go. If something doesn't really fit in, there is a removable slot in between which gives it more length on the inside. All I now need to do is to save £94.50 so that I have it in my cupboard as soon as I can. The contributions have begun people!
3. RLX – The Ralph Loren Solar Backpack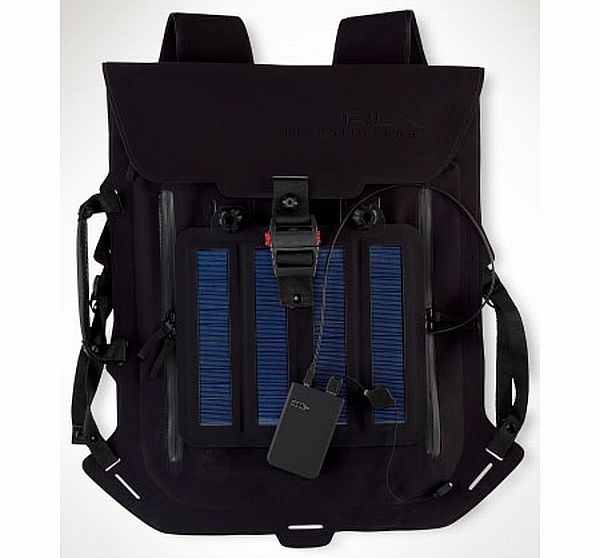 The age of Technology has finally come. Why, you ask. Have you checked out the most recent backpack to come out from Ralph Loren? After designing fashionable eco-friendly bags, Ralph Loren is now designing signature backpacks, known as RLX, for those who like to travel in style.
Of course, the point to be noted here is that it is not just a backpack with a big name, it also has practical uses. The RLX is made up of solar panels useful for charging electronic devices like mobile phones, iPhones, and iPads.
The RLX has been designed in Italy and comes equipped with a solar-panel LED. The material used is water-resistant. The thick and adjustable shoulder straps make it easier to carry it around. It has also been provided with a handle on a side and can be carried as a bag.
4. Pet backpack laptop bag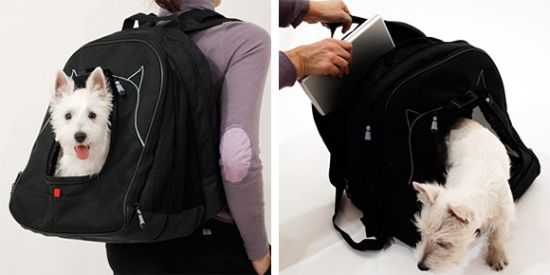 Those innocent puppy looks do not allow you to leave home without your precious little pet, and you cannot even afford to go out without your notebook in that bulky laptop bag? Well, carrying your naughty pet on one side and the notebook on other is quite tedious. PetEgo has designed the "Pet at work" travel system, so that you don't have to choose between your laptop and your puppy any more. This pet backpack carrier offers compartments for carrying both your pet as well as your notebook. With this portable unit, you can comfortably carry your doggy to your work and your work to the dog park. Its laptop carrier provides enough room for your notebook and exclusively designed foldable pet Dome and soft crate with spongy dual sided mat gives homely comfort and security to your pet wherever you take him.
5. Gadget charging backpack by Quirky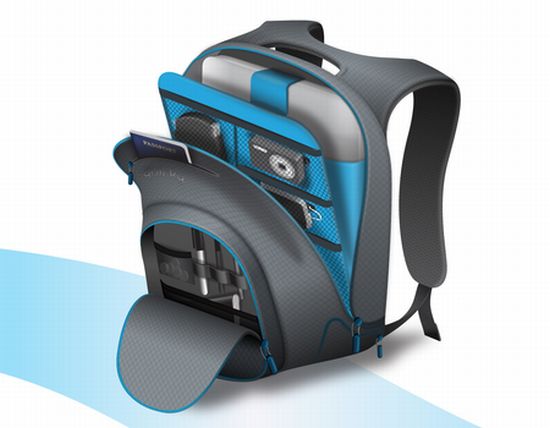 Gadget savvy people have quirky needs. They need everything that helps them keep connected to their fraternity far and wide. In keeping with just that folks at Quirky have designed what they tout as the first of its kind backpack that charges your gadgetry anywhere and everywhere. The backpack meant to be ergonomically comfortable has a clampshell design brought to creation in durable nylon making it instantly water proof.
The backpack has a large main center pocket with padded nylon board to hold your 15-inch laptop with ease along with three other smaller gadgets. The bag also features meshed pockets to hold the miscellany. To top it all it has bottom that sports rechargeable battery to juice your gadgets while on the go.
6. Chairpadbag
Uneasy body posture due to edgy seats is one of the reasons that distract students from concentrating on the lesson taught by the teacher in the classroom. Addressing the issue, school furniture manufacturer Concentrate has developed a unique chair called the 'Chairpadbag" that as depicted by its name doubles as a schoolbag for young kids. The £20 chair folds into a compact size to slip in the schoolbag alongside the books that the kids can wear like a backpack for easy storage and transportation. It also integrates a special padded flap that the user can pull after clipping the bag to the backrest, which allows comfy surface and backrest to place the user with ease. Measuring 11.8 x 13.8 inches in dimension, the Chairpadbag when not in use slips into a zipper that expands to carry more stuff.
7. KATA Backpack for protecting photography kit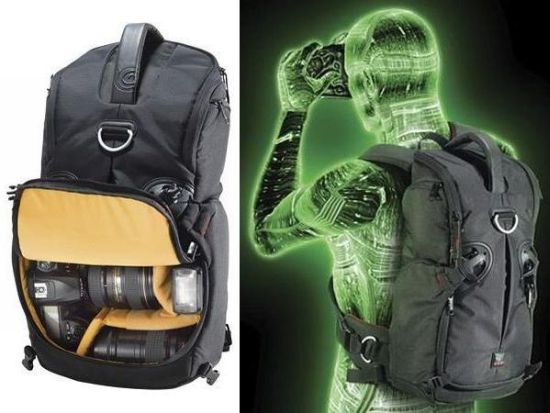 Photographers nowadays are ready to take on various challenges to capture the best shot for their viewers. Apart from an artistic knack, good photography requires some of the most sophisticated cameras and equipment that need to be handled with special care. Since professional photographers have to travel to far off places, they need a good pack to wrap and move their expensive equipment. The KT D-3N1-20 Backpack by Kata is a resilient bag for adventurous photographers that not just ensures the safety, using 'Thermal Shield Technology' of the equipment but also unfolds without taking too much time.