Isn't an umbrella just to protect you from the sun and rain? Not anymore. It is the 21st Century, now an umbrella would be whatever you want it to be. It could be a water filter like Filterbrella or it could even turn into a raincoat whenever you need it. The possibilities are endless. All you have to do keep a check on the latest umbrella concepts that come by. For that, you don't have to go anywhere, just stay tuned. Here are some out-of-the-box and wonderfully beautiful umbrella ideas.
Filterbrella concept umbrella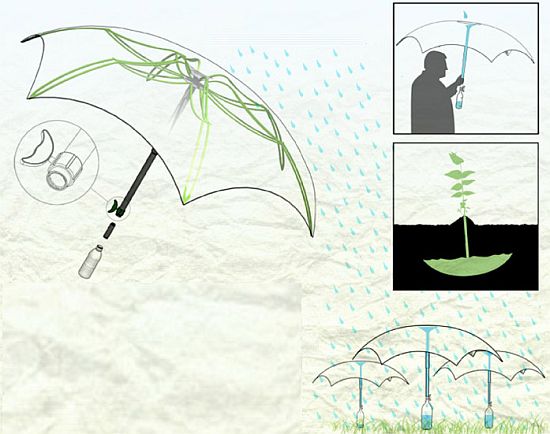 Ingenuity gets an all-new meaning in designer Andrew Leinonen simple yet very powerful Filterbrella concept. As you may have guessed, the Filterbrella is an umbrella but a very innovative and eco-friendly one at that. The Filterbrella has a canopy which is made of compostable polylactic acid plastic blends. This gives the Filterbrella its environment charm.
The Filterbrella has a very innovative activated carbon filter in its hollow rod. The hollow rod actually lets in rainwater which gets purified by the activated carbon. This water flows into a bottle that is attached to the Filterbrella's handle, thus making available pure, potable rainwater on the go. That is what ingenuity is all about. Though the Filterbrella is still a concept, it has all the underpinnings of becoming an instant hit if it ever makes it into commercial production which looks very likely in the near future.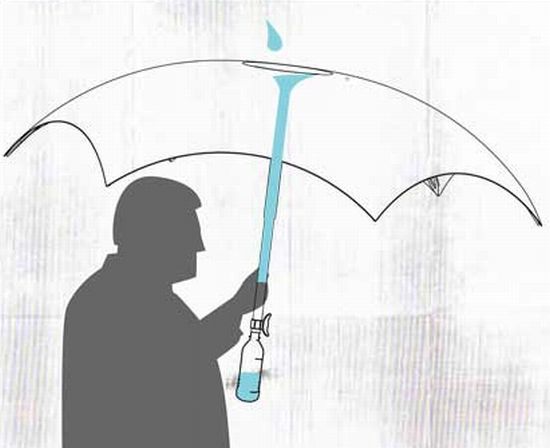 Via: Coroflot
More umbrella designs like Filterbrella concept umbrella
1. The Inside Out Umbrella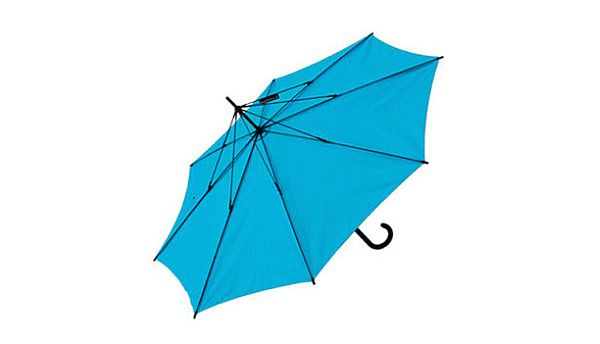 Part of the problem of carrying an umbrella with us is handling the watery mess it creates when we take it indoors. Fortunately, the Inside Out Umbrella design aims to handle this issue by inverting into a small-sized bag that collects all the water after being closed, thus saving you and the floor from countless water droplets.
2. The Umbrella Coat Raincoat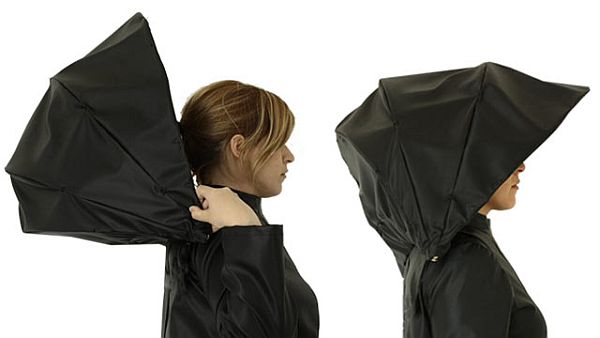 Juggling an umbrella along with other essential items in our hands can be a tough task, especially on a windy day. This is A multifunctional product where the Umbrella Coat Raincoat would prove to be quite useful. Considered as a clever combination of waterproof trousers, a raincoat, and an umbrella, this umbrella design keeps you safe from the rain and lets your hands-free to carry other stuff with ease.
3. The POPI Umbrella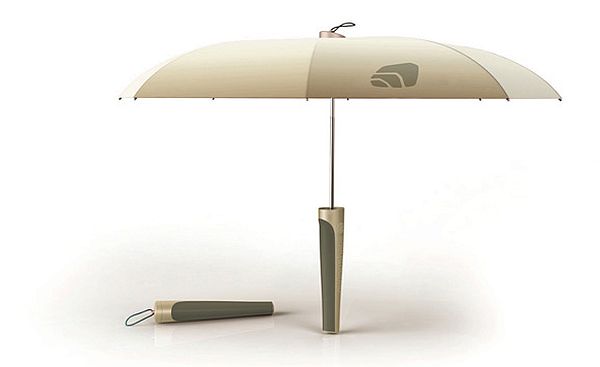 Here is another umbrella design that would effectively prevent the watery mess created by an umbrella indoors. The POPI Umbrella comes with a quick and easy storage option in the form of the handle, which also doubles as sealable housing. You can release or close the umbrella by popping the cap. When closed and contained, the hermetic seal prevents water from leaking, thereby allowing you to simply throw the umbrella in your bag and move on without worrying about getting your bag wet.
4. The Couple Umbrella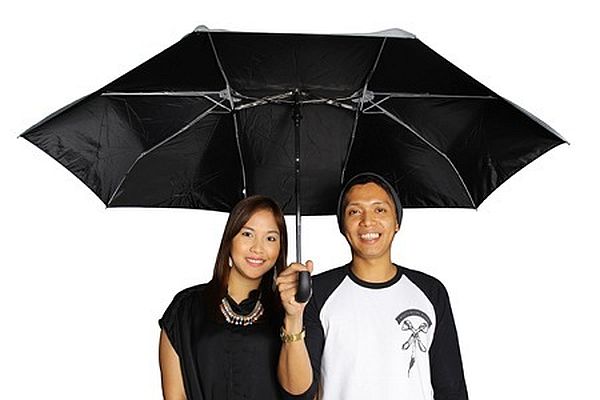 Two individuals sharing the same umbrella is a scenario that is sure to create some jostling and jockeying for safety from the rain. Enter the Couple Umbrella, a design that infuses two umbrellas in one, so that both individuals get ample coverage underneath their own umbrellas without necessarily bumping into each other. This would be perfect for those romantic walks in the rain without necessarily getting wet or walking miles apart from each other for fear of bumping into each other's umbrella.
5. The Air Umbrella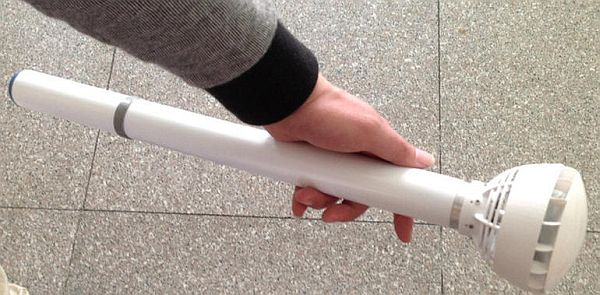 A magical concept, the Air Umbrella consists of a pole that blows air from the bottom via holes to the top to create a loop after acceleration. This, in turn, creates an air curtain right above the user's head, thus pushing away water droplets magically and keeping you dry underneath an invisible umbrella made of nothing but air.
6. Pileus Internet brolly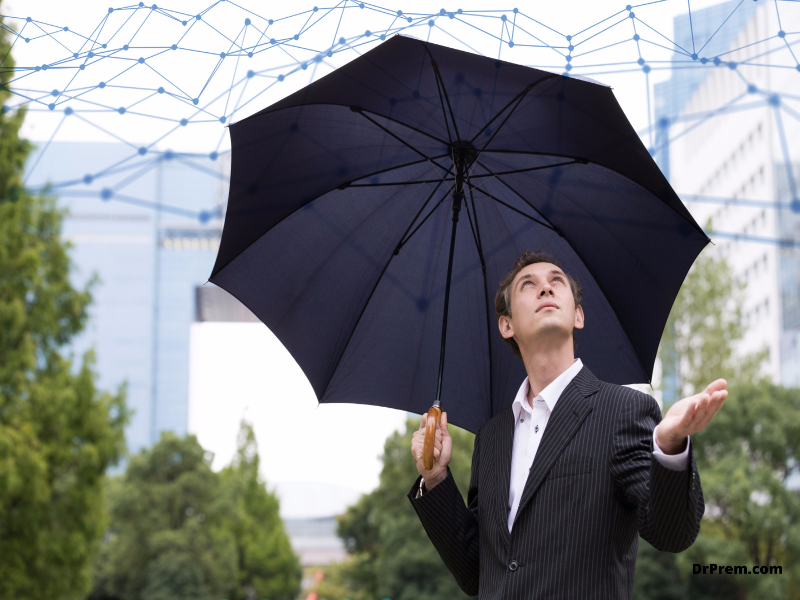 The texture of the umbrella fabric is similar to the screen of a projector. Designers Sho Hashimoto and Takashi Matsumoto noticed this similarity and designed the Pileus Internet Umbrella. It's an umbrella which has a mobile PC and projector to display internet content live while keeping you dry. You can sing along and watch your favorite song videos or a Flickr slideshow, check the latest weather updates and so on. This really smart umbrella is still in the prototype stage but it gives us something to look forward to.
7. Oombrella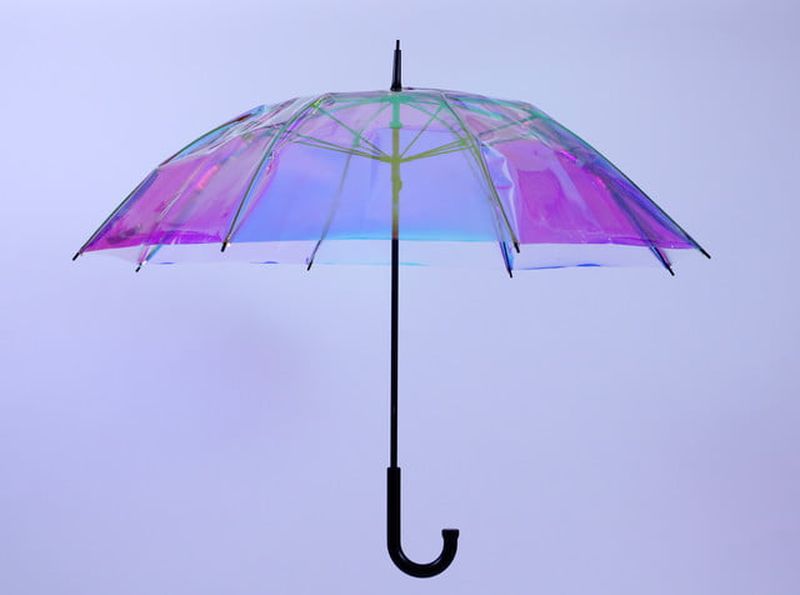 Oombrella has a lot of oomph for sure! This is another hi-tech umbrella which can tell the weather, and even alerts you if you happen to forget to take it with you! It has a buzzer, light which alerts you to any notification, smart sensors etc. You can fix your camera or GoPro on the top too. The compatible app can track the weather as well as your activities.
8. LightDrops electric umbrella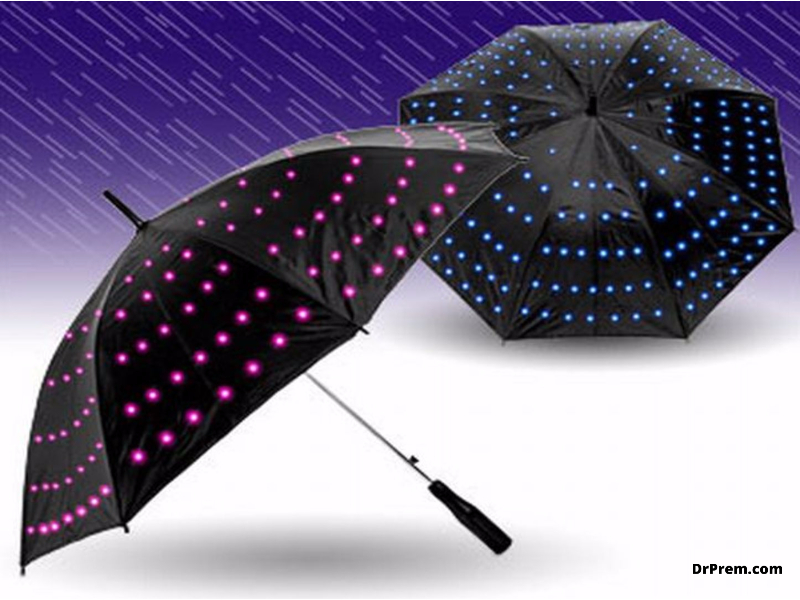 This fantastic invention turns raindrops into drops of light! This futuristic umbrella has PDVF, a membrane which converts the kinetic energy of raindrops into electricity. The makers hope that this electricity will be enough to power LEDs attached to the inside of the umbrella's canopy. You'd be generating electricity while walking in the rain and look stunning in the process.
9. Multi-unit super umbrella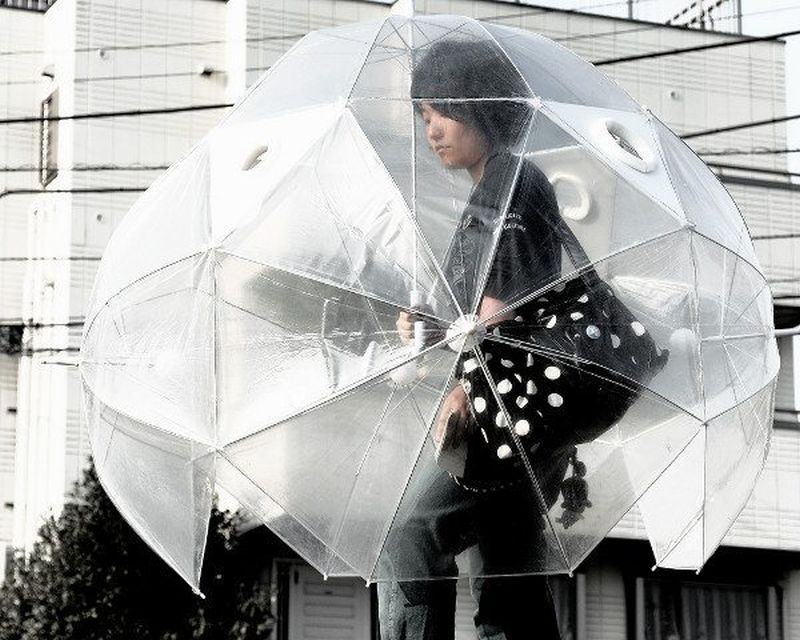 Even the largest umbrellas offer no protection against rains in heavy winds. When the rain pelts at you sideways, you have the super umbrella, which is actually five umbrellas rolled into one. It has one clear umbrella at the top, and four in each direction. In the corners which are not covered by the umbrellas, you would be protected by a rain-proof patch. This tough umbrella will keep you dry in the heaviest rains.
10. Davek Alert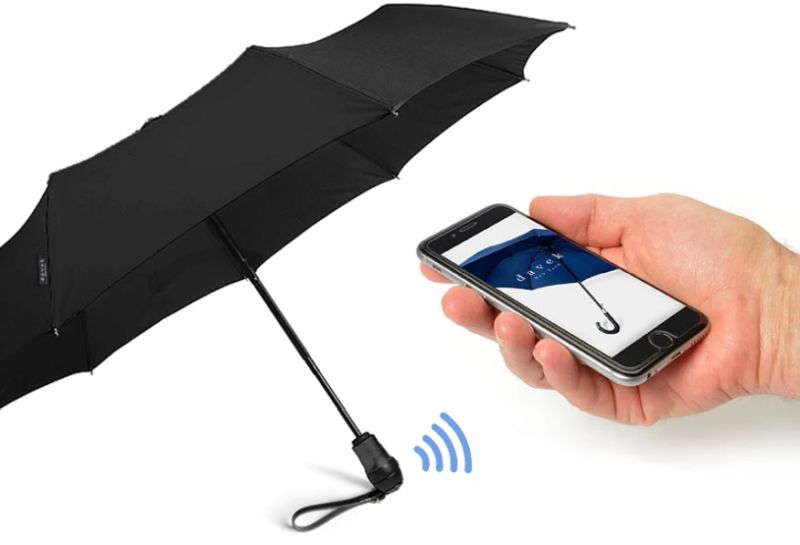 This umbrella uses a Bluetooth chip to connect with your smartphone. If you leave the phone somewhere quite a distance apart from the phone, then it will send an alert to your phone. This invisible leash makes sure that you never forget or misplace your umbrella ever again.
11. Hydrochromatic umbrella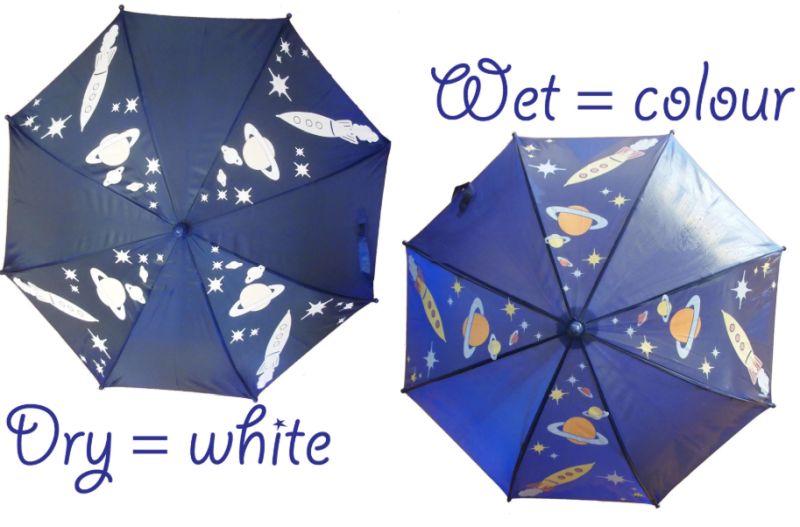 Talk about deceiving looks, this umbrella certainly doesn't look any different from any other standard umbrella. You'll notice the stunning difference once you use in the rain. The canopy transforms into vibrant rainbow colors and changes from patterned to black to multi-colored. As the umbrella dries, it fades back to black. Charming umbrella, and sure to be a hit with the ladies!
12. Haz motorized umbrella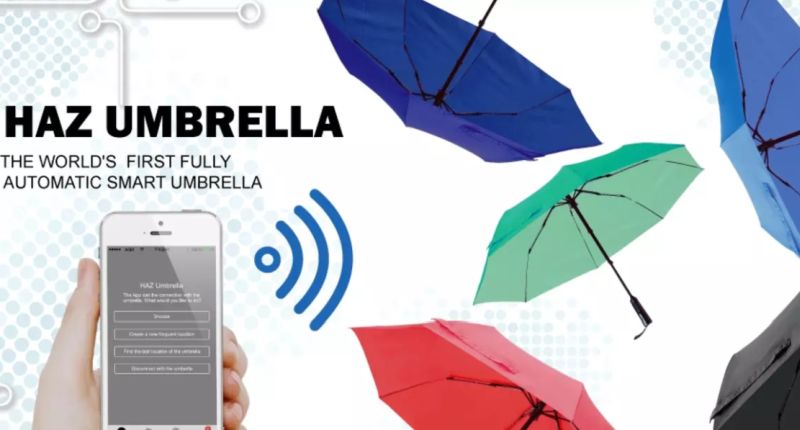 The smart umbrella called the Haz, retracts, closes and opens automatically. It can connect to your phone with the help of inbuilt Bluetooth, send you alerts about the location and notifies you regarding the latest weather situation.
13. Umbrella Here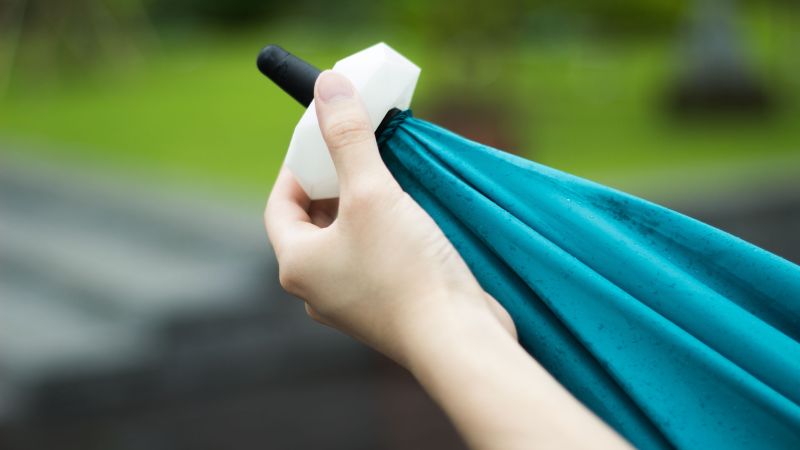 This is not an umbrella but a concept – a concept which allows users to share their umbrellas. It lights your umbrella, which is a signal to let others know that your umbrella is ready to be shared. You can control your umbrella with the companion app and inform others that your umbrella can be shared. You can know about the weather too, through many visual cues.
14. Cypress umbrella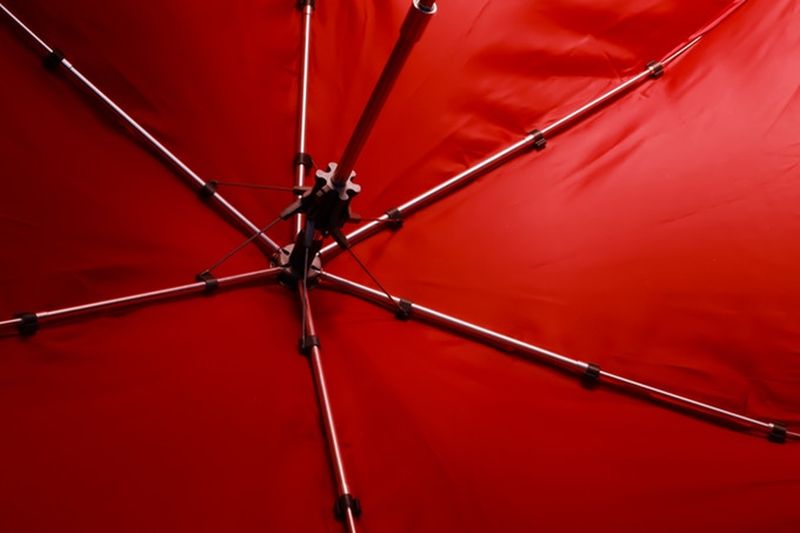 It's a completely telescopic umbrella, which has a unique ribsuspension system and an interchangeable canvas.
15. Kjaro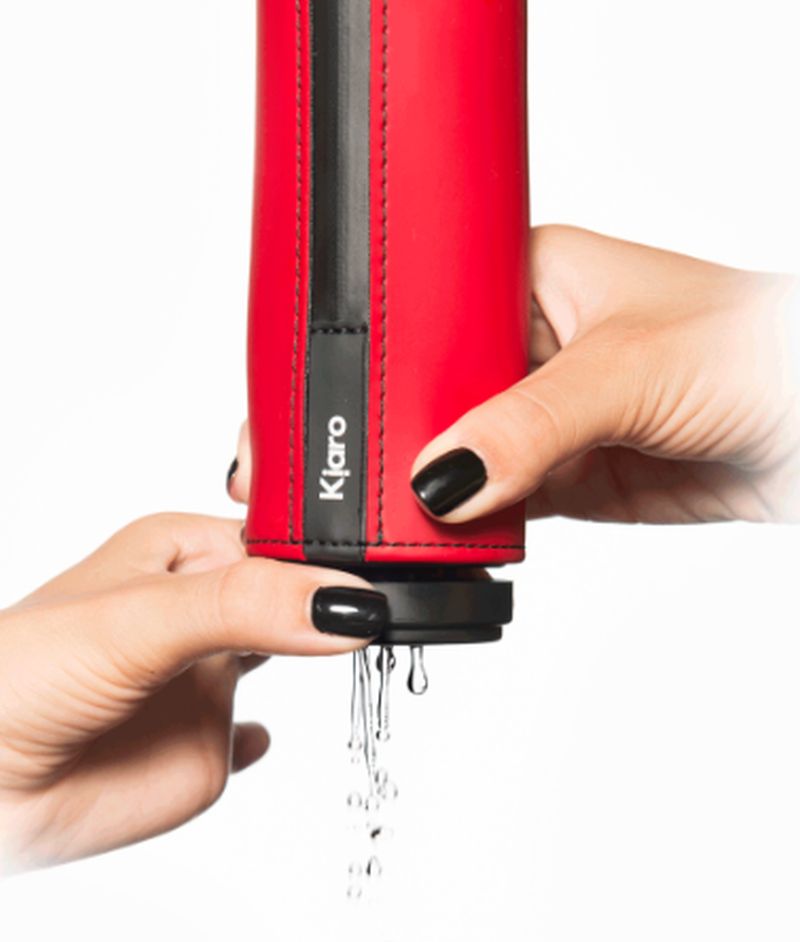 This amazingly innovative umbrella is a combination of design, convenience, and technology. It has a 'fill-empty' drops case which makes it outstanding. You can keep it upright on a desk or table or wear it if you wanted too.