Want to add a new charm to your sustainable home? Nothing is more conducive to going green than bringing nature directly into your home. Forget the furniture made out of tree bark, and with the root furniture, head straight for the root. This and other similar furniture ideas mentioned in the article can change the entire outlook of your green home. Let's take a look at them.
Root Furniture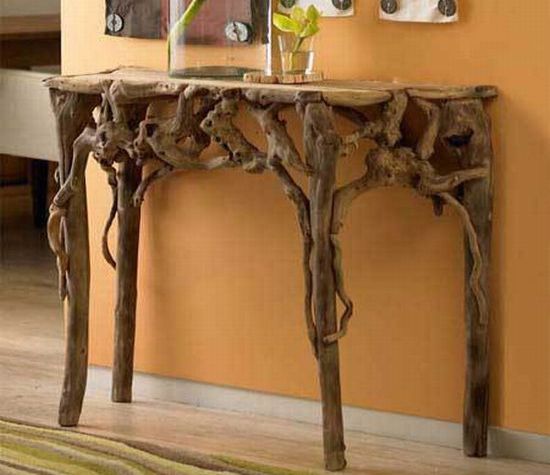 There is something about nature, something truly ethereal that you cannot deny. From the chirping birds to the green foliage, even the barren-looking roots have a language of their own that speak to your sensibilities and convince you to make them sit in your living room. These rustic pieces of furniture look like a cherished piece of earth that you can now plant in your home. The crevices and folds look as natural as they are. Furthermore, they even without the flowers and leaves sprouting out, these pieces of furniture are breathing with life. The tree huggers and green crusaders of the world will not mind spending a little for the console and the rustic stool respectively. Available at vivaterra, bring in these vestiges of nature to make that perfect peaceful green corner at home.
Via: Curbly
Amazing furniture ideas like the Root Furniture
1. Push Up Table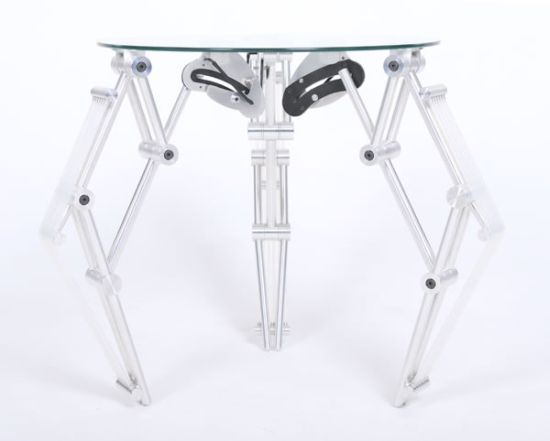 Seeing the 'Push Up Table' by Chris Murphy, one gets the feeling that designing is all about playing with thoughts and ideas. The flexible table is made of aluminum, glass and silicon tube. It alters its height (from 350mm – 500mm) to suit different users and occasions. The two-in-one table draws inspiration from a retractable ballpoint pen. All the users have to do is push the table down until it clicks into place. Another press down will bring it back to the previous position. The 'Push Up Table' is the ideal furniture for small apartments. There it can perform the work of two tables while occupying limited space. As most of the functional objects come with a lofty value.
2. Click Furniture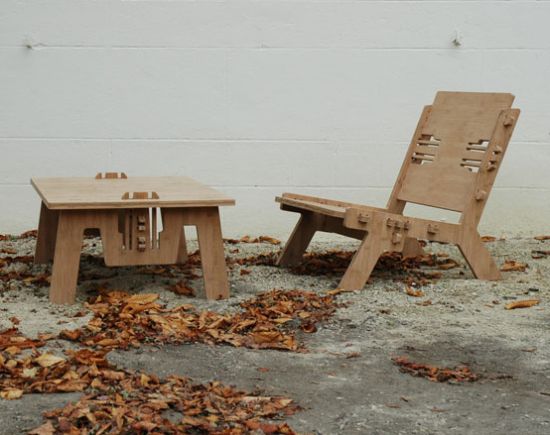 Inspired by Lego or IKEA designs, designer Alexander Pelikan has popped up with a unique unit of furniture. It uses no nuts, bolts or nails to keep it intact. Named 'Click Furniture,' the modern seating unit presents a simple and fresh design. It is interlocked like Lego products, but much cheaper than the popular plastic bricks. Furthermore, Click Furniture is not just an innovative unit.  It requires creative thinking on part of the users to assemble the furniture. However, it is also finished with sustainable material. This helps the users to be part of the eco-friendly drive that's such a rage all over the world.
3. Minimal yet functional furniture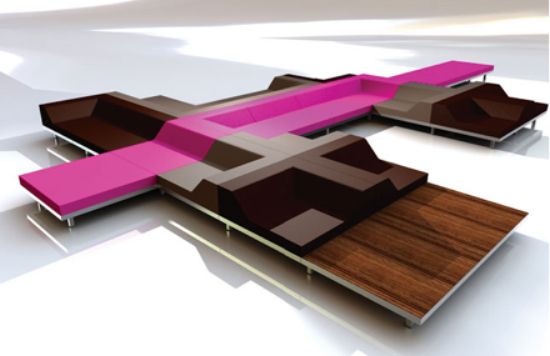 Seating for interior spaces gets a major fillip with Chicago based designer Scott Wilson's Flexible Seating concept. It combines space-saving modularity with amazing functionality. The entire set of chairs sit on a powder coated steel frame which can be rearranged to suit any room. These chairs are not just meant for sitting. In fact, you could even convert them into a nice little bed for you to have a nap. Moreover, you can even stretch your weary legs on its extended design. The chair comes in a range of exciting colors. These could make your living room a lot more exciting and livelier. This design even features good looking coffee tables for added added utility. Overall, a very functional and exciting looking piece of furniture that can potentially redefine seating in all interior spaces.
4. See-saw or furniture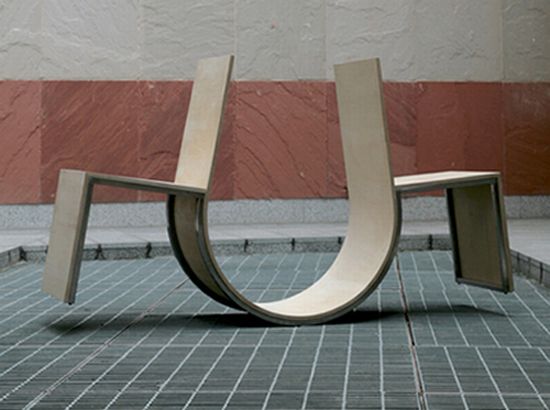 Creativity expresses itself in so many forms. And this see-saw chair is a prime example of that. Dubbed as 'Swingers', this piece of furniture is in fact, a set of two back-to-back chairs scrambled into one. So, two people might never face each other while sitting on same chair. With the intention that you have ample space to sit on, the dimensions read 1660 x 440 x 960. This timber furnishing has a tint of stainless steel making it rust-free and lending it solidity. This inimitable chair, designed by Korean designer, Jaebeom Jeong, might make you feel dizzy.
5. Pop-up outdoor furniture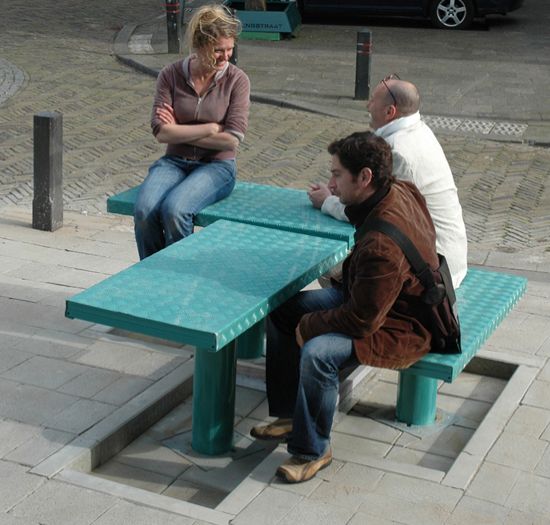 Removing the boundaries between public and private spaces, Dutch designers Carmela Bogman and Rogier Martens has come up with a unique outdoor furniture installation named the "Pop-up" that as depicted by its name pops up from the ground to place passersby for a short break. All users need to do is pump it out of the pavement and place themselves, and when not in use, the furniture retreats neatly into the floor. Finished in three retractable bollards with aluminum bench tops, the pop-up furniture also features a hydraulic system to fix bollards at any height up to seventy-five centimeters. Several keys that give access to the pumping system are distributed among users of the furniture in the neighborhood. Users can configure the pieces of pop-up furniture to form a bench, a stage or even a lounge area according to their individual seating needs.
6. Furniture for Roommates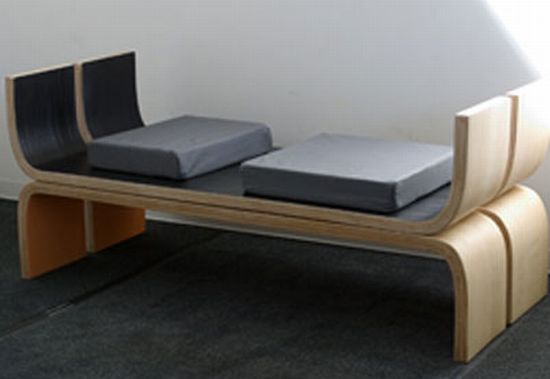 Born out of the desire to make the most out of the least available space, the modular furniture unit by Olivier Mérillon can be arranged in a number of patterns to meet the users' diverse needs. In France, most of the requests for housing are for the apartments, with very few options for young students. In an apartment, there are intimate spaces and other spaces that are often required to change: to study, to rest or to invite friends. Olivier Mérillon's "Furniture for Roommates" addresses these ever-changing requirements as the person can use the unit as a bed, a table, a side table or simply as a seating unit. With 3 modules, the furniture unit offers 10 possibilities. The modular unit maintains the style as well comfort of modern era, and will certainly help in adding some extra space to your small living area.
7. Magic Rug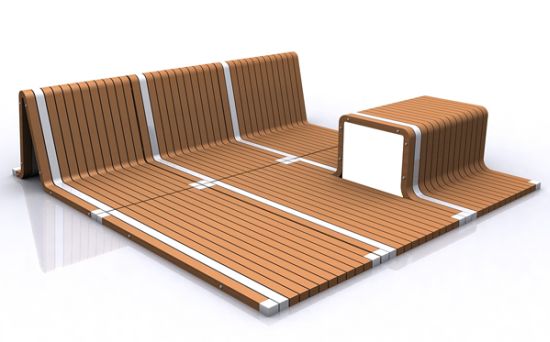 Rugs or carpets have commonly been used in both conventional as well as contemporary homes for long, but the latest "Magic Rug" by South Korean designer Cho Hyung Suk is a rug with difference that promises to give a new dimension to your home decor. Made of bending wood, steel and acrylic, the magic rug combines the elegance of carpet with the functionality of the furniture. It featuring a flexible design lets the users play with their ideas and create different furniture units according to their needs and availability of space in the home. Home rug has never been so stylish as well as functional.