From gramophones to analog to wireless speakers, our speakers have come a long way. However, unlike in the past, right now we have an extremely wide variety of choices. This has both positive and negative sides to it. Although because of competition you can buy high-quality stylish speakers at a very modest price, there are a lot of fakes too that are looking to make a quick buck. Going for popular brands is one way of avoiding this situation, but then you miss on a lot of underdogs out there. So, here's a list of underrated speakers like Acoustic Lab Zeta 2.0 that might give you what you need at a surprisingly affordable price.
Acoustic Lab Zeta 2.0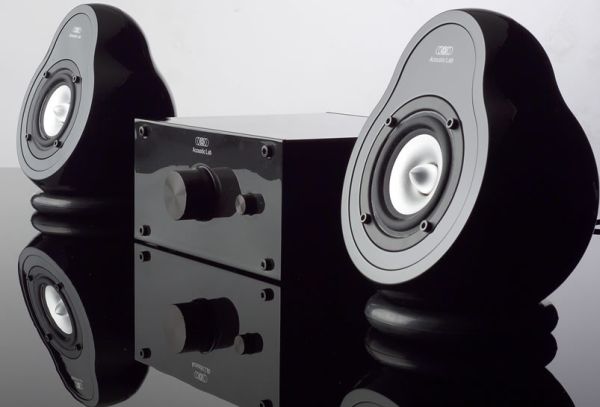 Christian M Andersen has designed a set of high-end performance speakers called the Acoustic Lab Zeta 2.0 speaker range. The Dutch designer has skillfully blended good looks with high functionality. A good set of speakers can enhance the whole listening experience, and the Acoustic Lab Zeta 2.0 digitally matched speaker set vows to do just that.
The Acoustic Lab Zeta has been crafted in a round shape that lends it a striking appearance. Apart from making it look good, the shape also endows the speaker set a favorable shape from where sounds can exit. It has a linear sound spectrum, which will give birth to clear sounds. This will cancel out additional sounds for a much better audio experience.
It comes with a rubber ring, which can be used to position these speakers just anywhere. It can be easily wedged on the wall or any other surface with the help of additional wall brackets. The powerful speakers have a frequency range of 110 to 20.000 Hz, while the amplifier works in a range of 20 to 20.000 Hz.
The design
Each unit of the speaker weighs 1.6 kg and is available in hues of Black, White and Red. On the other hand, the amplifier has a weight of 3.15 kg and is available in the same shades as the speaker. The amplifier has a maximum power output of 56 Watt pr. ch. 8 Ohm, which makes it all the more insane when it comes to terrific sound amplification.
The speakers come with a dimension of 15.4 x 18.5 x 11.6 cm (WxHxD), while the amplifier measures 22 cm wide, 10 cm high and has a diameter of 23.1 cm. With so many impressive features, the Acoustic Lab speaker range will be a treat for all the audiophiles. So, be ready to groove to your favorite tunes in a classy, yet functional piece of audio kit.
Some more speakers like Acoustic Lab Zeta 2.0
1. Spore Bluetooth speaker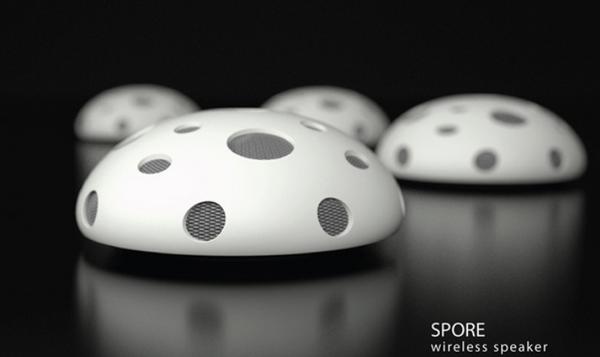 "Spore" is a pair of wireless and Bluetooth connected speakers which is designed and made by Ronpoon, Hong Kong. It can be connected to any phone via Bluetooth. You can distribute these spores in different corners of your home to create an elaborate music system in your home.
The spore consists of a hemispherical body and embedded speakers. The texture of the "Spore" resembles the craters on the moon, but it also reminds us the magnified image of a spore. The spore has a white body, with black craters embedded on them acting as speakers. These craters are irregular in shape. The Spore is so cute and small that no one can judge whether it is a showpiece, speaker or anything else.
Interestingly, the Spore also has a microphone so that if anyone calls us, we do not need to pick the phone, but can directly speak on the mic and hear on the speaker. When Spore is connected to the phone, all the "listen and speak" functionalities on the phone become hands-free.
2. Soft Values Speaker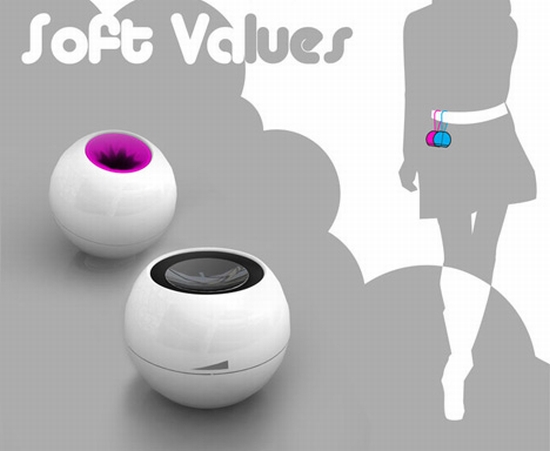 Someone has just put this girly looking, Soft Values, portable speaker, together which looks more like a cute bag accessory than a soundbox. The Soft Values Portable Speaker sits in a small, ball-like form that encloses a soft, fabric sock and a strap. This sock will unfold out of the speaker and cover it up to give the Soft Values Portable Speaker a nice and soft feel. The strap obviously comes in handy to lug this little sound box around.
Though we don't have too many details about the speaker, a Bluetooth connection for streaming music wirelessly would be a nice touch. This speaker might feature a rechargeable lithium-ion batteries and charging it may be thorough a USB port. If these nifty features make it to the Soft Values Portable Speaker, it would be one concept worth watching out for, although the design seems a little too girly for our liking.
3. Bose modular speaker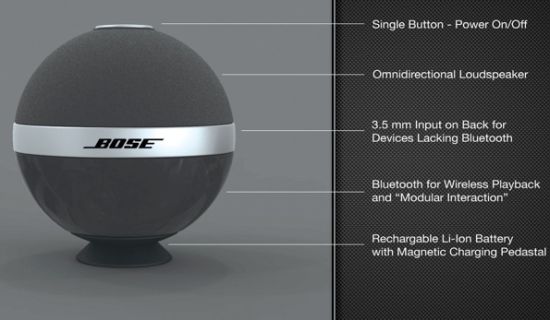 If you are looking for a portable speaker system that both looks and sounds good, you would definitely like to have a glance at the modular speaker from Bose. Designed for the average users between 18 and 25, the concept speaker comes with a unidirectional loudspeaker with a power single on top of it. Generating power from rechargeable Li-Ion battery with Magnetic Charging Pedestal, the spherical speakers also includes Bluetooth for wireless playback and "Modular Interaction." Moreover, the speakers boasting a 3.5 mm Input on back support the devices lacking Bluetooth. You may add a number of speakers to create a modular surround sound system for your system.
4. i24R3 Portable speaker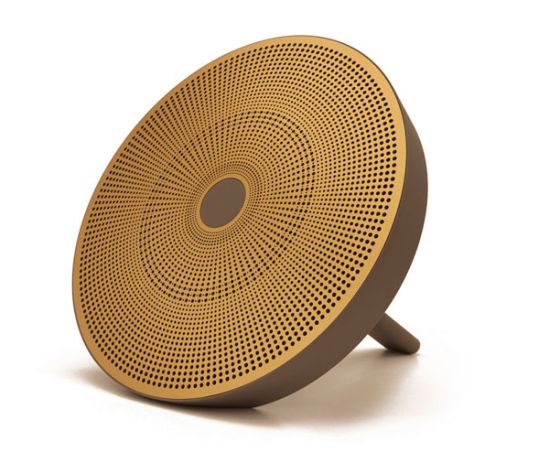 Designed for EOps, the "i24R3 Portable" by designer Michael Young is a wireless speaker that lets you enjoy surround sound anytime, anywhere. Made of a sealed sound chamber, together with lightweight, flat panel speakers and passive radiators to produce high quality sound, the waterproof speaker by the Hong Kong based designer features a circular design which makes it highly portable. The speaker not only presents a strong music performance, but its sleek and portable design makes it an ideal companion on the go.
5. 2.0 speaker system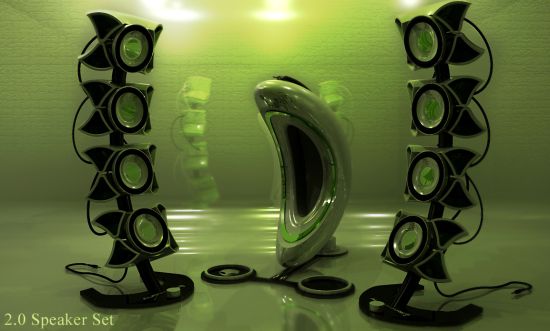 Over the years, speakers being apart enhancing music or home entertainment systems have also become an essential part of home decor. Presenting an artistic design, British designer Kevin Boulton has come up with a unique speaker system dubbed "2.0 Speaker" that features sharp curves to increase the sound quality. Each speaker contains one tweeter (on the top), two middle sound speakers and one low frequency speaker (at the bottom), allowing quality surround sound.
The speakers look the same, but are made so that the top tweeters are tighter allowing low amounts of vibration and the lower speakers are looser, allowing a more flexible radiant bass and treble. Compatible with PC or home entertainment systems, the 80w sound system's speakers are curved to shoot the sound in all directions. Visible wires on the back give it a wow factor. The translucent construction allows users to see what the system is made of, in a way engaging them into the design.
6. Ceramic cone speaker: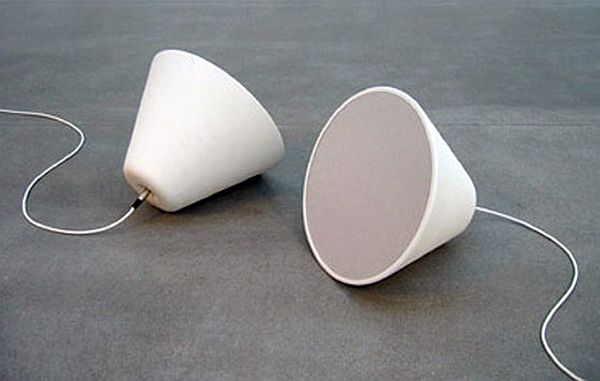 The ceramic cone speakers are conical in shape because the designer Broberg Ridderstrale has found it to be effective. The conical shape is capable of spreading the sound upwards from the corners of the room and makes sound waves flow towards the center of the room. This way you can get the surround sound effect by placing two of these speakers in two diagonal corners of your room. Generally, designers have to follow the rules of acoustics for making a new sort of ceramic speaker but Broberg has successfully experimented with geometrical shapes.
7. Unmonday Ceramic Speakers: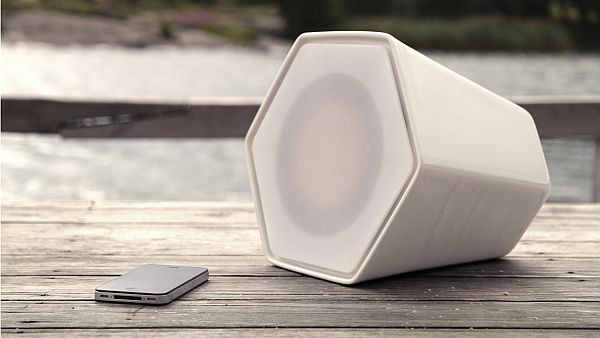 The classy hexagonal design of the Unmonday speaker makes it unique. The inner parts are not visible from outside. It works independently and provides good quality airplay experience. The ceramic speakers have motion sensors and five Dolby Surround Sound channels. It is sturdy and lasts for a long time unlike the other cheap quality ceramic speakers available in the market. Unmonday works like an amplifier and enhances the volume and quality of sound.
8. Smartphone ceramic speaker: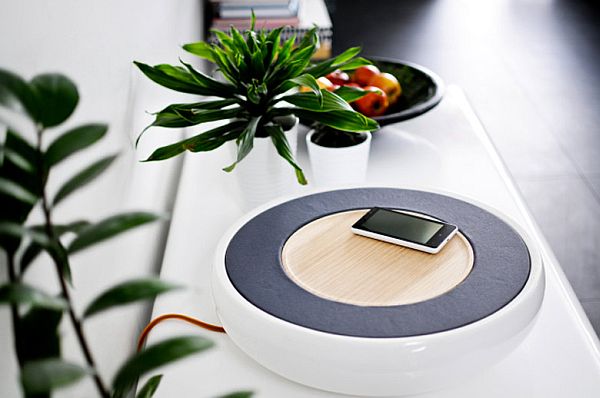 The smartphone ceramic speaker designed by Victor Johansson is an amazing key bowl like device. Modern people store their favorite music and play lists in their smartphones. The smartphone ceramic speaker has three spots on the top where you can put the smartphone. The NFC pad inside will sense where you have put the smartphone so that you can opt to play the music or the radio.
9. Ceramic Elephant Speaker: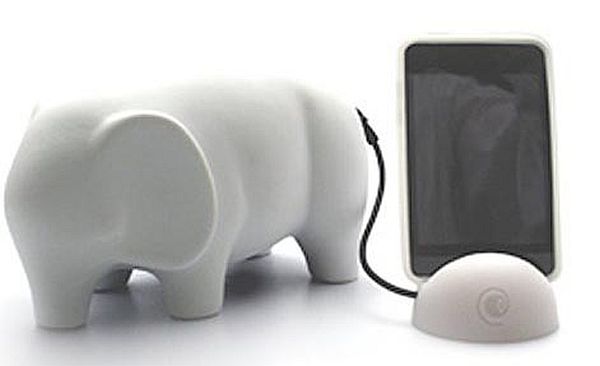 The ceramic elephant speakers are very cute and arty. They come with a stand for the MP3 players or iPod. It can be a nice addition to your work desk or shelve. Furthermore, the quality of sound emitted by the elephant is superior to what you will get from ordinary speakers.