Solar panels are known as energy-efficient tools designed to harness the sun's rays to generate power for electricity or heating. But, who knew they could be downright fashionable, too? Recently, scientists have created a way to mass produce solar panels that allow them to be used in more ways that are more appealing to the eye. There are a myriad of ways to decorate your home with these power savers, including using them as a part of roofing, fixtures, shade, and other decor. Solar panels are no longer a technology of the distant future. They are available now, and they can be used to power and beautify your home in many different ways. What's more, they are easy to repair too.
Stay Stylin' in the Shade
Image via Flickr by Laura Manning
Solar roofing panels can be used to create shade and "solar canopies" from the sun and other elements in the front or backyard. Fourth of July rained out? No worries — grill up some burgers for the whole family in the backyard while the solar panels keep you dry and save you energy. Why not create a nook in your yard to lay back in a hammock with a Mojito and read your favorite book? Or, watch some tennis on the courts from the sidelines by creating a spectator's seating area, sheltered by solar panels. By installing home solar panels, you can have the benefits of the outdoors while staying healthy and shaded too. With so many scientific breakthroughs in today's modern age, solar panels are more decor-friendly and can look stylish in any situation.
Revamp Your Rooftop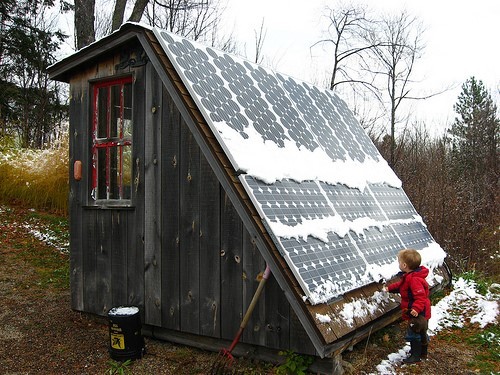 Image via Flickr by Peter Blanchard
One of the most common yet effective ways to upgrade the home with solar panels is to attach them to the roof. This can add a modern flair to antique roofing, or add style to your modern home by being different from the other houses on the block. Plus, rooftops cover so much space that the solar panels will get plenty of sunlight, and, therefore, have the potential to save you energy when you need it. Even more, your home can contribute to an affordable green grid, check this article. If you don't fancy putting solar panels on your home's rooftop, try installing solar panels to other housing units on your property, like the backyard shed, a barn, or even the garage. Any of these rooftops will add style and function to your home. Even Fido would appreciate a trendy and environmentally friendly renovation to his dog house.
Wow Your Neighbors With Window Shade
Although rooftop solar panels are popular and trendy, you can think outside of the box and be unique by adding solar panels to the outside of your home's windows at a slight diagonal angle to provide shade. By using solar panels as window shades, you upgrade your home's exterior while helping the planet, not to mention your wallet. Because solar panels have been tweaked by scientists and mass produced, they are now much more functional and affordable than they used to be. Install home solar panels on the outside of your windows to provide both fashion and function.
Be More Productive with a Skylight
What's a better way to beautify a home than to add a skylight? There's little more that makes such a positive impression on guests. The often partially see-through tone of the solar panels offer just enough light to provide shade while still letting enough natural light shine through to your home. The natural light will allow you to use less electricity inside. Another side benefit of this is that natural light is shown to make people more productive. By using solar panels to beautify your home with a skylight, you're benefitting your health and making your home easy on your eyes.
Solar panels are becoming more affordable for the everyday person and can beautify any person's home. Whether you use solar panels as roofing, to add a skylight, provide a window shade, or keep cool and away from the elements under a solar canopy, the environment will thank you, and so will your neighbors and family for having upgraded your home's aesthetics.