Expanding sphere toys have become very popular with kids of all ages and even adults find them quite entertaining to tinker with for some time. These often end up as a part of homemade decoration sets after the kids are all grown up and don't play with them. Designer Erik Stehmann perhaps had a similar idea of using these sphere toys and created what he calls the Expanding Lamp. The lamp is not exceptional as it doesn't really twist and turn light into interesting shapes or perform a magical light show for user. Though its frame, which is shaped like an expanding sphere, basically allows you to change its shape and size as and when you want.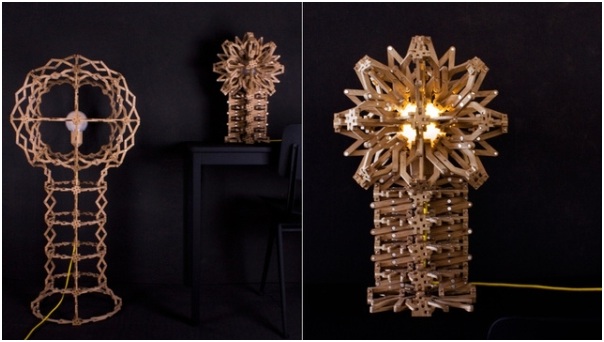 ---
The lamp uses a foldable geodesic frame that can be expanded or collapsed to change its shape and size on demand. The lamp is designed to transform itself into multiple sizes which makes it a very versatile addition to homes and decors that need to change their light fixtures to suit a particular mood. This particular light fixture can be turned from a simple and petite table lamp into a full fledged floor lamp in one single pull and the transformation is simply stunning to view which might make it a bit of a after dinner conversation piece for folks that are too home proud for their own good.
The Expandable Lamp is made entirely from oak wood pieces along with a few hundred of metal hinges that allow the lamp to make a smooth transition every time and fold out in unison to allow simple, one-tug transformation. Even though the designer has not specified this yet, but we're sure you can fit it with a colored light with a timer to turn it into a bigger spectacle than it already is.