Bolzan Letti Cubed Bed looks like a bunch of stacked fries!
The world of design is filled with examples of projects with very misleading names. Take the Bolzan Letti Cubed Bed for example. Crated for Italian furniture brand Bolzan Letti, the bed is as far from being a cube as Snooki is from being a lady! The bed looks more like a handful of fries stacked roughly together though its designer Francesca Paduano would have us convinced that the creations wasn't conceived during a hanger pang! As a piece of modern art, the bed is wonderful with its rowed form providing plenty of texturality to the design in effortless elegance.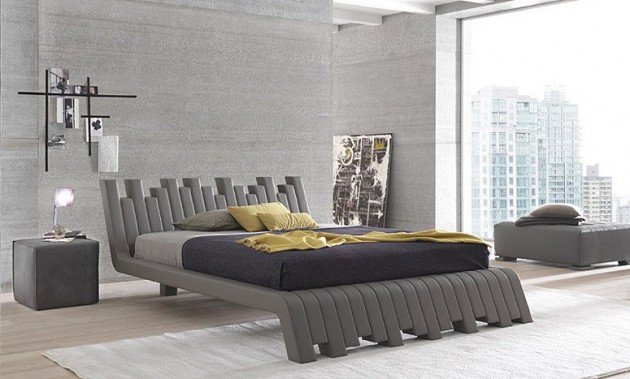 ---
The frame is also very abstract art derived that would delight any pseudo art loving collection or playboys that want to deck up their bachelor pads with a bed that doesn't encourage his lady visitors' nesting instincts. The seemingly separate "sticks" that form the bed also allow the bed to look strikingly playful which of course would look great against a plain background. The ruler inspired design makes a great case for contemporary bed frames though the whimsical example's repetitive composition adds a touch of unpredictability to the piece.
The frame of the bold and abstract bed features a number of jagged edges that give it a ruffled-yet-not-too-shabby look which makes the eye-catching interior furnishing serve as a centerpiece for a master bedroom. Even though the playful deign is enough to fool anyone into thinking this bed is all form and no function, the designer has given its base and foot an effective support system via metal reinforcements stitched right into the "sticks". To bear the weight beneath the headboard, the top of the piece comes with separate legs as well so you never have to worry about the bed toppling over as you sleep in it.