Finding the best paint for corrugated metal roofs can be hard with many paints available in the market. But since not every paint is suitable for roofing purposes, it is necessary to pick the correct option. And that will also depend on your roof material.
A steel roof is a brilliant way to keep a striking home safe. However, bare steel is less attractive on a piece of a stunning structure. This guide helps you learn more about the best paints for metal roofing to make your rooftop look prettier. You could also check out this article: Metal Roofing Lubbock, to read more info about painting corrugated metal roofs.
Let's dive into the details!
How to Choose the Best Paint for Your Metal Roof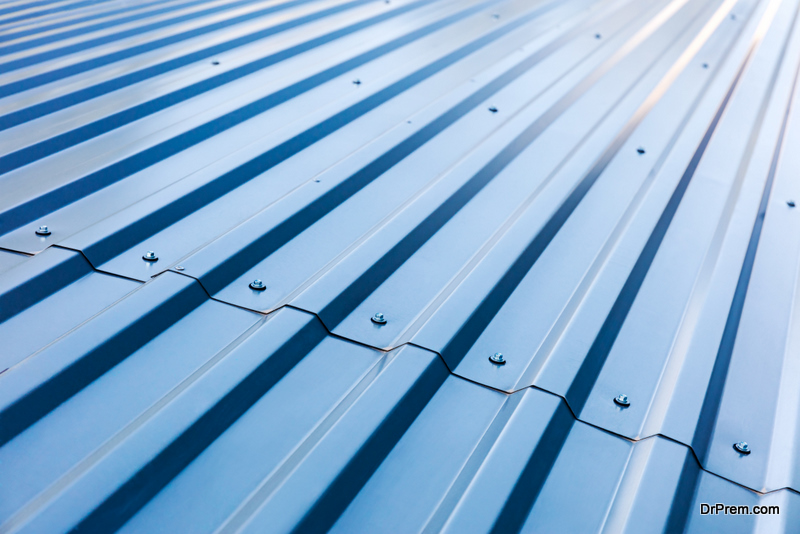 When shopping for your roof's paint, the first thing to decide is the color to use. The significant decision still is whether to go for light or dark-colored paint. Also, picking the color of your metal roof depends on the type of climate around your location.
Choosing a light-colored roof like white, light blue, or light green is commendable for warm climates. However, if you reside in colder climates, you can combine darker colors such as dark brown, grey, or black to absorb more sunlight during colder months.
Factors to Consider When Choosing a Paint for a Corrugated Metal Roof
Some of the factors to consider when looking for the best paint for your corrugated metal roof include the following.
1.    The Look of Your Neighborhood
A little bit of uniqueness is excellent, but keeping a good relationship with your neighbors is greater. So, you should pick a paint color that resonates with the overall look of your avenue.
2.    The Environs
Do trees surround your roof? Or does your roof have a background of other buildings or sky? Paying attention to your roof's immediate surroundings will help you choose the correct color paint.
3.    The Colors in The Rest of Your House
Whether you go for a bold contrast or something matching, the color of your roof should tie well with your home's color pattern, especially the window and door frames. 
Top-Rated Paints for Your Corrugated Metal Roof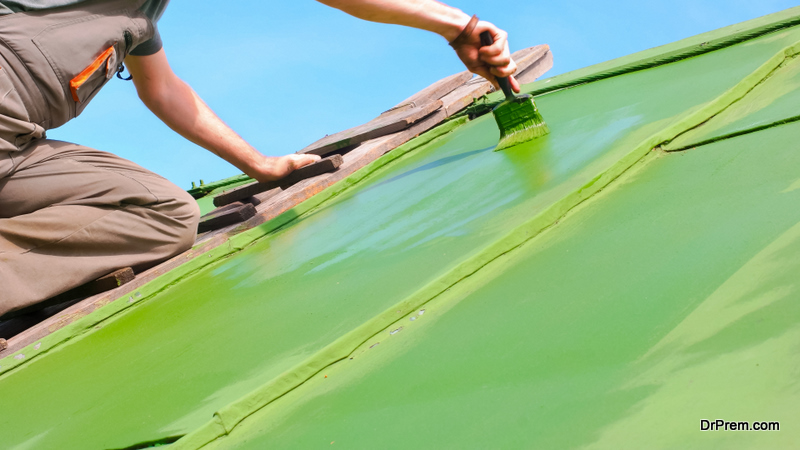 Here are the best paints for your corrugated metal roof.
1)    POR-15 45818 Top Coat Spray Paint
When shopping for topcoat paint, POR-15 45818 is a great choice to take home. The color is direct to metal (DTM), meaning you can directly apply it to your corrugated metal roof. The tint adds a rust defensive coating to your metal roof, making it durable.
The best paint for your metal roof requires zero primers or an undercoat. That makes it a great choice to reduce your project's timeline by omitting preparation. Also, the dark-colored paint silky black look adds a modern shine to your metal roof.
2)    Krylon Ko5647007 Brush On Paint
The paint is proper for both outdoors and indoors, making it perfect for painting corrugated metal roofs. Furthermore, it is easier to find the best paint than any other tint that works on metal roofs. The Krylon paint comes in glossy black color, comprising a smooth finish with ample application.
Krylon Ko5647007 takes 60 minutes to dry and can cover up to 100 square feet per paint tin. The paint's shine finish is excellent for reflective light, despite being dark in color. Besides, the paint hardly fades, giving your roof better protection.
3)    Rust-Oleum 7215502 Hammered Metal Finish
The advanced Rust-Oleum paint is ideal for a corrugated metal roof, offering different weather and corrosion resistance. In addition, the paint safeguards several exterior and interior surfaces like metal, wood, concrete, amongst others.
The oil-based formula paint coats your metal roof amicably and doesn't rust easily. Rust-Oleum 7215502 takes between two to four hours to dry and can cover up to 100 square feet. Apart from giving brilliant rust protection, the best paint for corrugated metal roofs is also resistant to fading.
4)    Rust-Oleum 7590838 Enamel Spray Paint
Despite being superb for masonry, concrete, wood, and other surfaces, Rust-Oleum 7590838 is good enough to work on corrugated metal roofs. The paint is tough enough to endure weathering, offers rust protection, and gives your roof a beautiful finish.
The best paint features a long-lasting oil-based formula to boost reliable corrosion resistance. Also, Rust-Oleum 7590838 paint dries within fifteen minutes and takes an hour before applying the second coat. This makes the paint easy to use and completes painting your corrugated metal roof hastily.
5)    Krylon KO2732007 All-In-One Spray Paint
The all-purpose paint is pocket-friendly. You can use spray paint on various surfaces, including corrugated metal roofs. If you want to hurry up your painting project, the all-in-one tint is your best choice since it's known to work without sanding or priming.
Krylon KO2732007 offers excellent rust protection, adhesion, and durability. The matte black color paint works both for outdoor and indoor projects. Besides, the best paint for corrugated metal roofs dries within 20 minutes without drips or runs.
6)    GacoRoof GR1600-1 Silicone Roof Coating
When looking for the finest paint for your corrugated metal roof, GacoRoof GR1600-1 is your best bet. The roofing paint is recommendable for tops that are prone to leaking.
The paint is easy to apply; hence no need for complex equipment. You will need a basic nap roller, and you are good to go. The best paint is capable of successfully reflecting UV rays hence giving your house a calm atmosphere during summers.
7)    KST Coatings MC-1 Mobile Coating
The paint for a corrugated metal roof is a product designed primarily for RV roofs. The paint guarantees five years' protection and is predominantly ideal during cold weather. The KST roof coating comes with a cleaning agent and a primer all in one.
You'll take a short time to apply the paint, and it won't take long before it dries up. That hastens your painting project that translates to value for money.
Final Words
Choosing a paint color for a corrugated metal roof relates to the type of climate you live in and the color of the rest of your house. A qualified roofing company that is conversant with roof painting can give you some references if you are unsure of what color you want to paint your roof. You can also check your local roofing regulations.
Article Submitted By Community Writer